Hong Kong: U.S. Ambassador for International Religious Freedom Calls for Ending the Persecution of Falun Gong
(Minghui.org) Samuel D. Brownback, U.S. Ambassador for International Religious Freedom, spoke at the Foreign Correspondents Club in Hong Kong on March 8, 2019. He condemned the Chinese Communist Party's (CCP) persecution of Falun Gong and the state-sanctioned organ harvesting from living Falun Gong practitioners.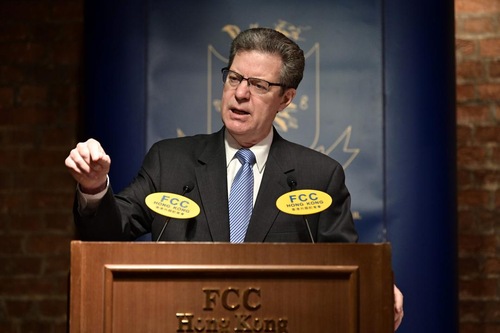 Samuel D. Brownback, U.S. Ambassador for International Religious Freedom
Brownback: Allegations Persist that the CCP Harvests Organs from Living Falun Gong Practitioners
Brownback spoke concerning the plight of China's religious freedom.
"Chinese government oppression extends to the Falun Gong, whose abuse," he said, "has been well-documented.
Citing reports of torture and estimates of thousands detained for practicing Falun Gong, Brownback pointed out that, "The Falun Gong estimates that in 2018 alone, at least 69 Falun Gong practitioners died in Chinese government custody or due to injuries they sustained while in custody.
"Allegations persist that the Chinese government continues to forcibly harvest organs from prisoners held on account of their faith, including Falun Gong practitioners and Uighurs.
"Data from brave, persistent researchers raise concerning questions regarding the organ transplantation system in China, with voluntary donations unable to meet the demand. This is the truly horrifying prospect.
"We will continue to advocate for the Chinese government to end abuse and mistreatment of Falun Gong practitioners. This has lasted for more than twenty years and must stop. Also, they must address the whereabouts of missing practitioners."
The CCP Will Not Win Its War on Faith
Brownback expressed his profound respect and high regard for the Chinese people and their contributions to mankind. He went on to say, "As I receive reports about the suffering Chinese people of faith are experiencing, I cannot help but wonder why the Chinese Communist Party does not trust its own people to allow them to choose their own path for their souls. There are one billion souls at stake. It seems the Chinese government is at war with faith. It is a war they will not win."
"What does the Chinese Communist Party have to fear from its faithful people? The Chinese government continues to violate the sacred right to religious freedom that is in its Constitution and also enshrined in the UN Declaration of Human rights."
He stated that, since 1999, the United States has designated China as a country of particular concern when it comes to the International Religious Freedom Act of 1998. This is the most serious category for violators of religious freedom in the annual assessment of religious freedom, conducted by the U.S. Commission on International Religious Freedom.
China Will Have Freedom of Belief in the Future
He said, "The Chinese Communist Party must hear the cries of its own people for religious freedom and act to correct this wrong.
"The Chinese people are a great people. Someday soon, they will be free to practice their faith. The gates of religious freedom will fly open in China and the iron curtain of religious persecution will come down. The Chinese government is currently on the wrong side of history – but this will change."
He also said that it was alarming that the Chinese authorities arbitrarily detained Uighurs in internment camps. In Tibet, the CCP continues its oppression of Buddhism and has bulldozed monasteries. The government evicted thousands of monks and demolished their residences. The CCP has also increased its repression of Christians since it began to enforce its amended regulations for religious affairs last year.
Promoting Religious Freedom for All
Brownback said that the United States and other nations were bringing together religious leaders from around the world to promote religious freedom for all. The Ministerial to Advance Religious Freedom was held last July. Secretary Pompeo has announced that the next Ministerial will be held July 16 to 18 in Washington.
"Through all of our efforts," he said, "we are chasing a simple, but important dream – that one day all peoples around the world will be able to worship freely and believe what they want."