Experts Discuss Impact of Independent People's Tribunal on Organ Harvesting in China
February 07, 2019 | By Fang Yuan, Minghui Correspondent in London
(Minghui.org) The Independent People's Tribunal, also known as the China Tribunal, is the first independent tribunal to examine evidence of the Chinese regime's targeting of innocent prisoners of conscience to forcibly harvest their organs for transplantation.
Public hearings for the China Tribunal started on December 8, 2018, and ran for three days, during which more than 30 witnesses, including refugees, investigators and doctors presented disturbing evidence.
Following the hearing, scholars and experts condemned the crimes of forced organ harvesting in China, hoping to alert people around the world to the crimes committed by the Chinese Communist Party (CCP) and calling for legal measures against the persecution.
The final judgment of the tribunal is due in spring 2019.
Sir Geoffrey Nice QC, chair of the Independent People's Tribunal, also known as the China Tribunal, announces an interim judgment.
Legal Counsel to Tribunal: Let the Public Know What Has Happened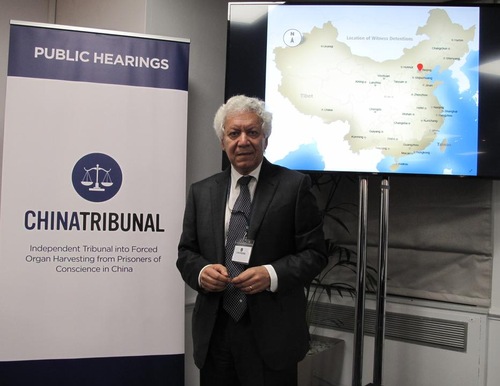 Mr. Hamid Sabi, a human rights lawyer and legal counsel to the tribunal.
Legal counsel to the tribunal, Mr. Hamid Sabi, told Minghui that forced organ harvesting from prisoners of conscience is a crime against humanity committed under the Chinese Communist Party's national policy of persecuting Falun Gong.
"Very, very sick people are in charge in China, who can carry out these atrocities against very peaceful human beings," Mr. Sabi said.
"This is the Chinese government's state policy to suppress Falun Gong and this forced organ harvesting is used as a means of enforcing that policy. And it is used systematically throughout China against Falun Gong practitioners, and against Uighurs, against the house Christians, and against other ethnic groups. So because it is systemic and systematic it is recognized by international law, or customary international law, as crimes against humanity," Mr. Sabi said.
The charges are that prisoners of conscience in China have been subjected to regular medical examinations, and when the time came, their organs were removed. Because Falun Gong practitioners tend to be very healthy, Mr. Sabi said that practitioners of Falun Gong have been targeted for organ harvesting. Some accounts indicate that these surgeries were done without any anesthetics, in a very horrible way—and immediately transplanted into an organ visitor, he said.
"This is a clear example of crimes against humanity, which is called murder, torture, and also the inhuman and horrible treatment of the prisoners," he said.
He stressed that the crimes have been committed systematically throughout China under state policy, using state agencies, including China's military hospitals, detention centers and jails. He said the tribunal also has evidence that the persecution was ordered by former Chinese leader Jiang Zemin.
Sabi hopes that all people in the world can hear Falun Gong practitioners' testimonies, because every one of them had experienced unimaginable sufferings, and it was saddening to see people being treated inhumanly for their beliefs. He said the testimonies were recorded and would be published soon on the website.
Sabi stated that while legal measures are needed, the power of morality is also important, and one way to pressure China is through public opinion. Publicizing the evidence presented at the tribunal and the conclusion of the tribunal through the media would intensify public pressure to end the persecution.
Sabi said that China has not ratified the Rome Statute and thus cannot be taken to the International Criminal Court. The only authority that can impose sanctions against China would be the United Nations Security Council, but China sits as a permanent member of the Security Council and would veto any moves against it. China has therefore been able to get away with all these atrocities, Mr. Sabi said.
Human Rights Lawyer David Matas: The Falun Gong Are Disappearing in Huge Numbers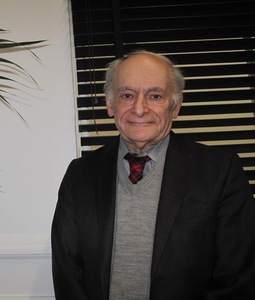 Human rights lawyer David Matas gives evidence at the people's tribunal in London on Dec. 8, 2018.
Canadian human rights lawyer Mr. David Matas served as the first witness at the hearing on December 8. He introduced the context, background, process, and conclusions of the independent investigations that he, Mr. David Kilgour, and Mr. Ethan Gutmann had worked on. He then answered questions from the tribunal panelists.
Mr. Matas said that his exposure to the issue of organ harvesting in China suggests that the victims are primarily Falun Gong practitioners but also includes other prisoners of conscience, including Uyghurs, Tibetans, and house Christians. "With the Tibetans and Uyghurs it has been geographically limited, and with the house Christians the numbers have been relatively small–so it's understandable that there has been a focus on Falun Gong, but the others should not be forgotten," Mr. Matas said.
Mr. Matas said punishing the forced organ harvesting as crimes of genocide would require further analysis, but the available evidence points to the persecution being directed by the Chinese regime.
"The Falun Gong are really disappearing physically, in large numbers," Mr. Matas said, "The phenomenon followed with the idea of eradicating Falun Gong–period."
Mr. Matas said a gap exists in international justice systems and that although using legal mechanisms against China is possible, nations have avoided taking any steps in that direction because China is too important to their political interests. "We are left with, instead, a people's tribunal," he said.
British Professor: Perpetrators of Organ Harvesting Should Face Criminal Punishment and Condemnation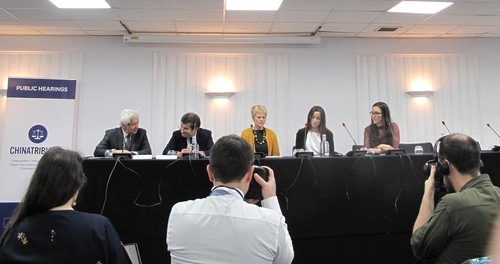 Professor Heather Draper of the University of Warwick at a press conference for the Independent People's Tribunal on December 8, 2018.
University of Warwick Professor Heather Draper is a member of the International Advisory Committee of the International Coalition to End Transplant Abuse in China (ETAC). Her academic research focuses on bioethics and ethics in relation to tissue and organ transplantation. During a press conference on December 8, she stressed the importance of organ transplant ethics and called for all people, including medical professionals and transplant recipients, to treat the investigations of the independent tribunal seriously.
"My interest is primarily in why more transplant professionals from around the world are not more interested in the kinds of evidence that ETAC has been making public, and the documentaries and other kinds of information that has been placed in the public domain, about what seems to be, to my mind, very unethical practice," she said. "It would appear that medical and nursing professionals are complicit in gross violations of their ethical conduct."
"Ethical standards have always been quite explicitly high in transplant, because people know that there are sensitivities around death and dying and that you are dealing with very upset relatives. So transplant has always had a very high conscience level compliance," she said. She explained that this level of ethics for transplant is accepted internationally and that it could be one reason that doctors from countries with traditionally high requirements for medical ethics may find it almost unbelievable that doctors in China are capable of knowingly committing murder.
She said medical professionals who specialize in transplantation should determine for themselves whether they want to be complicit with what China is doing. This includes, she said, inviting Chinese officials and transplant surgeons to international conferences.
Consultant of International Law Speaks on Communism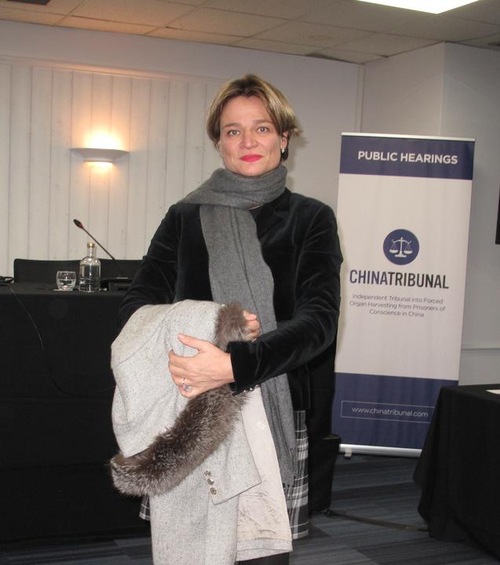 Ms. Steffi Spinae, an international lawyer, attends a public hearing of the Independent People's Tribunal.
Ms. Steffi Spinae, a lawyer specializing in international dispute resolution, has worked on many large lawsuits. She listened to several testimonies presented during the tribunal by Falun Gong practitioners from China who had escaped persecution.
"I think it's a very courageous thing to come forward and speak about what has happened to you, because it's painful, and you have to dig deep into the pain again when you talk about it," she said. "I think when you voice the pain, sometimes, it's almost part of the healing process."
She said that forced organ harvesting from Falun Gong practitioners in China is no different from the Nazis' genocide against the Jewish people. "It's actually worse, because I will tell you what: we are supposed to be much more civilized now than we were 60 years ago, right? We should know more, we should do better, and we have learned nothing in 60 years," she said.
Human Rights Activist: Independent People's Tribunal Lets the World See the Communist Party's Crimes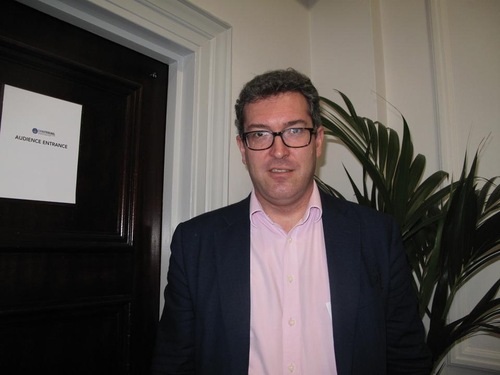 Mr. Benedict Rogers, co-founder and deputy chairman of the U.K. Conservative Party's Human Rights Commission and founder of Hong Kong Watch, at a public hearing of the tribunal.
Mr. Benedict Rogers, co-founder and deputy chairman of the U.K. Conservative Party's human rights commission and founder of Hong Kong Watch, has been paying attention to organ harvesting from prisoners of conscience in China for years. He said the establishment and operation of the Independent People's Tribunal had helped expose the CCP's human rights violations to the world.
Mr. Rogers said this was his first time to view the evidence of forced organ harvesting as a legal entity and to analyze the evidence within the framework of international law.
He said that even though the tribunal is independent and has no administrative power, it has received wide attention from media and the public and sends a powerful message to the Chinese regime.
Mr. Roger said forced organ harvesting is part of the CCP's repeated crimes against humanity, which include the recent incidents in Xinjiang.
Sir Geoffrey Nice QC, chair of the Independent People's Tribunal, announced an interim judgment on the evening of December 10, 2018. He said that members of the tribunal had unanimously concluded that forced organ harvesting from prisoners of conscience had taken place in China for a long time and "on a substantial scale," and that it had been organized and sanctioned by the state.
The final judgment is due in spring 2019 and is set to detail whether international criminal offenses were committed and, if so, who the perpetrators were and the numbers of forced organ harvesting victims involved.
Until then, submissions of evidence are still open, and so is the invitation to the Chinese regime to join the proceedings. To date, the Chinese regime has not responded to this invitation. The tribunal is currently collecting evidence on its website.