Ms. Huang Yindi Tortured in Jiangxi Province Women's Prison
February 20, 2019 | By a Minghui correspondent in Jiangxi Province, China
(Minghui.org) Ms. Huang Yindi, from Jiujiang City, has been detained in the Jiangxi Province Women's Prison since November 2016. Her life is in danger.
Ms. Huang is incarcerated because she practices Falun Gong, also called Falun Dafa, a traditional mind-body cultivation practice that has been brutally persecuted by the Chinese communist regime since 1999.
She has been denied family visits in detention. The guards tortured her with sleep deprivation, and physical abuse. Due to torture she now has difficulty walking.
Ms. Huang was forced to stand for long periods of time from the time she arrived at the prison. She was not allowed to sit or move around during the day or at night.
She was forced to stand from before daybreak until past midnight, sometimes until two a.m., or even around the clock. She was not allowed to wear warm clothes in cold temperatures, but had to sit on the cold floor, despite freezing temperatures.
Due to the long periods of standing, her legs became severely swollen, and the skin on her legs turned purple and black. Recently, prison officials switched from forcing her to stand to making her sit for prolonged periods.
Other Torture Details
1. Hanging: Ms. Huang was hung up by her wrists, with her toes barely touching the ground. This torture causes excruciating pain. When she was finally let down, her hands and feet were disabled. She gradually recovered some use after a long period of time.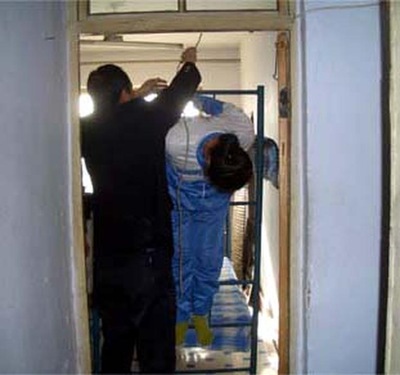 Torture reenactment: hanging up in the air
2. Restricting meals: Ms. Huang was given very little food each day. In order to protest this abuse, she often went on hunger strikes.
3. Depriving her of washing or bathing: Ms. Huang was forbidden to wash and bathe. On one occasion she was kept from washing her face or brushing her teeth for over a month.
Ms. Huang is currently in very poor health. She cannot stand straight and has difficulty walking. (The prison officials claimed that she took a fall on her own). She walks with her hands on her waist and can only walk with tiny steps.
Participants in the persecution of Ms. Huang Yindi:Jiangxi Province Women's Prison: +86-792-83711658Liu Hui (刘慧), political head, No. 2 Team, Jiangxi Province Women's Prison: +86-18970058835Fang Tingting (方婷婷), officer (badge number: 615522): +86-18070081273Gan (甘), in charge of education (badge number: 3615044)