Australia: Introducing Falun Gong During Chinese New Year
February 18, 2019 | By a Falun Gong practitioner in South Australia
(Minghui.org) On the eve of Chinese New Year, February 4, 2019, Falun Gong practitioners from South Australia visited Adelaide's Chinatown to introduce the ancient spiritual and meditation practice. They were also invited by the Vietnamese community to participate in its New Year celebration on February 9-10.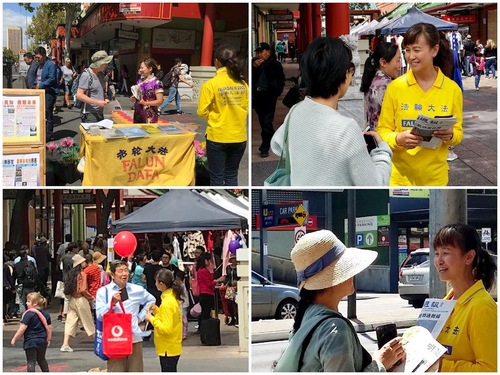 Practitioners introduce Falun Gong in Adelaide's Chinatown.
The weather was sunny and warm, and Chinatown was bustling with tourists and locals who came out to celebrate the New Year on February 9, 2019. Attracted by the music, many people stopped to listen, read the practitioners' information, and talk with practitioners.
Ms. Liu, nearly 70 years old, said she used to be a member of the Shanghai Political Consultative Congress but immigrated to Australia with her entire family after growing dissatisfied with the corruption and crimes committed by the Chinese Communist Party (CCP).
Ms. Liu first read the Epoch Times in 2014 during the Umbrella Movement in Hong Kong. She said she admired the newspaper's independent and objective reporting. After she met practitioners in Hong Kong, she saw that Falun Gong was not as portrayed by the CCP in its state-controlled media.
She said to a practitioner, "Truthfulness-Compassion-Forbearance is the foundation of China's traditional culture. I wish Master Li a happy new year!"
A young man named Jia from Liaoning Province accepted information from a practitioner, who explained that people in over a hundred countries practice Falun Gong but that it is persecuted in China by the CCP. Jia said he'd read the Epoch Times and wished to quit his membership in the Communist Youth League and the Young Pioneers.
Ms. Lin from Liaoning Province told a practitioner, "I'm not against Falun Gong. If it wasn't for practitioners' efforts to expose this persecution, I think the CCP would be even more ruthless, and society would get worse."
Falun Gong Welcomed in Vietnamese Community Celebration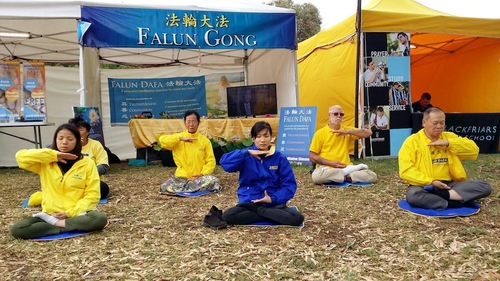 Practitioners demonstrate the meditation practice during the Vietnamese community's New Year event on February 9-10, 2019.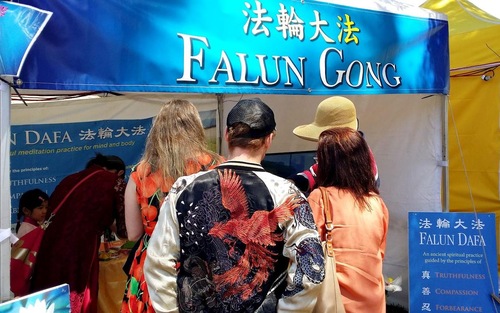 Many visitors came to learn about Falun Gong.
Many who went to the celebration were interested in learning about Falun Gong. Practitioners prepared flyers and a video in Vietnamese to help introduce the practice. They also demonstrated the exercises and handed out paper lotus flowers.
Cathy-Jo Tame, a Playford City Council member, told her child of the goodness of Falun Gong. She said she'd learned the practice years ago in a park and invited practitioners to hold a workshop in her city.
Kunye, a Vietnamese woman, said, "I've known about Falun Gong for years, and I've always wished to practice. When I heard practitioners would be here, I came because I wanted to learn more." When she learned that all classes are free, Kunye said happily, "Please give me the address of the group practice site. I want to learn Falun Gong."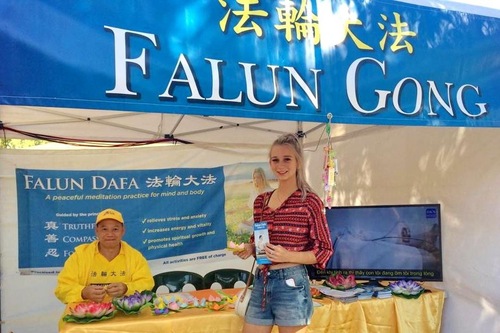 Rachael Marsden said Falun Gong's principles resonated with her.
Rachael Marsden was drawn to the Falun Gong booth. She said her mother taught English in the Vietnamese community and that she has always liked Asian cultures. She added that Falun Gong's guiding principles of Truthfulness-Compassion-Forbearance were what she had been looking for.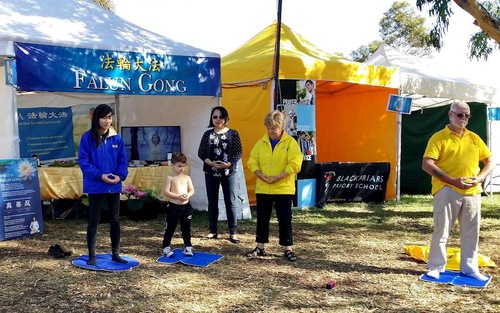 Intrigued by the exercise demonstration, a four-year-old boy joined practitioners and began doing the exercises.
After her four-year-old son joined practitioners in doing the Falun Gong exercises, his mother said, "He's usually quite active. I was surprised he could do the exercises for such a long time with you!"
The mother asked for more information about Falun Gong. When she was told that a workshop would be held on February 28, she immediately said she would go and wrote down the information.