Suihua, Heilongjiang Province: Eight Arrested in One Week for Their Faith, Seven Facing Trial
February 13, 2019 | By a Minghui correspondent in Heilongjiang Province, China
(Minghui.org) Eight Suihua City, Heilongjiang Province residents were arrested in one week in October 2018 because of their belief in Falun Gong.
Falun Gong, also known as Falun Dafa, is a mind and body improvement system based on the principles of Truthfulness-Compassion-Forbearance. It has been persecuted by the Chinese communist regime since 1999.
Six of them—Mr. Yang Chuanhou, Ms. Song Hongwei, Ms. Wang Fang, Ms. Zhao Tingting, Ms. Wang Fuhua, and Ms. Bai Xia—remain detained at the time of writing. Mr. Wu Jinghua and Ms. Gao Jinshu are currently out on bail. Except for Mr. Wu, the other seven Falun Gong practitioners have been indicted and are facing trial for their faith.
Arrests
Mr. Yang Chuanhou, Ms. Bai Xia, Ms. Wang Fang, Ms. Wang Fuhua, and Ms. Zhao Tingting went to nearby Lanxi County to distribute Falun Gong literature on the morning of October 3, 2018. They told the locals why it was wrong for the regime to persecute Falun Gong.
The five practitioners were arrested, interrogated, and taken to Lanxi County Detention Center later that day.
A week later, on October 10, Ms. Song Hongwei (Mr. Yang's wife), Mr. Wu Jinghua, and Ms. Gao Jinshu traveled to Lanxi County to demand the release of the five practitioners. A police chief asked Ms. Song why her husband should be released. She read a letter she wrote to explain why the police shouldn't persecute Falun Gong practitioners. Without her consent, the police videotaped her reading the letter. They next ordered Ms. Gao to read the same letter. When she refused, they grabbed her purse and confiscated her cash and house keys, which they later used to ransack her home when she was not present.
The police took the three practitioners to an interrogation room and tied their hands and legs to iron chairs in an attempt to extort confessions.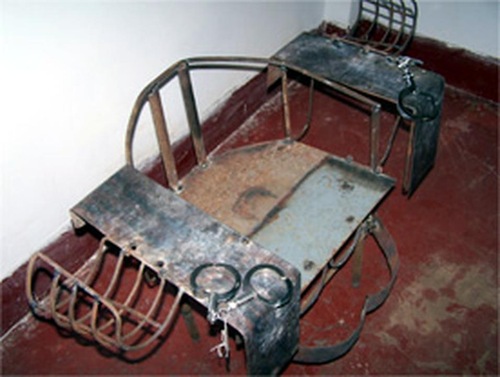 The regime uses the iron chair to torture practitioners in its attempts to force them to renounce their faith, extort confessions, or extract information about other practitioners.
The police then drove them to a hospital to be examined. Ms. Song refused to cooperate and was injured by the officers in her struggle to get away.
Ms. Gao's Plight
Ms. Gao was released on bail and taken back into custody several times after her initial arrest.
Between October 2018 and January 2019, she was interrogated four times. She was released on bail three times, was forced to have a physical exam four times, and was subpoenaed six times.
Each time she had to travel four to seven hours between Suihua and Lanxi (and sometimes another city). All this took up a lot of her time and cost her a fortune. She was always treated like a prisoner. She had to wear handcuffs, was tied to an iron chair, and was verbally assaulted.
Homes Ransacked and Six Still in Detention
The homes of all eight arrested practitioners were searched and ransacked on either October 4 or 11, the days after their arrests. The authorities terrorized their families and confiscated many of their personal belongings, including their Falun Gong literature, evidence that they practiced Falun Gong.
Ms. Wang Fang, Ms. Zhao, and Ms. Song were detained in Anda Detention Center. Mr. Wu and Mr. Yang were detained in Lanxi County Detention Center. Mr. Wu was released 3 days later on October 18.
Ms. Wang Fuhua and Ms. Gao were released on bail on October 15, because they had dangerously high blood pressure. Ms. Bai was also later released on bail.
Ms. Bai and Ms. Wang Fuhua were taken back into custody on November 20, 2018, and admitted to Anda Detention Center. They arrested Ms. Gao three days later but released her again because of her hypertension.
Seven Indicted
Except for Mr. Wu, the other seven practitioners were all indicted. The Anda Procuratorate forwarded the indictment to Anda City Court on December 28, 2018. The trial was scheduled for January 6 or 7, 2019, but it was later postponed. The families of Ms. Song and her husband Mr. Yang have hired lawyers for them.
When Ms. Song's family and attorney visited her in the Anda Detention Center on January 21, 2019, 101 days after she was detained, she looked emaciated and her clothes were ragged. The family learned that she had never received any of the clothes or daily necessities they had asked the guards to forward to her. Ms. Song was malnourished and given very little food every day.