The Persecution of Tangshan Falun Gong Practitioners Continued in 2018
February 11, 2019 | By a Minghui correspondent in Hebei Province, China
(Minghui.org) Freedom of belief is one of our most basic human rights, and it is, in fact, a right protected by the Chinese Constitution. Because of their belief, however, many practitioners of Falun Gong (also known as Falun Dafa) and their families have been persecuted by the Chinese Communist Party (CCP) for the past 20 years. The persecution is still going on.
According to incomplete statistics reported on the Minghui website, 273 Falun Gong practitioners in 14 districts of Tangshan City were harassed by officers from a number of different police stations in 2018. Most of the incidents took place in May, June, and July. The actual count may be higher since news is often restricted in China.
Practitioners Harassed
In May and June of 2018, police officers knocked on many practitioners' doors. Other practitioners received phone calls. They were asked if they were still practicing Falun Gong and if they owned a printer and used it to print Falun Dafa materials. Some practitioners were videoed. Several examples of this harassment:
- In the first half of May, police officers from Tingqiao Township harassed practitioners house to house. Those whose homes were visited included Ms. Xia Xiufen, Ms. Duan Shuqiao, and Ms. Yang Yuhuan from Xiwuli Village and Mr. Zhang Qingxuan from Huangtuqiao Village.
- On June 6, two local police officers entered the store owned by Mr. Xiao Guoqi and his wife Ms. Liu Fengying. The couple were asked to state their opinion of Falun Gong. Both of them refused. They were videoed during the interrogation.
- On June 13, three police officers visited Ms. Xu Cuiyun in her home in Xidingguanyu Village in Linnancang Township. One of them tried to take a photo of her with a smart phone when she answered the door. Ms. Xu stopped him and warned him that he was violating the law. She also threatened to sue them.
- On June 18, four police officers went to harass Ms. Zhao Xiuying, in her 70s, in her home, but she did not open the door. She chastised the officers for breaking their promise. She said, "When I filed a criminal complaint against Jiang Zemin, I was deceived into signing a statement with a promise that I would not be harassed in the future. Why are you here again?"
- On June 20, two police officers from the Kaiping District harassed Mr. Zhang Limin at his workplace. A young assistant officer tried to take a photo of Mr. Zhang, who stopped him. The police said that they were ordered to come. Mr. Zhang said, "The ban on the publication of Falun Gong books was lifted. Many officers want to protect themselves and do not follow orders to bother practitioners anymore."
- On June 26, police officers from the Lubei District knocked on Ms. Shang Shiying's door and asked to video her. They called her husband, who was not at home at that time. They took down the scroll from the door with "Truthfulness-Compassion-Forbearance" on it [the main principles of Falun Dafa] and left after Ms. Shang refused to open the door.
- On September 3, officers from the Fengnan District police station and government employees broke into the home of Ms. Wang Ruihua. They told her to sign and fingerprint a pre-printed statement. Ms. Wang refused to sign and told them not to commit crimes by harassing practitioners.
Practitioners Sentenced
Many practitioners in the Tangshan area have been arrested, detained, and illegally sentenced, with long prison terms.
Mr. He Yixing and Ms. Zhang Yueqin
Mr. He Yixing, 72, and his wife Zhang Yueqin were arrested on April 19, 2017, and taken to Zunhua Detention Center for talking to people about Falun Gong. They were tied to a death bed that same evening. They were tried on November 21 and sentenced to three years and six months on April 5, 2018.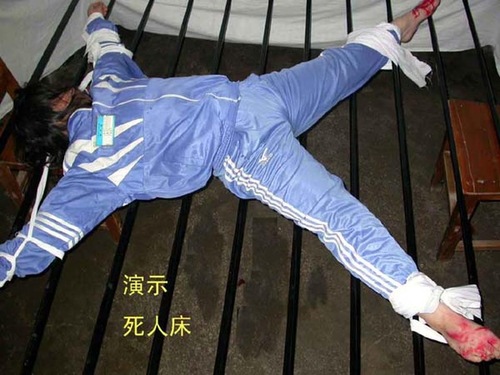 Torture re-enactment: Tied to Death Bed
Mr. He is in Jidong Prison and forced to do hard labor. He has been repeatedly denied family visits. His lawyer filed an appeal to the higher court, but the court ruled to uphold the original verdict.
His wife Ms. Zhang was taken to Hebei Women's Prison. She appealed her case to the Tangshan Intermediate Court. Her lawyer asked for an open hearing, but that request was not honored. The higher court later upheld the original judgment. When Ms. Zhang's health deteriorated in detention, the prison authorities said they would release her if she submitted to a physical exam, which she refused to do.
Back in 2008, Mr. He was given seven years and Ms. Zhang five years. While incarcerated, Ms. Zhang was shocked with electric batons on her lower body, stabbed with needles, and forced to stand on a hot board so that she could not sleep.
Related Articles:
Married Couple in Hebei Jailed Again for Their FaithMs. Zhang Yueqin Severely Tortured at Hebei Women's Prison
Mr. Bian Changxue
Mr. Bian Zhangxue, 55, of Shilituo Village, was arrested on January 5, 2016 for filing a lawsuit against former Chinese dictator Jiang Zemin. He was sentenced to eight years and fined 20,000 yuan on December 30, 2017.
Mr. Bian filed an appeal, but the Tangshan Intermediate Court upheld the original judgment. He was reportedly taken to Jidong Prison without the knowledge of his family or lawyer. He was repeatedly denied family visits.
On April 7, 2006, Mr. Bian was arrested and sentenced to seven years. He went on a hunger strike for more than eight months. During his detention, his wife divorced him and his parents were devastated. He was released in 2013.
Related Article:
Mr. Bian Changxue from Hebei Province Has Been on a Hunger Strike for Eight Months
Mr. Cao Jinxing
Mr. Cao Jinxing, 67, was retired from the Tangshan Agricultural Machinery Bureau. He was arrested and his home ransacked on June 7, 2017. He was wrongfully sentenced to seven years on June 26, 2018 and taken to Jidong Prison.
Mr. Cao appealed the judgment to the Tangshan Intermediate Court, but the court upheld the sentence without holding a hearing. As of today, neither his lawyer nor his family know his current status.
Related Article:
Intermediate Court Upholds 7 Year Sentence Without Following Legal Procedure
Wang Baoshan
Mr. Wang Baoshan, who worked for the Tangshan Agriculture and Animal Husbandry Bureau, was arrested at work on July 3, 2017. He was accused of putting up a Falun Dafa banner on road railings on June 29. He has been detained in Jidong No. 2 Prison since his arrest.
Mr. Wang was tried in the Zunhua City Court on May 9, 2018. His attorney refuted the charge based on the law and as a matter of conscience. Mr. Wang also defended his innocence. He was still sentenced to five years and six months and fined 20,000 yuan, even though there was no adequate evidence to support the accusation.
Ms. Wang Yaxin
Ms.Wang Yaxin, a senior engineer for Tangshan Steel Company, was arrested on May 7, 2017, for talking to people about Falun Gong at the market in Daan Township. She was tried on December 26.
Previously, Ms. Wang and her husband were arrested on March 13, 2014 for their belief. Ms. Wang was detained for one month and her husband was sentenced to two years and six months.
In the courtroom, Ms. Wang's attorney argued that two legal interpretations that the prosecutor used as the basis for conviction were not laws and had no legal power. Her husband described the history of Falun Gong and the reasons for his wife's desire to explain the truth. He said, "Persecuting my wife is an abuse of power, it is a false accusation, and a violation of a citizen's right that is protected by the constitution. My wife should be a plaintiff, not a defendant, in this trial because she is a victim of the CCP. Trying her is a crime."
Ms. Wang also defended herself and pointed out the benefits of Falun Gong. She was sentenced to one year on January 24, 2018. She has appealed the judgment to the intermediate court.
Also arrested with Ms. Wang was her co-worker Mr. Sun Li, who was sentenced to 14 months in prison.
Mr. Wang Zhiqin and Ms. Cao Yachun
Mr. Wang Zhiqin and his wife Ms. Cao Yachun from Xiaoheyan Village, Xinzhai Town, were arrested on December 1, 2017, because they were identified in surveillance footage. They defended themselves during the first hearing held on August 24, 2018.
Two lawyers were hired to defend them.
The second hearing was held on November 13 to hear additional evidence. The defendants and their lawyers were not allowed to comment on the evidence the prosecutor presented.
Related Article:
Hebei Practitioners Mr. Wang Zhiqin and Wife Ms. Cao Yachun Tried