Turkish Minghui Website Inaugurated
December 03, 2019 | By a Falun Gong practitioner in Turkey
(Minghui.org) The Turkish Minghui website "tr.minghui.org" was launched in November 2019. Turkey is located between Europe and Asia and has a population of 80 million.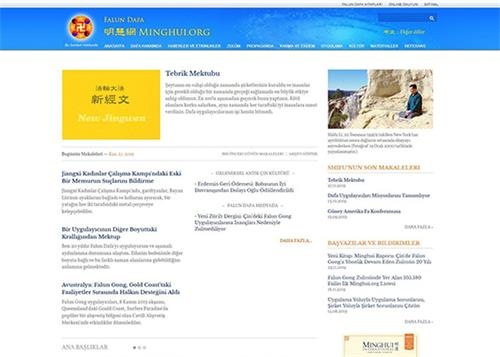 Screenshot of the Turkish Minghui website
Falun Dafa (also known as Falun Gong) was introduced in Turkey in 2003 and quickly spread. The Turkey Falun Dafa Association was set up in 2005. As of today, there are Falun Gong practitioners in over ten Turkish cities, including Istanbul, Ankara, Izmir, Antalya, Mersin, Samsun, and Konya.
Turkish practitioners hold many events to introduce Falun Gong and raise awareness of the Chinese Communist Party's persecution. They held the Art of Zhen Shan Ren (Truthfulness, Compassion, Forbearance) exhibition in over twenty cities, as well as the "Journey of Falun Dafa" photo exhibit in many cities.
Turkish practitioners developed the Turkish Clearharmony website in 2005 and established the Turkish Epoch Times in 2011. They sponsored the Shen Yun show in 2010.