Denmark: Medical Professionals Learn about China's Forced Organ Harvesting
November 25, 2019 | By a Falun Gong practitioner from Denmark
(Minghui.org) Denmark's annual medical conference, Doctor Week, was held in Copenhagen November 11-15, 2019. Medical professionals attending the conference continued to pay attention to the Chinese Communist Party's (CCP) state-sanctioned organ harvesting from living Falun Gong practitioners.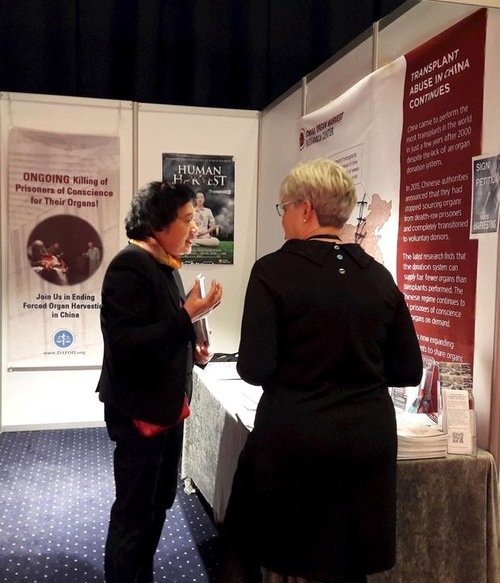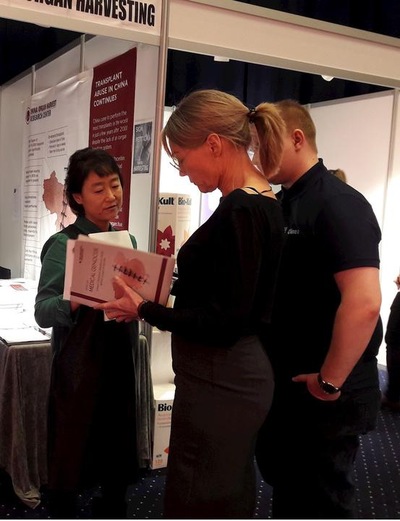 Representatives of DAFOH (Doctors Against Forced Organ Harvesting) discuss forced organ harvesting in China during Doctor Week, an annual meeting of medical professionals held in Copenhagen.
The five-day event was attended by approximately 3,500 medical professionals from Denmark, Greenland, and the Faroe Islands. A small number of Nordic doctors and nurses also attended the meeting.
The international non-governmental organization DAFOH (Doctors Against Forced Organ Harvesting), hosted a booth and informed attendees about the Chinese regime's live organ harvesting from prisoners of conscience, including Falun Gong practitioners, people from Xinjiang and Tibet, and Christians.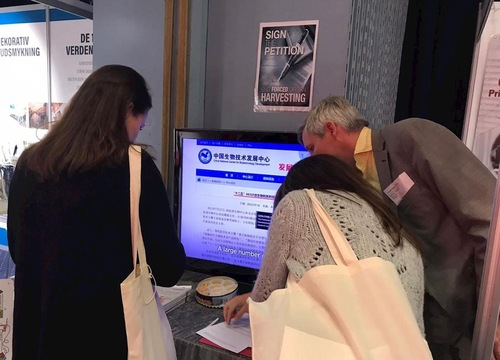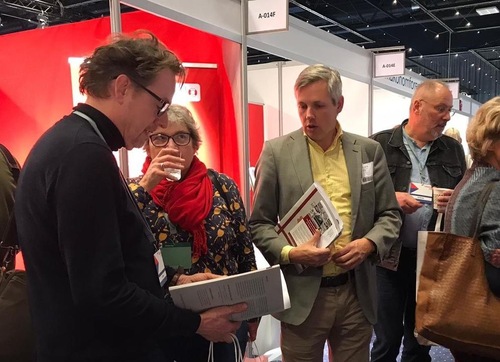 Medical professionals learn about the CCP's live organ harvesting during Doctor Week, November 11-15, 2019.
"This is Total Evil"
Sara, a general practitioner, said after watching an interview about forced organ harvesting, "This is really terrible. I knew a little about this before. Such a serious matter does not seem to be widely known in society today, which is worrying."
Medical researcher Per went to the booth after hearing about it from his colleague. When he learned of the number of transplant hospitals in China, the short wait time for organ transplants, and how Falun Gong practitioners are being used as living organ donors because of their good health, he said, "It's too terrifying! [The CCP'] actions are disgusting, and this is a systematic operation. This is totally evil."
State Crime
Johnny has long been concerned about China-related topics and the CCP's persecution of different groups. He said, "I have a certain understanding of the CCP and know that there's nothing they won't dare to do. The killing on demand for organ transplant without any concern once again redefines my understanding of the CCP."
Morten said, "As a doctor, one promises to follow the Declaration of Geneva: respect for life, provide medical care with conscience, and not use medical knowledge to harm life even under threats. This group is used by the CCP to kill people. This is a totally unacceptable crime."
Katerina is from the Danish branch of an international health care facility. When she talked with DAFOH staff and saw the prices of organs and the short wait time in China's transplant hospitals, she said, "This is totally a state crime."
Forced Organ Harvesting Ongoing
Some of the participating doctors signed a DAFOH-sponsored petition to the UN Human Rights Commission in 2013 and brought their colleagues to learn the progress on the issue.
Anders came to the DAFOH booth and said that it was unbelievable that the forced organ harvesting had not stopped and that the Chinese regime was still talking about increasing the number of transplant hospitals in China. Another doctor, Susan, explained the issue to her colleagues and asked them to sign the petition as well.
Call to Action
Charlotte is a medical student and also studies international politics. After learning about the CCP's live organ harvesting, she signed the petition and talked with DAFOH staff to learn more about the situation. She said that this was a very important issue and must be made known.
Peter is a doctor who was invited to visit a Chinese hospital. He expressed deep concern about some of the little-known realities of the Chinese medical industry, especially illegal organ trafficking. After learning about the CCP's state-sanctioned, on-demand killings and that the main victims are Falun Gong practitioners who follow the principles of Truthfulness, Compassion, and Forbearance, Peter carefully read about the investigation and asked for details about some of the cases.
He said, "This is especially important because of the close collaboration with China." After reading the petition, Peter said, "This is very important. We must take action."
Background
Doctors Against Forced Organ Harvesting is a non-governmental organization founded by medical doctors to voluntarily serve the medical community and society. DAFOH respects the dignity of human beings and promotes the highest ethical standards in medicine described in the Hippocratic Oath, the Declaration of Geneva, the Nuremberg Code, the Declaration of Helsinki and the Declaration of Istanbul. DAFOH was nominated for the Nobel Prize of Peace in 2016 and got the Mother Teresa Memorial Award for Social Justice on November 3, 2019.