Danish Elected Official: "We Can't Turn a Blind Eye to Forced Organ Harvesting Crimes"
October 17, 2019 | By Shu Hui, a Minghui correspondent in Denmark
(Minghui.org) Public officials and experts from many different nations attended a public forum titled "Relevance, Urgency, and Actions: Forced Organ Harvesting from Prisoners of Conscience in China" in Copenhagen on September 17, 2019.
The seminar was organized to coincide with the European Society for Organ Transplantation (ESOT) annual conference, which was being held in Copenhagen at the same time.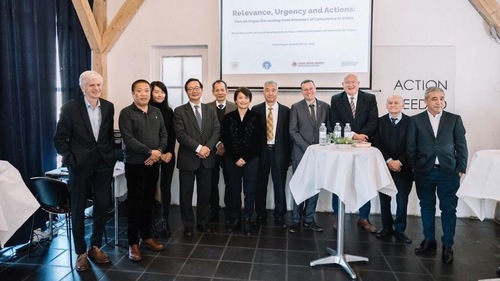 Five international organizations signed a joint statement calling on Western nations to take action to stop the Chinese Communist regime from murdering prisoners of conscience for their organs.
Human rights lawyer and independent investigator David Matas and independent scientist and medical professor Huige Li were both invited to speak at the forum.
Falun Gong Practitioners Are the Major Source of Organs for Transplants
Experts at the forum from many countries were shocked to learn that China has continued with its organ pillaging and has extended the tentacles of its unscrupulous dealings into many foreign countries.
Dr. Enver Tohti, a Uighur surgeon in exile, presented recently-collected evidence of a human organ "green lane" or express lane at the airport in Urumqi, the capital of Xinjiang, and another one at the airport in Xining, the capital of neighboring Qinghai Province.
"It requires a large human organ supply chain to sustain a green lane establishment like this," Dr. Tohti said.
Dr. Huige Li said the communist regime has been using "brain dead" as an excuse to take human organs.
"They don't kill the person before removing the organs. The reality is they cut out the heart from a living human being. After the heart is removed, the person dies," Li said.
Mr. Zhiyuan Wang, Chairman of the World Organization to Investigate the Persecution of Falun Gong (WOIPFG), played 17 recordings of phone calls where an investigator made inquiries about organ transplants with 17 of the top hospitals in China. In 10 of the calls, Chinese doctors and other medical staff admitted that they could provide organs from healthy, living Falun Gong practitioners, while doctors in the remaining seven hospitals didn't rebuke the caller when she asked if the organs came from healthy Falun Gong practitioners.
Attorney David Matas urged the Danish government to sign onto the Council of Europe Convention to combat the trafficking of human organs. He said the convention would require Denmark to punish those who conspire with foreign entities to abuse organ transplant ethics.
City Council: "Can't turn a blind eye to forced organ harvesting crimes"
Mr. Kenneth Kristensen Berth, who is a member of both the Danish People's Party and the City Council of Copenhagen as well as a former Member of Parliament, attended the forum as a guest. He said that if the forum was held in Christianborg (where the Danish Parliament is located), it would attract more public attention.
He said that China-Denmark relations had been going in the wrong direction for the past 20 years. Due to economic interests, Denmark had chosen to turn a blind eye to the forced organ harvesting crimes taking place in China. He said that if these crimes against humanity had happened in any other country, Denmark would have expressed its disapproval and pressured the country.
Mr. Kristensen Berth said that the topic must be raised again and again. "We must do this. I am working on it and I wish more people would join the effort," he said.
Dalsgaard of the Youth Social Democrat Party: "Spread the message"
Simon Dalsgaard of the Youth Social Democrat Party said he had heard of forced organ harvesting crimes while he was traveling in Kyrgyzstan and Tajikistan last summer, but he only became aware of the shocking number of people being killed after attending the forum.
He said he would make every effort to spread the message, regardless of how many obstacles lay in front of him. "I really appreciate your coming to Copenhagen and organizing this forum," Mr. Dalsgaard said to the organizations responsible for putting the forum together.
The forum was organized by Our Future House and the International Society for Human Rights and was co-organized by ETAC and China Organ Harvesting Research Center (COHRC).