International Piano Competition Preserves Musical Traditions
October 11, 2019 | By Minghui correspondent Cai Ju
(Minghui.org) The 2019 NTD 5th International Piano Competition's semi-finals and finals took place on September 27 and September 28, 2019, at the Baruch Performing Arts Center in New York City.
A total of 86 contestants from 28 countries participated in this year's competition, and 15 of them made it to the semi-finals. Just six pianists advanced to the finals.
The semi-finals required the pianists to play a piece commissioned specifically for the competition, "Triumph of Goodness" by D.F. the artistic director of Shen Yun Performing Arts, that contained both Western and Chinese elements. Sounding in some ways like a traditional Chinese melody written for an orchestra, this piece was arranged for piano using the classical format and style.
Award ceremony for the finalists of the 2019 NTD 5th International Piano Competition on September 28, 2019.
Mission: To Preserve the Legacy of Traditional Piano Literature
The mission of the competition is to promote and preserve the 250-year legacy of classical piano literature. The repertoire focuses strictly on the Baroque, Classical, and Romantic periods and puts emphasis on the foundations of piano music with Bach and Beethoven requirements.
These periods were when piano music was formalized. Through utilizing this systematic musical form, composers expressed their philosophies, hopes, and challenges through their music.
"Everything about life—through their composition, they can express it," said the head judge of the competition Professor Becky Yao. "Music is life, life is music."
"This year there were so many young pianists. I'm so happy to see young people who want to come back to this tradition ... As judges we feel very honored to listen to those talented pianists," she said.
Understanding the music is important, Ms. Yao said. A musician should be well-rounded, with systematic training in various aspects of music.
"Like a scholar, they know everything [that's] related to music, so they understand the background of that period, so they can present it better, the composer's style," Ms. Yao said. "Plus, your own personal feeling, your personal experience, how to interpret it."
"And when performing on stage, it's important to remember it's about the music, not oneself," Ms. Yao said.
"You want to bring the beauty and the purity to the audience, so the contestants, they themselves had to clear their minds, to be very calm, very peaceful, very pure, and just focus on their piece," she said. "They [are] totally engulfed in this musical world, and they forget [about] themselves. That's the best state of their minds."
The competition is also a great platform for pianists to share their understandings of classical music, Ms. Yao said.
"The competitors bring those repertoire[s] back, to put that in their own concert, to their future concert program, to their studio for their teaching the younger generation," Ms. Yao said. "So those classical music [pieces] will never die and they will even flourish. Those repertoire[s], these are the legacy from our ancestors, from our musician ancestor[s].
"Good music can inspire people, and pianists act like messengers, shouldering the mission of carrying on these traditions and reviving neglected music." Ms. Yao believes in the importance of the goodness in traditional music, the peace, love, honesty, respect, and rationality.
"We want to carry on those good [traits of] humanity in the world through our competition, through our classical music," she said.
Gold Award Winner: Repertoire Brings Back "Most Pure Music"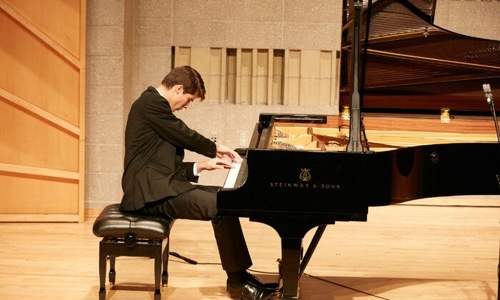 Vladimir Petrov, the gold award winner of the 2019 NTD International Piano Competition.
"Music... has a lot of power... It really cures you," said Vladimir Petrov, the gold award winner of the 2019 NTD International Piano Competition. He performed Schumann's "Symphonic Etudes" and Liszt's "Mephisto Valse" in the finals.
He thought limiting the competition repertoire to the Baroque, Classical, and Romantic periods was appropriate. "It's good because that is the most pure music... All the music started from there, many centuries ago."
"It's been forgotten through the years, and in our century totally forgotten... [But in some places] they keep their traditions very, very near to their families. I think that's very important. I feel it's very close to me... It's pure, very pure and honest," he said.
He also shared his understanding of performing the commissioned piece, "Triumph of Goodness." "The only way to keep alive, is to keep this goodness alive inside of you. Goodness always wins," he said.
"I understood this music really well," he said. "Maybe I will play this in my future concerts."
He appreciated the efforts of the competition staff and coordinators. "The people who work here are working with their heart and we feel it, we feel they are supporting us, everyone, from the first round," he said.
He said that to be a musician one needs "to be very, very honest with yourself and with the public, and with the music... The composer, when he writes music, their emotions are completely infused, completely, and that's why music gets to our hearts. That's what I think is most important."
Playing Music Is to Understand Others
"We need to go back to the traditional music sometimes to have that base," said Sanghie Lee, the bronze-prize winner of this year's competition. She played Schumann's "Fantasie" and Rachmaninoff's "Moments Musicaux."
"I think it's most important to be a good person, because playing music is to understand others, so we need to be considerate and understand others," she said.
"Powerful Force for the Human Mind"
"[Music] can bring a message to people that otherwise would not be okay to say in words sometimes—this is what I feel. It has the power to communicate... It can be a powerful force for the human mind," said Maxim Anikushin, a winner of the Outstanding Performance Award.
He played Beethoven's Sonata No. 21, and Chopin's "Andante Spianato" and "Grande Polonaise Brillante" during the finals.
Mr. Anikushin said the competition's choice of repertoire was perfect.
"I believe Bach is the greatest genius composer there is in the world. What he created, it feels like God speaks through him," he said.
"You have to display your ability to play many voices at one time, and you have to display virtuosity... It's a very correct decision; I've never played in a competition that required just that," Mr. Anikushin said.
Share Music with People
"This is my first time in New York, in America, I'm very excited," said Olena Miso, a pianist from the Ukraine who studies in Graz, Austria. She won the Outstanding Performance Award.
At the final, she performed Scriabin's "Two Poems," the Bach-Busoni "Chaconne," and Rachmaninoff's "Four Preludes."
"Unfortunately in the 21st century... Everybody rushes. I have this feeling everyone rushes to leave, and nobody enjoys so much," Ms. Miso said.
She appreciated the beauty of the commissioned piece, "This wonderful piece shows us everything can exist together, and be close to us."
"This is the most important thing to me, to share music with people," she said.
List of Winners
Gold Award:Vladimir Petrov (Mexico)
Silver Award:Nicolas Giacomelli (Italy)
Bronze Award:Sanghie Lee (South Korea)
Outstanding Performance Award:Shih-Yeh Lu (Taiwan), Olena Miso (Ukraine), and Maxim Anikushin (New York, the U.S.)
Commissioned Composition Award:Shih-Yeh Lu