Vietnamese Practitioner in Melbourne: Falun Dafa Taught Me to Be a Better Person
January 20, 2019 | By a Minghui correspondent in Melbourne, Australia
(Minghui.org) "I was once an atheist. At the lowest point in my life, my mother, who is a Falun Dafa practitioner, suggested that I read Zhuan Falun, the main book of the cultivation practice. I thought, 'If reading this book can make me a better person, then I will give it a try.'"
Heidi, a young Vietnamese woman who now lives in Melbourne, recalled her feelings when she first read Zhuan Falun.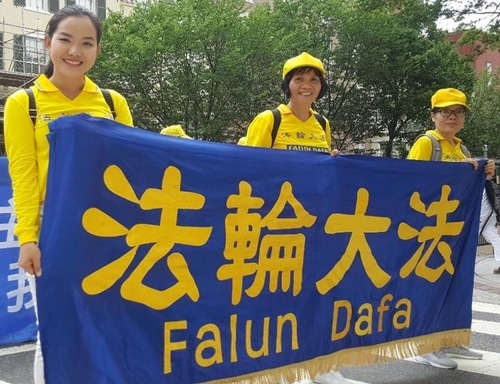 Falun Dafa practitioner Heidi (first on the left)
"I thought it was a wonderful book, so I immediately began to practice it. My life has changed so much since then. Witnessing the beauty of Falun Dafa and the power of this practice, such as the changes to my family members who first took up the practice, eight more people in my extended family became practitioners."
Zhuan Falun was first published in Chinese in Beijing on January 4, 1995. The Vietnamese version was first published in 2001, and the latest translation was distributed in July 2004. Over the last 24 years, the book has been translated into 40 languages and read by countless people. People in over 100 countries now practice Falun Dafa, and the book has guided and transformed the lives of millions of practitioners.
Heidi said, "Everyone in my family experienced a big change in their character after practicing Dafa."
Immigration Problems Provide Opportunity to Practice Dafa
Heidi is a lively young woman. She speaks fluent English, although she has lived in Melbourne for less than ten years. She has had her ups and downs.
After graduating from university, she got a steady job in a five-star hotel. However, her application for permanent resident status was fraught with difficulties. She had to quit her job in 2015, leave her boyfriend, and return to Vietnam to start a new application.
She said, "I was devastated and became depressed and ill-tempered. My mother had been practicing Falun Dafa for several years and suggested that I read Zhuan Falun. I knew the book teaches one to be kind and patient. This was important to me because I was becoming more and more temperamental and impatient and was easily upset. I disliked myself then."
Heidi began to read the book in the hope that she would become a better person. She was moved by what she read and began to practice Falun Dafa. Her life started to change, too. She became calm and peaceful. When things happened unexpectedly, she could handle them rationally.
She returned to Australia in 2016 and was reunited with her boyfriend. They got married soon after. Her former employer gave her a job in the reception area. Heidi worked hard and patiently resolved problems, whatever the customer's attitude. As a result, she got good reviews and was promoted to VIP guest services representative.
Heidi said, "Most of the guests I take care of are either CEOs of large corporations or celebrities. They are very picky, and one has to be very kind and forgiving. I also have to deal with unexpected situations. As a practitioner, I've learned to handle these things with a relaxed mindset.
"My husband, who does not practice Falun Dafa, was pleased to see the changes in me through Dafa. He said I am more mature and is very supportive of the practice."
Before learning Dafa, Heidi loved to splurge on expensive meals and fashionable clothes. Now, she spends money wisely and prefers to stay at home, spending time with her husband, reading Falun Dafa books, or doing the exercises.
"I'm more patient when it comes to my husband since I started practicing Dafa. I let things run their course and treat bad things as an opportunity to improve my character. I am happier. Even my colleagues have noticed that I've changed. They tell me they feel better after confiding in me when they have problems."
Raising Awareness About the Persecution
Heidi loves to share her cultivation experiences with co-workers and guests. Recently she told a visitor from the U.S about her trip to New York to attend a Falun Dafa parade and conference. They were shocked to learn that the Chinese regime persecutes the practice and condones the killing of practitioners for their organs. The visitors said they would read more about it online.
"On another occasion, I contacted someone at the tax office. When I was asked for my medicare number, the agent told me that it had expired. I told her I was very healthy and did not need medical insurance. She asked how I kept fit. I told her that I practice Falun Dafa. I said that there is no cost to learn the practice and encouraged her to visit the website and read about it."
In her free time, Heidi goes with other practitioners to raise awareness of the persecution in China at tourist attractions and in other public places.
Witnessing the Power of Dafa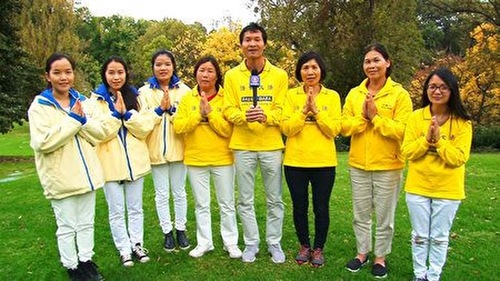 Heidi (first on the left) and other Vietnamese practitioners
Heidi's grandmother used to have a herniated disc and could not even walk. She went to see both Western and Chinese specialists, but no one could cure her. Her mother introduced her to Falun Dafa. Within a short time, the disc healed. Now her grandmother's back doesn't hurt anymore, and she is a diligent practitioner.
Heidi's mother was hit by a speeding electric bicycle. It was a serious accident—her hands were caught in the wheel of the bicycle. Her mother's first thought was that she was fine. Her hands were bruised and swollen, but they didn't hurt. She recovered in just a few days.
Heidi's father was the last member of the family to become a practitioner. Last May, she went to Hong Kong to meet with family members and participate in a Falun Dafa parade. Her father marched in the parade, too, from beginning to end, and his feet ended up covered in painful blisters.
During the parade, he saw people hired by the Chinese communist regime attempt to disrupt the procession. He was convinced that Falun Dafa must be good because the Chinese government is determined to suppress it. He then made up his mind to practice Dafa. By the next day, all the blisters on his feet disappeared. He witnessed the power of Falun Dafa firsthand.