London: Connecting to My "Life Source" at Wimbledon Library
September 05, 2018 | By a Falun Dafa practitioner in the UK
(Minghui.org) Elaine walked into the Wimbledon Library on the morning of August 18, 2018, just as she has done for many Saturdays over the past three years, and joined a group of people to practice Falun Gong together.
Elaine lives nearby. Her work in the area of commercial industry is stressful. Three years ago, she came to the library and ran into the free Falun Gong (also called Falun Dafa) instruction class.
She gave it a try and liked the spiritual exercises so much that she has participated almost every Saturday since then. She said she had found her "life source" in it.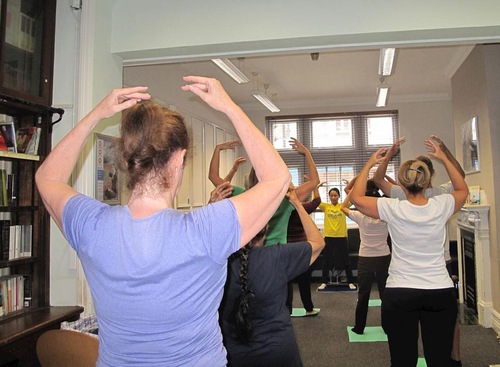 Wendy and others practice Falun Gong on August 18, 2018.
The 130-year-old Wimbledon Library, located in Merton Council, southwest of London, is a community center for people from all walks of life in the area.
A Falun Gong free instruction class has been on the schedule every Saturday morning on the ground floor of the library for over eight years. A Chinese lady named Wendy is the instructor of the class.
Wendy, an accounts assistant for a multinational company, started to practice Falun Gong in 2005. For the past over eight years, she has arrived at the library before 10:00 a.m. to start the class. If she can't come, other practitioners substitute for her.
When she was asked what motivated her to be so dedicated to the class, her answer was plain and simple, "To let more people have an opportunity to see, know, and learn Falun Gong."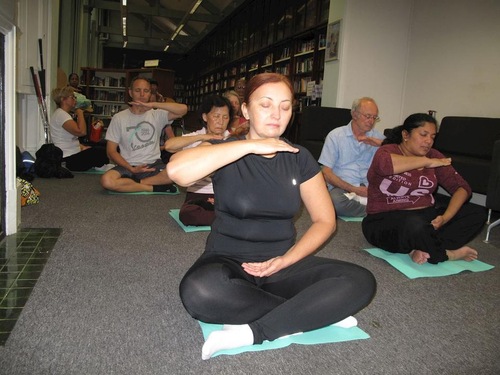 The lady meditating on the left has come to the class three times. It was the first time for the lady in the front right.
The Falun Gong class at Wimbledon Library has the longest history among similar ones in the London metropolitan area. Some students come for a time and leave, some have continued for years, and some read the teachings of Falun Gong to advance in levels.
The major teachings of Falun Gong, Zhuan Falun and Falun Gong, are available on the shelves for those who want to learn more about the practice. Clerks at the library are supportive of the class. They have often told Wendy, "We like the Falun Gong exercise music. It is very peaceful."
A Chinese family brought their children to the library, too. Wendy was happy that they could see that Falun Gong is freely practiced in countries outside of China.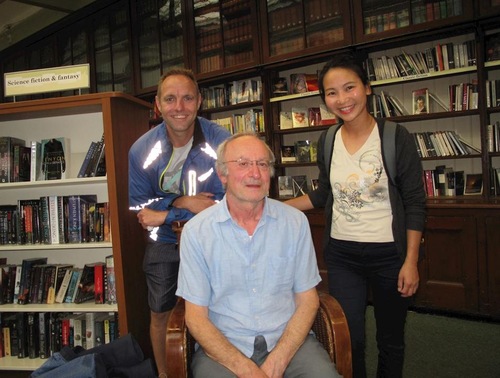 Wendy (right), Alberto (middle), and Scott
Alberto and Scott stayed after the class to share their experiences on August 18.
Scott is a project manager who works in the London Financial District. He entered the library half a year ago to look for a book. Curiosity led him to the Falun Gong class. He grabbed an exercise pad and joined in to do the meditation. Since then, he has been to the class at least twice a month.
He likes meditation and likes to be calm, so naturally he liked the Falun Gong practice and also has read through the two major books, Falun Gong and Zhuan Falun. He plans to read them again.
"Falun Gong is very easy to learn, relaxing, and has very good energy. It's a peaceful connected energy," said Scott. "I can feel the energy flowing while practicing. I can feel compassion and connected to something original."
Alberto, who is 69, said he had heard about Falun Gong being persecuted in China in the news many years ago. He noticed the teaching class in the library four years ago. After he attended a few times, he borrowed a DVD of the documentary "Free China: The Courage to Believe." After watching it, he decided to become a Falun Gong practitioner.
The practice benefited him from the very beginning. He had been doing all kinds of exercises all his life. He had practiced yoga since he was in his 20s, until four years ago.
"Falun Gong is better, stronger, and can especially purify one's mind," shared Alberto. "I like to do all five exercises in a row. Meditating after the other four standing exercises helps me to enter tranquility more easily."
Practicing every morning has improved his health and endurance. "The power of my mind is stronger. I am more stable and more patient. It is easier to accomplish things than before," added Alberto.
Falun Gong has also lifted his view of life. "It has helped me to be more optimistic about life. I am happier, and no matter what happens, I am more able to openly accept it."
For Elaine, Falun Gong is her life source. "It connects me to my life source. I can feel compassion and freedom. It's a wonderful journey," Elaine said. "Practicing it connects me to energy, space, and the origin of life."