Frankfurt Germany: "I Hope the Entire World Will Cherish Truthfulness-Compassion-Forbearance"
September 04, 2018 | By a German Falun Dafa practitioner
(Minghui.org) Falun Dafa practitioners held a large-scale parade in Frankfurt on September 1, 2018, to tell people about Falun Dafa and the persecution in China. It was a sunny day and the weekend happened to coincide with the Rheingau Wine Festival in Wiesbaden, a city located half an hour west of Frankfurt. Many locals and tourists alike were impressed by the practitioners' performances.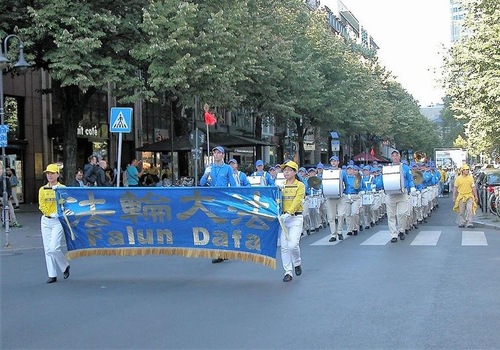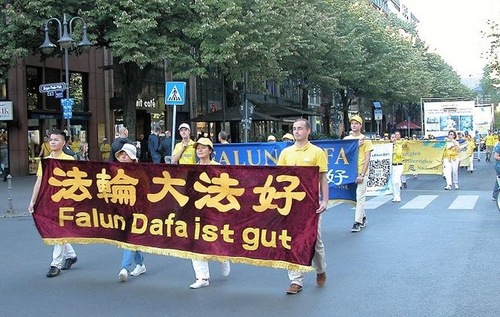 The Tian Guo Marching Band led the parade during the Rheingau Wine Festival in Wiesbaden, Germany, on September 1, 2018.
Led by the Tian Guo Marching Band and followed by a procession that mourned practitioners who died as a result of the suppression, another section of the parade called for an end to the persecution. The parade started in the business district, wound its way through historic old town, passed the opera house, and ended up at the train station in the center of the city.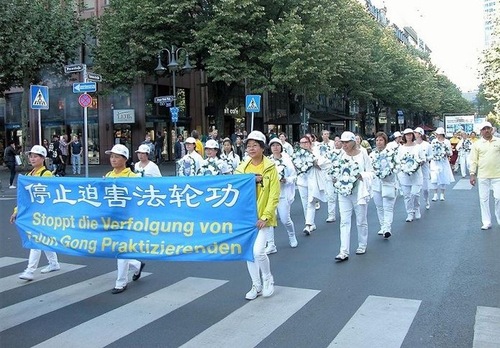 Remembering practitioners who lost their lives during the suppression.
Practitioners also hosted two booths in the city center to demonstrate the exercises and collect signatures on petitions calling for an end to the persecution in China. Following the parade, the Tian Guo Marching Band performed at several popular locations, where practitioners also talked with people and urged them to help end the persecution by signing a petition.
Passersby read the Falun Dafa information, signed petitions, and asked how to learn the exercises. Several of them said, "Thank you for all your hard work."
Opposing the Persecution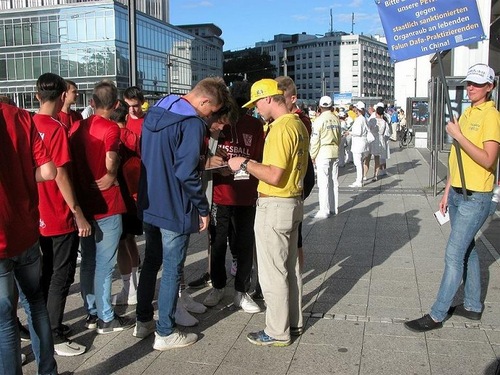 Both locals and tourists ask about Falun Dafa and sign petitions calling for an end to the persecution.
Wilfried and his wife Ruth were disturbed by the banners about forced organ harvesting and asked how they could help. After both signed petitions, Ruth said, "I am German and my husband is from Austria. People in both of our countries support you." She asked for the address of the Minghui German language website, saying she would read more about it.
Josef from Malta said he ran a charity organization in Brazil and was traveling in Germany for a week. He was impressed with how well-organized the parade was and said he would read more about Falun Dafa. "I am surprised that such a tragedy still continues in China. Because of the totalitarian communist regime, people there do not have the freedom we do here," he added.
"I hope the entire world will cherish Truthfulness-Compassion-Forbearance," Josef remarked. "That will bring peace to our world. Wars, poverty, and corruption would no longer exist." He said he would share what he saw with coworkers and friends.
Chinese: Like a Breath of Fresh Air
Mr. Yu and Mr. He, both from Wuhan City in China, live in Braunschweig, a city three hours away from Frankfurt. Mr. Yu was very happy to see the Falun Dafa events, because they would be unimaginable in China. He said several of his friends had been arrested in China for their belief in Falun Dafa. This is why he enjoys the freedom of belief in Germany, saying it is "like a breath of fresh air." He also began practicing the Falun Dafa exercises recently.
Another Chinese man, who was on a business trip to Frankfurt, said he had seen Falun Dafa activities in Hong Kong. After hearing about all the bad things the Communist Party has done, he resigned from the Party.
Pointing to a Falun Gong banner, he said he agreed with the message, "What that banner says is right. The Chinese Communist Party is different from the country of China. It cannot represent China, either."