Prague, Czech Republic: Falun Gong Practitioners' Parade Impresses Local Residents and Tourists
September 30, 2018 | By Minghui correspondents in Europe
(Minghui.org) Over 1500 Falun Gong practitioners from more than 30 countries held a parade in Hradcanske Platz, the Old Town section of Prague, on September 28, 2018. The event is held annually to raise awareness of the Chinese Communist Party's (CCP) persecution of Falun Gong and to call for it to end.
The Tian Guo Marching Band was followed by a dancing dragon, the waist drums, celestial maidens, participants in white carrying photos of practitioners who have died as a result of the persecution, and banners.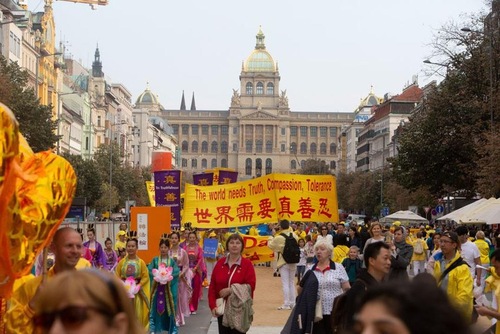 The parade near Wenceslas Square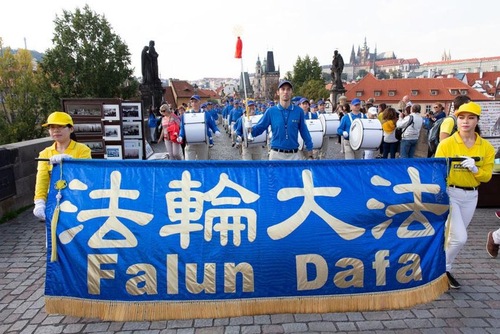 The Tian Guo Marching Band on Carl Bridge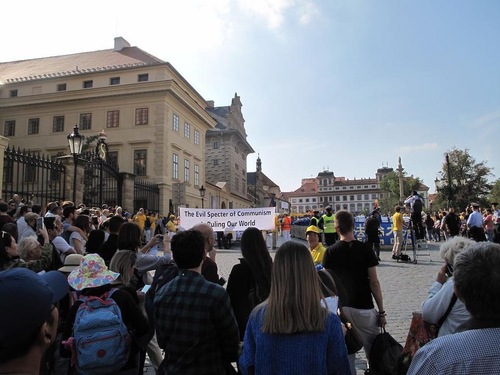 Crowds of spectators listen to the Tian Guo Marching Band perform.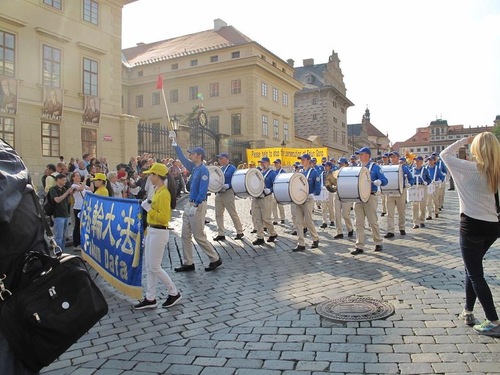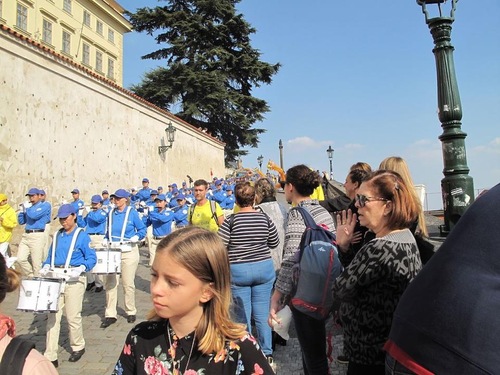 The Tian Guo Marching Band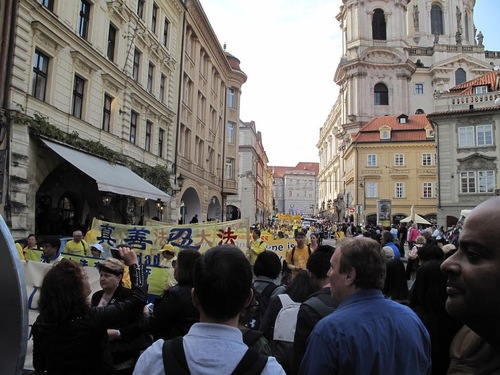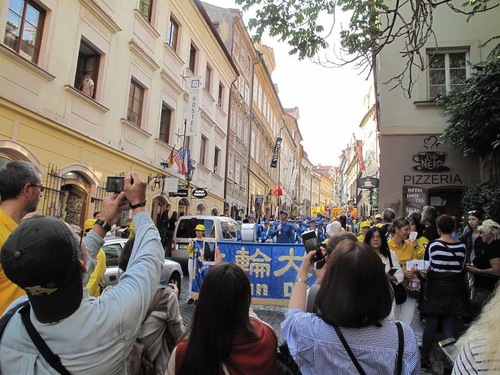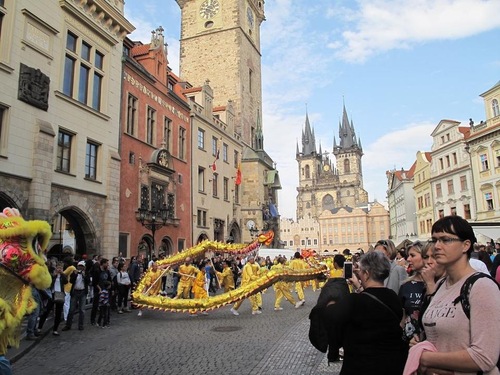 Spectators watch the parade in the old town section of Prague.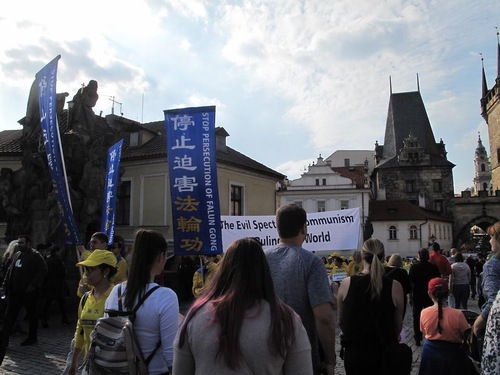 Marching over the oldest bridge in Prague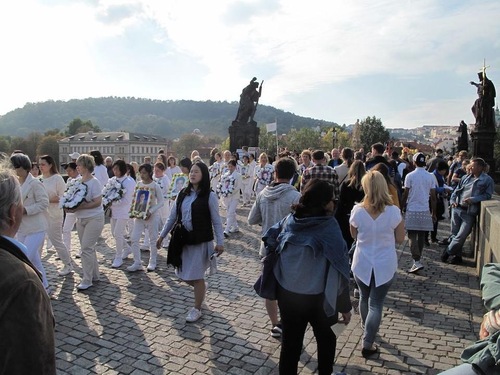 Practitioners hold portraits of fellow practitioners tortured to death by the CCP.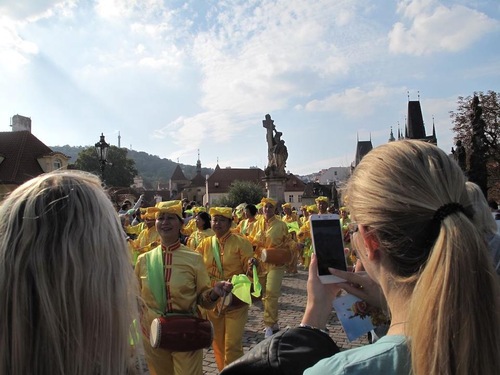 The waist drum team
The Velvet Revolution in the Czech Republic ended communist rule 29 years ago. Many Czechs and tourists from communist countries still remember the cruelty of communist regimes. When they learned about the CCP's persecution of Falun Gong and observed its peaceful practitioners, they expressed their admiration for the practitioners and for the principles of Truthfulness-Compassion-Forbearance.
Czech citizen: I am touched each time
Nicola Santellani makes and sells embroidered items to tourists in Prague's Old Town. When he saw the parade, he embroidered "Falun Dafa is good" on a piece of paper and presented it to a practitioner.
He said he knew about Falun Gong because he has worked in the city for nine years and has often seen practitioners' events. He said, "I have seen their activities many times, but I am very touched every time I do."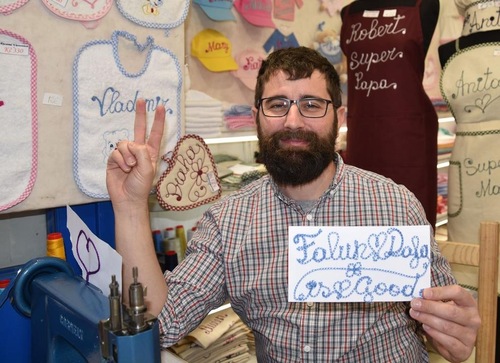 Nicola Santellani holds his embroidery that says, "Falun Dafa is good."
Nadia, who works in a craft shop in the castle, stood at the door and took video of the parade. No stranger to Falun Gong, she has seen many practitioner-events in Prague. She has learned that practicing Falun Gong can make a person happy and healthy and that the Chinese communist regime persecutes it brutally, leading to many deaths.
Nadia, who is too young to have lived under communist rule, could not understand why a government would want to persecute innocent people: "Everyone should be able to decide what to do on their own. I don't understand why the Chinese government wants to persecute practitioners."
Sasa Malinokiy was moved by the procession and sensed a spiritual energy. He did not understand why one group of practitioners was holding portraits. He asked a practitioner, who told him about the persecution. He understood and said, "The CCP's persecution should be condemned all over the world. I support you. Good luck!"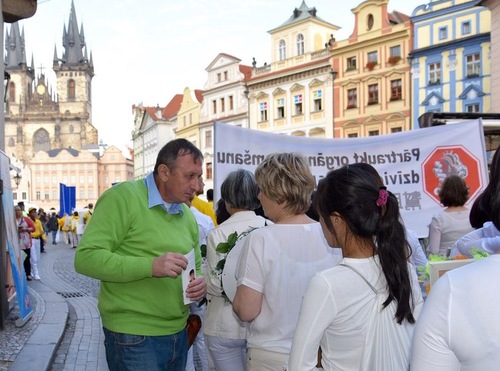 Sasa Malinokiy asks why practitioners are holding portraits.
A Teacher from South Africa: Witnessing a special event
Gwen Duganyich is an English teacher from South Africa. The parade's message made her emotional, "To tell the truth, I am almost moved to tears. It is a tragedy to be killed just for doing good."
She said she agreed with the principles of Truthfulness-Compassion-Forbearance and that the world would be a better place if people the world over adopted such values.
She said, "I am impressed. I've seldom seen such an event. So many people from all over Europe showing the power of Falun Gong. Many people embrace these values. I am a tourist here today. I have witnessed this special activity, an international event."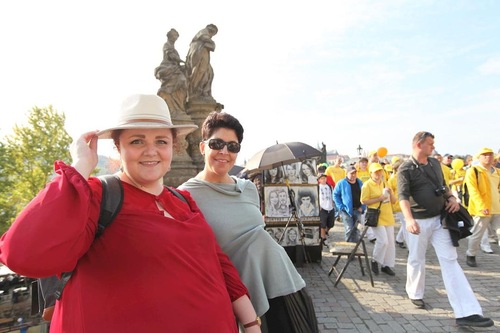 Crizeldie Gray (left) and Gwen (right) watch the march.
A lady taking video footage of the parade said she was a law professor from Argentina and had learned about Falun Gong from the English Epoch Times.
She said that many teachers in her school received the newspaper regularly. She brought the newspaper home and shared the news of the persecution with her friends. She said she was wondering how to help the practitioners being persecuted. She took the video footage of the parade to share with her friends.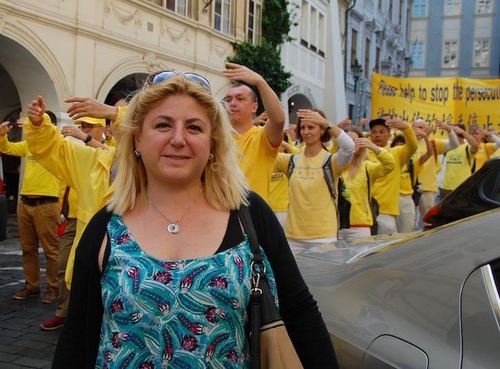 A professor from Argentina
A young lady taking photos of the parade said, "I want to learn this meditation practice so I can keep physically and mentally balanced like those practitioners."
A woman from Vienna
Mr. Chen and his wife and daughter from the Philippines were touring Prague. They were surprised to see a parade of Chinese culture. They listened to a practitioner's explanation. Mr. Chen was happy to know that many Westerners like the meditation practice from China. After hearing about the benefits of practicing Falun Gong, they wanted to learn more. His wife asked their daughter to write down the practitioner's contact information.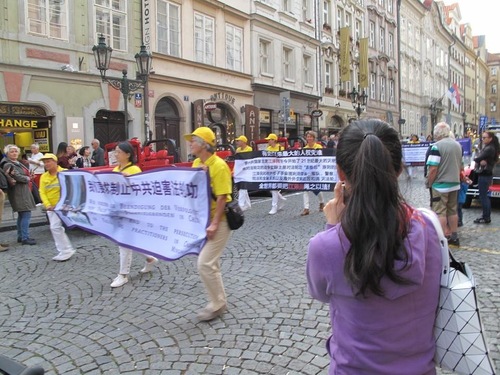 Chinese spectators pause and take photos.
Two youths took a photo in front of the Tian Guo Marching Band after the parade, and a practitioner explained what the parade was all about. The two said that the march was "great!"
Two youths listen to a practitioner explain Falun Gong.
The parade ended on Wenceslas Square at 5 p.m.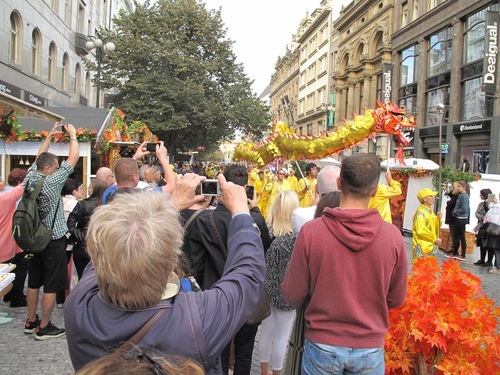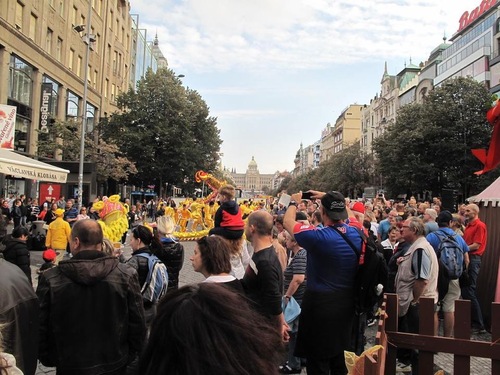 Crowds of spectators surround the practitioners near the end of the parade.