Querétaro, Mexico: "Letter from Masanjia" Wins Best International Documentary Award
September 03, 2018 | By a Falun Dafa practitioner in Mexico
(Minghui.org) The documentary Letter from Masanjia, about the persecution of Falun Gong in China, won the Jury Prize for Best International Documentary at Doqumenta, the 2018 International Documentary Film Festival in Querétaro, Mexico on August 25.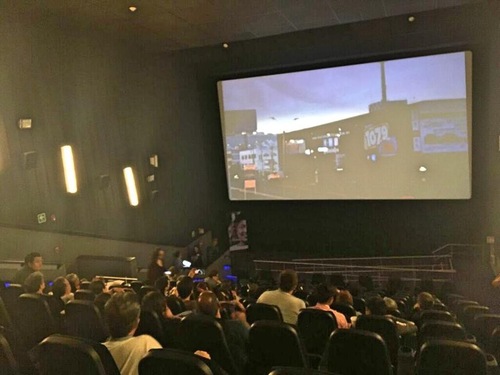 Screening of "Letter from Masanjia" at the 2018 International Documentary Film Festival in Querétaro, Mexico.
The documentary exposes the abuse and tortures in the forced labor system in China. Protagonist Sun Yi, a Falun Gong practitioner, was illegally arrested and detained in Masanjia, one of the most notorious forced labor camps in China before 2013.
The titular letter in Letter from Masanjia was a plea for help coming from the other side of the world. The film conforms to the mission of the Doqumenta Film Festival, "To give voice to the stories that are not heard," by casting a light on Communist China's darkest and most hideous side.
Masanjia is a forced labor camp in Liaoning Province, northeast China, where Sun Yi was imprisoned for two and a half years. There he endured long hours of hard labor and torture, in brutal attempts to force him to give up his belief.
During his time at Masanjia, Mr. Sun had handwritten more than 20 letters and hid them inside the boxes of Halloween decorations that they were forced to make for export abroad. One of his letters was found by Julie Keith, a woman in Oregon, who posted the letter on her social network sites, and soon the story was known worldwide.
After Sun Yi was released from the labor camp, he participated in the making of the documentary and risked his life to collect more evidence of the regime's persecution of Falun Gong.
Film producer Mr. Fernando Flores being interviewed after the screening of "Letter from Masanjia".
Audience members were deeply moved by the documentary, including film producer Fernando Flores. "Structurally, the documentary is impeccable, and moving at the same time. I believe that it can reach many people, both moviegoers or casual viewers, and cinema professionals. It is a documentary very well managed and very well done. The character of the story is a man who embodies a universal courage, as he is an upright being. I think it's an enormous effort that should be supported both by those who are part of the film community, and also by the society, in general," said Mr. Flores in an interview after the screening.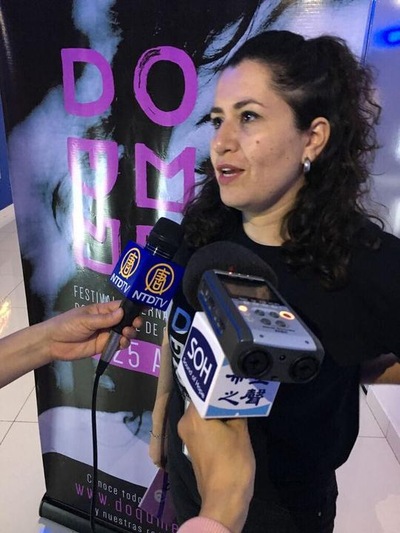 Priscila Carrera, Doqumenta Film Festival organizer.
Priscila Carrera, one of the organizers of 2018 Doqumenta Film Festival, commented, "I think that the main character is very admirable because it is finally the spirit that upholds him within that environment. I really like the part where he says, 'I am not dead yet... then I can still resist a little more.' I believe it's admirable."