Michigan: Falun Dafa Appreciated at Troy International Day
September 23, 2018 | By a Falun Dafa practitioner in Michigan
(Minghui.org) Troy International Day organizers invited Falun Dafa practitioners in Michigan to demonstrate their meditative exercises on stage on September 15, 2018, because they were impressed by them at last year's festival. The organizers also extended the demonstration time from last year's 15 minutes to 30 minutes this year.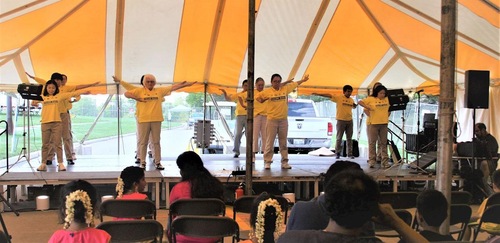 Falun Dafa practitioners demonstrate the exercises.
"They made me feel calm and yet energized," commented Mr. Dane Slater, the mayor of Troy, who also saw practitioners demonstrate the exercises last year.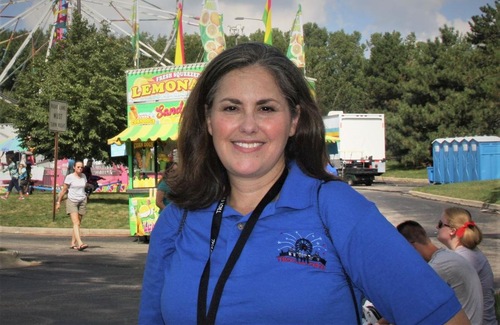 Lisa Bica-Grodsky, chair of International Day
After watching the demonstration, Ms. Lisa Bica-Grodsky, the chair of International Day said, "We liked them last year and thought it was appropriate to invite them again to demonstrate the exercises at the beginning of this year's event. Falun Dafa helps one to relax. It's a great way to start a hectic day."
President of Multicultural Council of America Says Falun Dafa Offers Physical, Mental, and Spiritual Benefits
Dr. Shakil Khan, a retired physician and current President of the Multicultural Council of America, watched practitioners demonstrate the five exercises. He said he supports Falun Dafa. "I like Falun Dafa. I think that it benefits people in mind, body and spirit. This is the best practice for everyone. As I watched them doing the exercises on stage, I felt calm and serene. I wanted to get up there and join them. Everyone needs a practice like this. We live in a stressful world, and practicing Falun Dafa is a way to get rid of stress."
Dr. Shakil Khan later commented, "Many times, people don't need drugs to control their high blood pressure if they adopt more natural methods, such as Falun Dafa. Falun Dafa can make them feel calmer."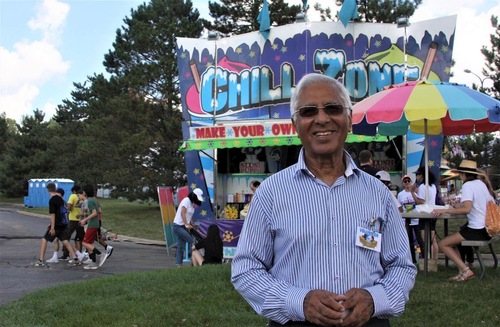 Dr. Shakil Khan, president of the Multicultural Council of America
Helping Relatives and Friends Learn about Falun Dafa
Ms. Julia Song from Troy has practiced Falun Dafa for nine years.
She said that, by participating in the exercise demonstration, she wants to show her relatives and friends that Falun Dafa is good and that it is very effective at improving health and elevating moral values. Unlike many others who took up Falun Dafa to heal their illnesses, she decided to practice it after she found the answers to many of life's questions in Zhuan Falun, the main teachings of the practice. She recommended the book to any Chinese who have doubts and questions about life: "You should read Zhuan Falun. But only if you calm down and read it will you understand," she said.
Ms. Song (first on the left) demonstrating the exercises on stage inside the entertainment tent
Troy is located in Metropolitan Detroit's northern suburbs. The annual Troy Family Daze Festival, held this year from September 13 to 16, celebrates the diversity of the community. International Day was observed on September 15 with entertainment highlighting several ethnic groups.