Vancouver, Canada: Rally Calls for Release of Chinese-Canadian Sun Qian Who is Facing Court Hearing in Beijing
September 11, 2018 | By Minghui correspondent Ran Zhang
(Minghui.org) Falun Gong practitioners in Vancouver held a rally in front of the Chinese Consulate on the afternoon of September 8, 2018, to call for the immediate release of Chinese-Canadian Sun Qian, who is facing an unlawful court hearing.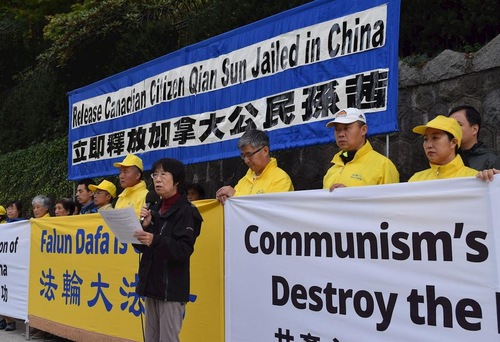 Rally calling for the release of Sun Qian in front of the Chinese Consulate in Vancouver on September 8, 2018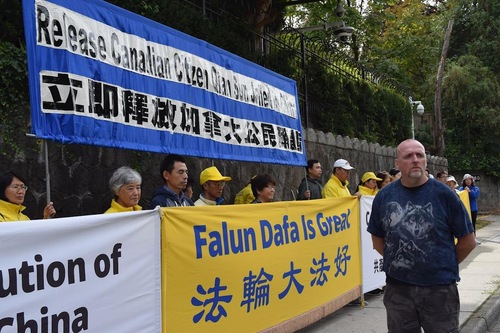 Dennis Watson, director of the Greens Justice Party, participated in the rally.
Falun Gong spokesperson Su Zhang said, "Sun Qian has been detained for one year and seven months for practicing Falun Gong. She will face a court hearing on Wednesday, September 12.
"We call on the Chinese Communist Party (CCP) to release Sun Qian immediately and unconditionally because it is completely legal to practice Falun Gong. It is not illegal to tell people that 'Falun Gong is good. Falun Gong practitioners are really good people. Falun Gong is being brutally persecuted by the CCP.'"
She continued, "The CCP's persecution of Falun Gong not only violates international law but also violates the International Covenant on Civil and Political Rights signed by the CCP itself. It also violates the CCP's own laws. We demand that the CCP authorities immediately stop depriving Sun Qian of her rights and fundamental freedom, release her, and allow her to return to Canada to reunite with her family."
Dennis Watson, a well-known blogger and director of the Greens Justice Party, came especially to participate in the rally and call for Sun's release.
Watson said, "Sun Qian is a Canadian. She went to visit China and was thrown in jail for her beliefs. That's scary. Raising awareness is to let people know this is happening.
"The show trial is not consistent with the known facts. Falun Gong practitioners are good people. They are put in jail for their beliefs. This is wrong."
Ms. Sun Qian, 52, had a very successful career as the founder of Beijing Leadman Biochemistry Co., Ltd. She was twice placed on China's Hurun Report of wealthy individuals. Her success, though, came at the expense of her health, and nothing helped her heart palpitations, liver problems, and depression.
Her symptoms disappeared shortly after she began practicing Falun Gong in 2014. Her new faith, however, landed her in police custody. Ms. Sun was arrested at her home in Beijing on February 19, 2017. She has since been detained in the Beijing Number One Detention Center.