Activities at London Tourist Attractions Draw Support for Falun Dafa
September 01, 2018 | By a Falun Dafa practitioner in London
(Minghui.org) Since June 2002, Falun Dafa practitioners have been maintaining a presence in front of the Chinese Embassy in London. This 24-7 vigil to raise awareness about Falun Dafa and the persecution in China has drawn a great deal of support from community members and visitors.
In recent years, London practitioners have also been holding activities at Trafalgar Square, St. Martin's Place, Chinatown, and British Museum to inform tourists about Falun Dafa.
Falun Dafa activities were held at these tourist sites in London on August 26, 2018.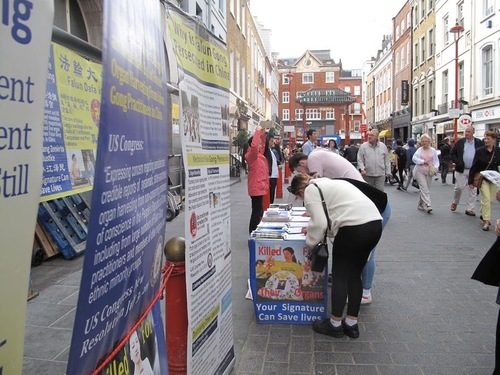 Exercise demonstration in Chinatown on August 26, 2018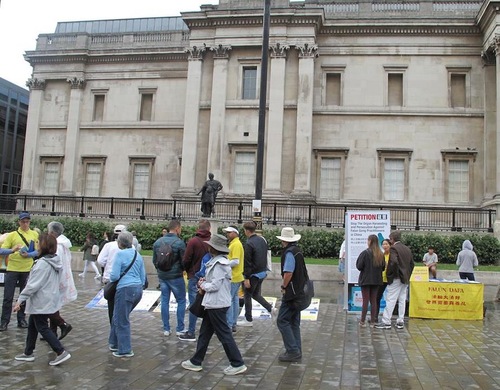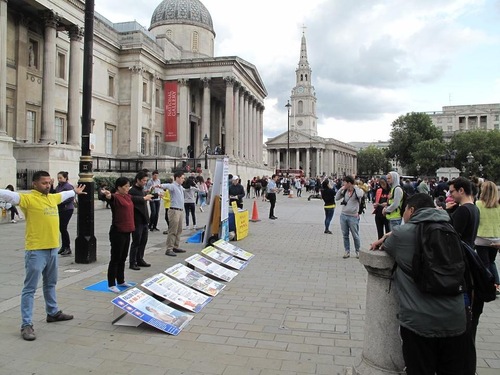 Passersby read posters and the exercise demonstration at Trafalgar Square on August 26, 2018.
Despite the drizzle, practitioners kept doing the exercises, handing out flyers, and talking with passersby. Many people stopped to sign a petition calling for an end to the persecution.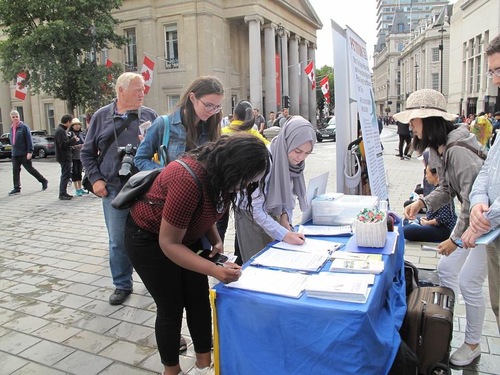 Three students sign petition to support Falun Dafa.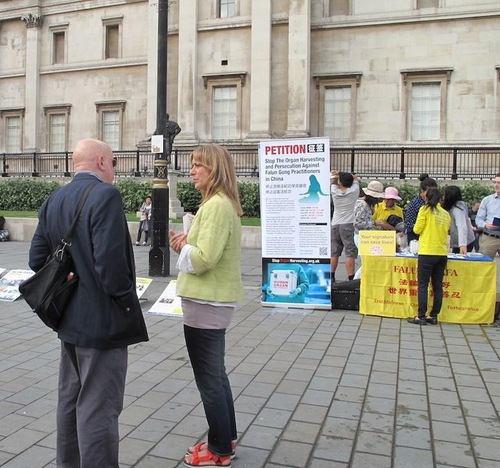 An antiques dealer asks a practitioner about the meditation.
Trafalgar Square is a five-minute walk from Chinatown. Even when it was drizzling, practitioners continued doing the sitting meditation. After the drizzle stopped, the fresh air attracted more people to stop and talk with practitioners. One gentleman, an antiques dealer, watched the exercise demonstration and talked with a practitioner.
The man was interested to know more about the practice, especially the sitting meditation. After the practitioner explained to him that Falun Dafa is rooted in traditional Chinese culture and is based on the principles of Truthfulness-Compassion-Forbearance, the man said he was impressed. He said he had signed a petition for Falun Dafa near the British Museum.
"Peace Will Prevail"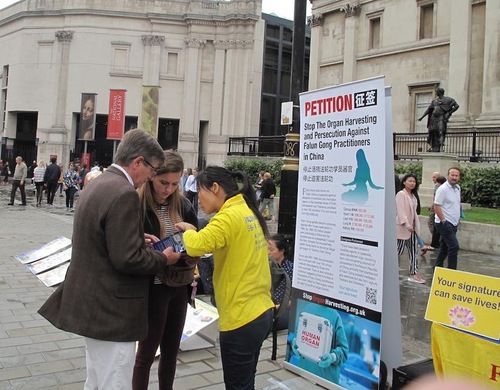 George, a carpenter from South Carolina in the United States, and his daughter said they would tell more people about the persecution in China.
George, a carpenter from South Carolina in the United States, read the posters along with his daughter Kennedy. George had heard about organ trafficking but did not know that it is a state-sanctioned crime in China. Kennedy, a high school student, had never heard about any of it. "I will definitely tell more people about this," she said
"Peace is powerful and it intimidates the [communist] regime," said George. "We have seen in history that peace will prevail in the end. Keep up the good work!"
British Museum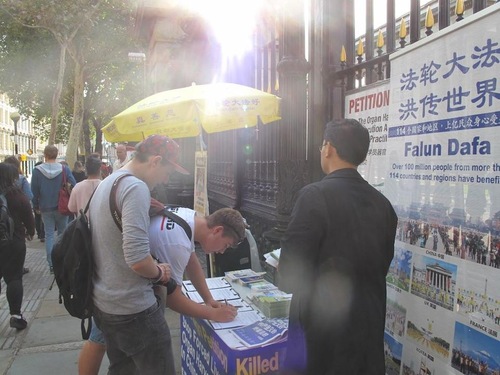 Pedestrians sign petitions calling for an end to the suppression in China.
At the Falun Dafa display near the British Museum, Singh, a software developer, and his friend read the posters and asked why the communist party would suppress a peaceful group like this.
A practitioner explained to them that the communist party promotes hatred and violence, which fundamentally contradicts the traditional values of Falun Dafa. She told him that many practitioners in London have family members in China who have been and are being persecuted. The mother of one of the practitioners at this event was recently sentenced to three and a half years of imprisonment for her belief. Singh was touched and he signed the petition.
Two young men filmed practitioners doing the sitting meditation. They had been to various places in London to make a film. After learning about the mistreatment practitioners suffer in China, both signed the petition.