Sisters-in-Law Sentenced to Prison for Their Faith
August 04, 2018 | By a Minghui correspondent in Jiangsu Province
(Minghui.org) Two women in Lianyungang City were sentenced to prison in 2016 for refusing to renounce Falun Gong, a spiritual discipline being persecuted by the Chinese communist regime.
Ms. Zhong Jinjun, 67, was arrested on June 21, 2016, and her sister-in-law, Ms. Xia Zhengyan, was taken into custody the following day. They were not the only two members of their family targeted for their faith in Falun Gong.
Only one week before the women's arrest, Ms. Xia's husband and Ms. Zhong's younger brother, Mr. Zhong Chongbin, were sentenced to three years in prison.
Mr. Zhong, a veteran and a legal support worker, was released from prison on June 12, 2018, and his wife, a piano teacher, and sister were both sentenced on May 30, 2018. Ms. Xia was sentenced to a two year prison term and fined 5,000 yuan. Ms. Zhong was sentenced to a three year term and fined 10,000 yuan.
Ms. Zhong's pension was also reduced to 900 yuan per month following her sentencing. Her out-of-town lawyer, Mr. Zhang Chuanli, visited her on June 12 to help her file an appeal of her case.
Details of Ms. Zhong's Arrest and Detention
Ms. Zhong was a section chief at Lianyungang Judicial Bureau before her retirement. She and her daughter, Ms. Li Yuxuan, began practicing Falun Gong in 1996 and 1997, respectively. Ms. Li served three years of forced labor between 2009 and 2011. The younger woman was constantly harassed by police even after her release.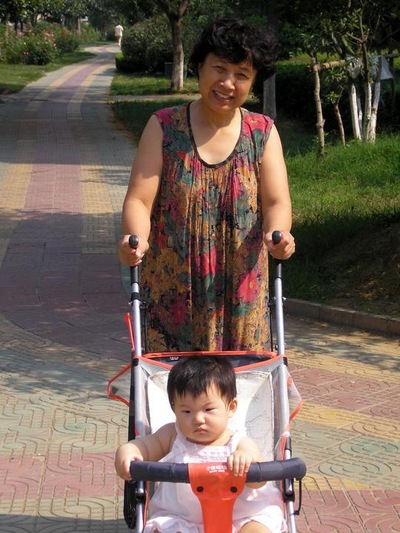 Ms. Zhong and her granddaughter.
Ms. Zhong was video chatting with her daughter at noon on June 21, 2016, and four hours later police descended on her home to arrest her. They confiscated all her keys and her cell phone.
Ms. Zhong's lawyer requested that her case be dropped but was told that higher-ups refused to set her free.
Haizhou District Court initially set the court hearing for June 16, 2017, but later rescheduled it to September 14, 2017.
According to her family members present at the trial, Ms. Zhong looked very pale and appeared to have lost a lot of weight. Her face appeared much thinner.
While awaiting a verdict, Ms. Zhong was rushed to Lianyungang First People's Hospital on May 1, 2018, where she was diagnosed with anemia. When she refused to have a blood transfusion without her family's knowledge, the local detention center ordered the hospital to proceed with the procedure. Many people held her down and tied her up in a bed to forcibly administer the procedure. She was made to have blood transfusions for six days before being discharged on May 6.
Ms. Zhong and her sister-in-law were both sentenced to prison on May 30, 2018.
Related Reports:
Prisoner of Conscience Severely Ill with Tuberculosis, Family Seeks Medical Parole
Mr. Zhong Chongbin Still Detained for Suing Former Dictator Jiang Zemin for Breaking Up His Family
Lianyungang Police Arrest Practitioners for Attempting to Sue Former Dictator