Retired Colonel and Father of U.S. Resident Sentenced to 7.5 Years for His Faith
August 31, 2018 | By a Minghui correspondent in Shandong Province, China
(Minghui.org) A retired colonel was recently sentenced by a Chinese court to 7.5 years in prison for not giving up his faith in Falun Gong. His daughter, a San Francisco resident, has appealed to the Chinese communist regime for her father's release.
Mr. Gong Piqi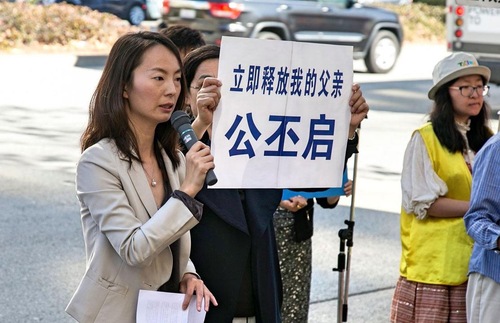 Ms. Gong Xiaoyan talking about her family's plight at a rally in San Francisco on October 26, 2017
Mr. Gong Piqi, 63, is a retired colonel and former deputy chief of staff at Shandong Province Reserve Artillery Brigade. He was seized by the police along with his wife during a group arrest of more than 20 Falun Gong practitioners between October 16 and 17, 2017, in Qingdao, Shandong Province.
The police ransacked his home and confiscated many of his personal belongings related to Falun Gong, as well as 150,000 yuan in cash (roughly 20,000 USD).
Although his wife Ms. Sun Dongxia was released the next day, Mr. Gong was kept in custody in Pudong Detention Center in Jimo, Shandong Province.
Shibei District Court in Qingdao tried Mr. Gong in a makeshift courtroom inside the detention center on May 24, 2018.
His lawyer pointed out that the prosecutor didn't have solid evidence to charge his client, who was arrested while visiting a friend that had been arrested the day before.
The lawyer also said that the prosecutor failed to respond to his request for medical parole for Mr. Gong, who began to experience serious physical episodes and high blood pressure since March.
When the lawyer asked that the prosecutor be recused for neglecting his duty, the judge adjourned the trial.
Despite his lawyer's defense and his daughter's tireless efforts to rescue him in the U.S., the judge handed down the 7.5-year sentence on July 20, 2018. The judge also fined Mr. Gong 20,000 yuan.
Starting the Practice Despite the Persecution
Mr. Gong first read Zhuan Falun, the main text of Falun Gong, in 1995. Although he was impressed by the profound principles discussed in the book, he wasn't ready to start the practice at that time.
When the Chinese communist regime launched the persecution of Falun Gong in 1999, Mr. Gong, a long-time member of the communist party, knew what the practitioners faced. But that was when he made what he considered the most important decision in his life.
"I knew what I might lose and what was in front of me if I started to practice. But on the other hand, what I would gain would be priceless. There was a voice inside me calling to me. I knew that I must make the decision – it was time to choose my path," he said.
On August 15, 1999, about three weeks following the onset of the persecution, Mr. Gong decided to practice Falun Gong. He quit smoking and drinking shortly thereafter. His health also improved.
Persisting Despite Hardships
When the communist regime found out that Mr. Gong was practicing Falun Gong, he was subjected to relentless persecution.
Mr. Gong and his wife were first arrested on May 13, 2005. His wife was sentenced to five years in prison, and he was taken to the army base and subjected to constant brainwashing and coercion in attempts to force him to renounce his faith.
When he told the brainwashing staff about how the communist regime persecutes Falun Gong, a young officer beat him, causing injuries and bleeding in his internal organs.
Seeing that both brainwashing and physical torment failed to change him, the military personnel threatened him with suspending his pension, forcing him out of his government housing, and even putting him in prison.
But none of that surprised Mr. Gong. He had been prepared to lose everything when he decided to choose this path six years before.
He also understood that the perpetrators participated in the persecution because they were deceived by the regime's propaganda and didn't understand the facts about Falun Gong.
He wrote a letter to his supervisor to explain the facts about Falun Gong and how he wanted to be a good person by following the principles of Truthfulness, Compassion, Forbearance.
His supervisor was touched by his letter and decided to be lenient. Mr. Gong returned home after seven months of detention.
Previous reports:Gong Piqi and Wife Sun Dongxia Arrested and Home Ransacked in Qingdao City, Shandong ProvinceSan Francisco: Rally Calls for the Release of Retired Colonel Arrested for Practicing Falun Gong