Palo Alto, California: Learning Falun Dafa at Arts Festival
August 29, 2018 | By a Falun Dafa practitioner in California
(Minghui.org) "What is this? Looks very nice and I want to give a try," said Tom as he and his daughters walked by the Falun Dafa booth at the Palo Alto Festival of the Arts. Joining the practitioners who were doing the third Falun Dafa (also known as Falun Gong) exercise, he began to learn the gentle movements step by step.
The Palo Alto Festival of the Arts is a hugely popular annual event hosted by the Palo Alto Chamber of Commerce. This year, the festival took place on August 25 and 26. Located in the San Francisco Bay Area, Palo Alto is one of the most expensive cities in the United States, home to Stanford University, and headquarters of many prominent high-technology companies.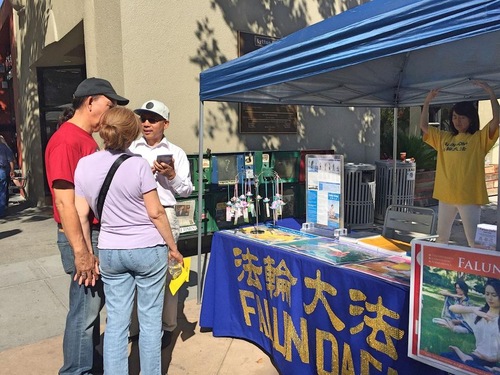 Passersby ask about Falun Dafa during the Palo Alto Festival of the Arts on August 25 and 26, 2018.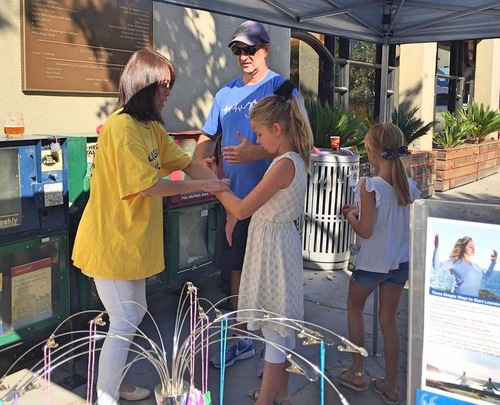 Tom and one of his daughters learn the Falun Dafa exercises.
Tom and his daughters stopped by the booth on August 25 upon seeing the practitioners meditating peacefully amid the noisy environment of the festival. He was impressed and interested in learning it.
"This is so good!" exclaimed Tom a few minutes later. He found that the meditation gave him a feeling of relaxation and energy. After he learned the third exercise, he said that this was something he would definitely continue learning. When he heard that all the information about Falun Dafa is available for free on falundafa.org and that practitioners volunteered their time to take part in the festival, Tom was moved. "What you are doing is really great!" he said.
A man from San Jose talked with a practitioner for a long time and wanted to know about the benefits of the practice. The practitioner told him her own story, explaining how the meditation, along with living according to Dafa's principles of Truthfulness-Compassion-Forbearance, helped her reduce stress and resolve conflicts with family members.
The man was interested in learning the exercises and was happy to hear about a group exercise location at Ortega Park in Sunnyvale, near where he lives.
Many people stopped at the booth over the course of the two-day festival. They read the informational posters, asked where they could learn the exercises, and some wanted to purchase a copy of Zhuan Falun, the book of the main teachings of Falun Dafa.