Taiwan: Summer Camp Introduces Falun Gong to Youth at National Chung Hsing University
August 23, 2018 | By Xia Yun, a Minghui correspondent in Taichung, Taiwan
(Minghui.org) Falun Gong practitioners hosted a summer camp from August 17 to 19 at National Chung Hsing University in central Taiwan. The camp introduced the self-improvement practice to young people and helped them learn how to implement Truthfulness-Compassion-Forbearance, Falun Gong's main teaching, in their daily lives.
Many of the students who attended the camp described the experience as a "pure land," which allowed them to reflect on themselves. Several of them said that the camp was "the most fruitful part of the summer."
Over the three days, approximately a hundred participants did the Falun Gong exercises together, watched plays and videos, listened to speeches and participated in games that helped them to gain a better understanding of life and how to take on a positive attitude in all aspects of their lives. They also enjoyed traditional Chinese music and dance performances.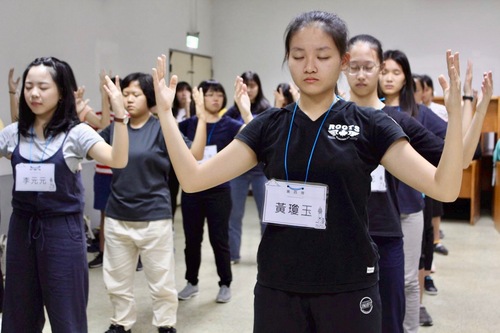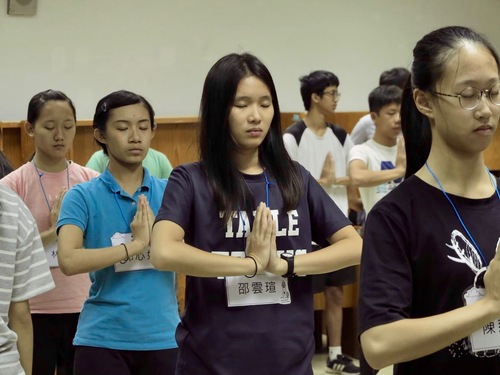 Doing the Falun Gong exercises together at a three-day Falun Gong summer camp at National Chung Hsing University.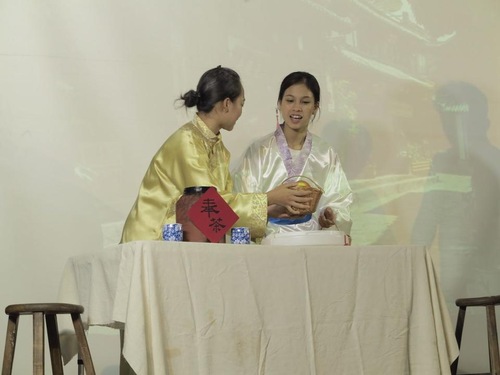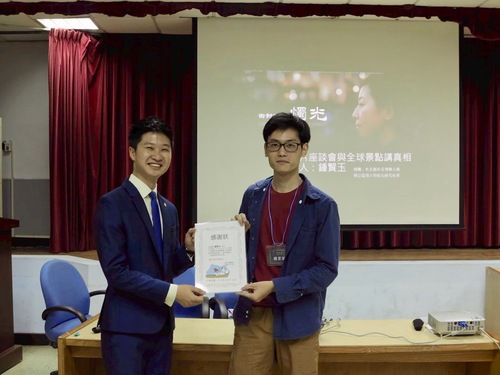 Through plays, videos, speeches, and games, the students learned how to implement Truthfulness-Compassion-Forbearance in their daily lives.
A Pure Land
Zhu Ying is about to become a freshman this fall. She was stressed out and exhausted from preparing for the college entrance exams. She said that the stressful lifestyle had turned her into a negative person and she wasn't interested in or inspired by anything. The camp helped her to relax and regain her energy. After spending time with the staff members at the camp, who are Falun Gong practitioners and current college students themselves, Ying was able to open up and communicate with people heart to heart. "It's not easy to find an innocent environment like this these days," she said.
Ying was inspired by a role-playing game designed by the staff. It provided real-life scenarios in which one must solve problems in order to transcend and return to one's true self. The game made Ying think about some of the things she faced in life. "Sometimes one has to let go of emotions and pursuit in order to find the answer. When one can truly let go, he then finds his true self," she realized.
Students Learn How to Live By the Principles of Falun Gong
Dai Yubo, a high school senior, attended the camp on his sister's recommendation and he thought it was well worth it. The speeches he heard gave him a brand new perspective, enabled him to look at things differently, and helped him solve some doubts in his life. He said that in the future, if he came across things that bothered him, he would try to deal with them by conforming to the principles of Falun Gong.
Yubo said that he had a hard time facing conflicts, and sometimes he couldn't deal with certain situations and became pessimistic. Now, through what he learned at the camp – Truthfulness-Compassion-Forbearance – he said that he would not have a problem tolerating a difficult situation first and figuring out a solution later.
From the videos shown at the camp, Yubo learned about the 19-year-long persecution of Falun Gong in China and what practitioners there have suffered. He supported the practitioners in expressing their opinions in a peaceful and proper manner. Yubo believes that their effort will eventually pay off and the persecution will end.
Experiencing Compassion through Teamwork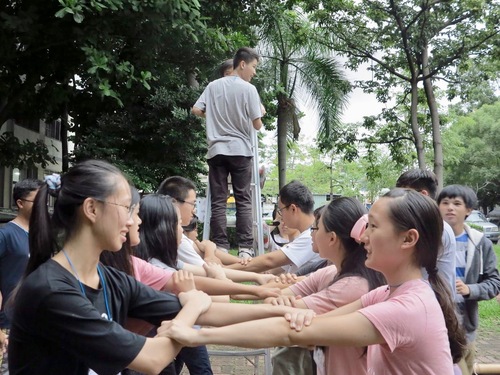 The activity "Trust Fall" is designed to let the participants learn how to protect others and to build trust.
Qiu Siru, a high school sophomore, said that she felt a strong energy of compassion at the camp. She used to have frequent mood swings but her emotions were very stable over the three days at camp. Siru said that she felt inner compassion coming from the bottom of the hearts of the staff members. Everything was very peaceful and everyone was kind, which soothed her and gave her a sense of calmness.
The activity "Trust Fall" had a profound impact on Siru. She was never a trusting person and sometimes looked down on people who weren't as good as she. She often did things on her own instead of working with others. In this activity, she had to climb up a ladder and fall backward so her teammates could catch her. She was terrified and waited to go last. "The moment they caught me when I fell, I felt so secure and suddenly I believed that I could trust people," Qiu said. "I should trust others more in the things I do."
"The past three days have been the most fruitful part of this summer. This is a place where you can change," she concluded and said she was ready to tell her friends about the camp.
Finding the Direction to Move On
He Fuyu, who will be a freshman next semester, said that she had gained a lot at the camp. She felt that in the past two years she'd become a person who wasn't as pure and sincere as she used to be. At the camp she reflected on herself and sorted out her thoughts while talking to others. She was able to find balance in her life and soul, and find a direction to move forward with her life.
In a video depicting how Falun Gong practitioners protested peacefully in front of the Chinese Consulate in England, a local British radio broadcast praised the practitioners for using the most powerful way to peacefully express themselves and make their voice heard over these past 19 years. The film made a big impression on Fuyu, who was very moved by the practitioners' perseverance in the face of difficulty.