Documentary "Letter from Masanjia" Moves Vancouver Audience
August 13, 2018 | By a Falun Dafa practitioner in Vancouver
(Minghui.org) "Millions of people are still being persecuted in China, but justice will eventually prevail." This was the closing statement of the documentary Letter from Masanjia by Sun Yi, who penned the desperate, secret letter from Masanjia labor camp.
The documentary, Letter from Masanjia, screened at Vancity Theatre last weekend in Vancouver, British Columbia.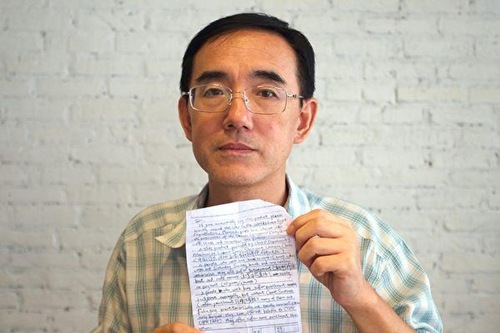 Sun Yi and the letter he wrote from Masanjia labor camp.
The documentary begins with a handwritten letter found in a box of Halloween decorations purchased at a U.S. department store by Julie Keith, a woman in Oregon. The letter was a plea for help by a prisoner of conscience at the notorious Masanjia Forced Labor Camp in Shenyang, China. Keith posted the letter on social media, which soon led to worldwide media exposure of the story and set off a chain reaction that led to China's re-education through forced labor system being abolished, at least in name, in 2013.
The author of the letter, Mr. Sun Yi, had been detained at the labor camp for his belief in Falun Gong. He risked his life to get his story out to the world through the secret letter, and more recently risked his life again during the making of this documentary to further expose the human rights crisis in China.
While under surveillance by the Chinese authorities, Sun Yi took video footage of his life in China, and interviewed other former Masanjia detainees. Along with his story, Sun Yi shared his drawings depicting the abuse he suffered and witnessed at Masanjia Labor Camp.
Chinese International Students: Shocked to Hear the Facts
Several Chinese international students watched the screening on Saturday. Ms. Chen, one of the students, said that the documentary showed her the truth of the forced labor camp system in China.
"I was shocked when he (Sun Yi) stated that Falun Gong was truth, because we were not taught this in China. We were like being brainwashed," said Ms. Chen.
She added that she believed Sun was an honest person and she was against the persecution of Falun Gong. She said that she would research the topic and share the information with her friends.
Chiyo Buston at the screening of "Letter from Masanjia".
Audience member Chiyo Buston shared her own experience of information censorship by the government while visiting Shanghai, so much so that she couldn't even reach the Google search website. "The film is very revealing and shocking. I am very respectful to these people who had the courage to make the film to tell the world," Ms. Buston said.
Joyce and Paul Pinsker commented that the documentary was very good and they would recommend it to their friends. "Like Julie did [the woman in Oregon who found the secret letter in Halloween decorations], I will also think of this question, how many more products are made by slave labor in forced labor camps? The film truly forces you to think," added Joyce.
Enid and Brian Brasier, visiting from Australia, expressed their respect for the protagonist Sun Yi. "He is very brave," Mr. Brasier said.
Mrs. Brasier commented that they would write to their government upon returning home, requesting that they appeal to China to help stop the persecution of Falun Gong and stop persecuting human rights lawyers.