Taiwan: Rally Condemns Persecution in China, Commemorates Lives Lost in 19-Year Tragedy
July 17, 2018 | By Minghui correspondent Xia Yun
(Minghui.org) Falun Gong practitioners and supporters gathered at Taichung City Hall Square on the afternoon of July 14 to call for an end to the suppression in China. They commemorated practitioners who lost their lives in this tragedy that has continued since it began 19 years ago, on July 20, 1999.
Practitioners demonstrated the exercises, distributed materials, and played videos about the persecution in China. Many passersby, including tourists from mainland China, paused to watch or take pictures.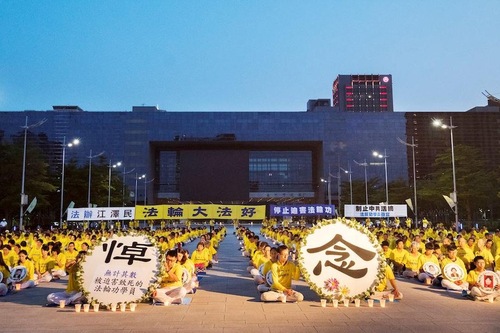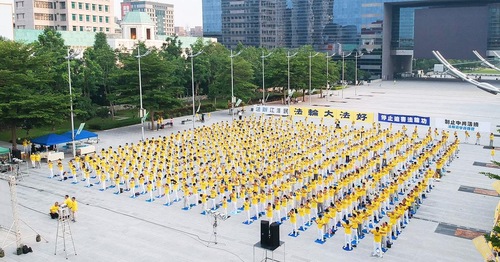 Falun Gong rally and candlelight vigil at Taichung City Hall Square on July 14, 2018.
Central Taiwan Society President: Everyone Should Condemn the Communist Regime's Persecution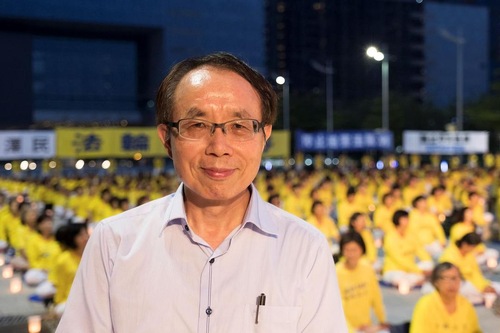 Liao I-en, Central Taiwan Society President and professor at National Chung Hsing University, hopes people in China can enjoy basic human rights.
Liao I-en, Central Taiwan Society President and professor at National Chung Hsing University, said in his rally speech that he admired practitioners' courage and perseverance in the face of the long-term, brutal suppression by the communist regime. He said, "I hope everyone who cherishes life and freedom will condemn such a totalitarian regime. We should all oppose the persecution."
Doctor: "This Tragedy Must Stop"
Chang Chi-Chung, former president of Medical Professionals Alliance in Taichung and Associate Professor at Chung Shan Medical University, spoke at the rally. He said it is hard to imagine that organ harvesting could happen in the 21th century. "This tragedy must stop," he said.
Chang said he often saw practitioners demonstrating in front of consulates of the United States and Canada, regardless of the weather, to call attention to the forced organ harvesting atrocities. He said at first he did not believe it, thinking it was too outrageous. Later, he heard testimonies from Uyghur doctors and Falun Gong practitioners, and was convinced and as a physician felt compelled to speak out against it.
Telling More People About It
Mr. Li works for an IT firm and he took lots of pictures to send to coworkers in mainland China. "My brother and sister-in-law are here at the rally. They have benefited from practicing Falun Gong," he said. Mr. Li said he hoped practitioners will keep up their efforts so that more people will learn the facts.
When working in mainland China, Mr. Li chatted with coworkers about Falun Gong. Some of them were still misled by regime's propaganda such as staged Self-Immolation at Tiananmen Square. However, by now many have become skeptical of the regime's claims, considering that Falun Gong has no such issues outside China. "This way, many of them are able to have independent thinking, instead of blindly following the communist party," said Mr. Li.
Passersby: This Society Needs Falun Gong Practitioners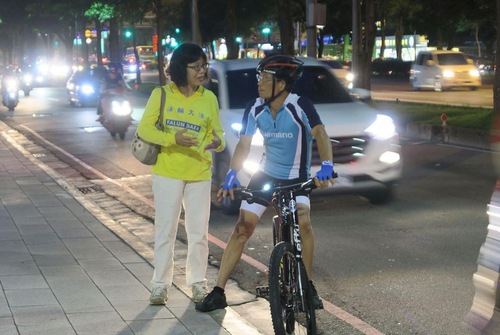 One practitioner tells a biker about Falun Gong.
Seeing practitioners doing the meditation calmly, a passerby named Mr. Wang stopped to talk with practitioners. He said he appreciates the principles of Truthfulness-Compassion-Forbearance. "This society needs Falun Gong practitioners," he said.
Practitioner: Helping Chinese Know the Facts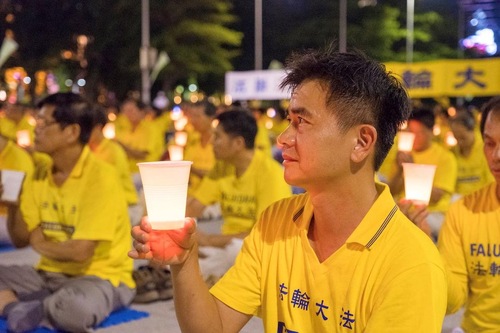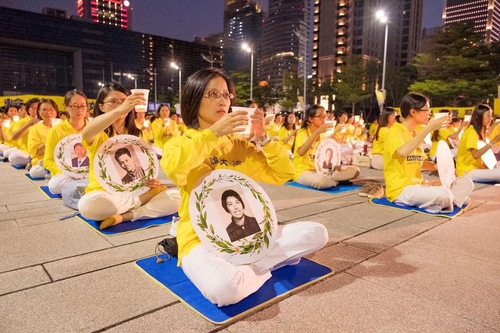 Candlelight vigil at Taichung City Hall Square.
Ms. Xu Shumei participated in the candlelight vigil. As a result of practicing Falun Gong, her thyroid problems went away.
"Seeing innocent practitioners in China suffering for their belief, I feel like it's happening to my family members. I have to step forward and do something," said Ms. Xu. As a result, she began to make phone calls to mainland China, including labor camps and police departments. During these phone conversations, she tells them real stories of Falun Gong, urging them not to participate in the persecution.
Recently, she also started to call lawyers in the hope they would defend practitioners' innocence. "We need to provide Chinese people, including the police and judges, with factual information so that they can make their own choice, instead of following the communist party's propaganda," said Ms. Xu.