Petition Drive in Switzerland for Falun Gong: "This Is a Persecution of Mankind"
June 28, 2018 | By a Falun Gong practitioner in Switzerland
(Minghui.org) Falun Gong practitioners in Switzerland held activities to raise awareness in Zurich on June 23, 2018.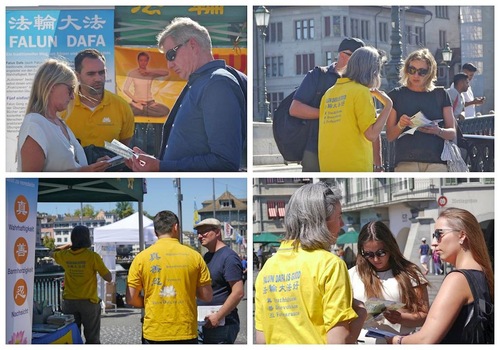 Raising awareness about Falun Gong in Zurich
Some people had heard about Falun Gong, and went straight to sign the petition calling for an end to the persecution in China. Some were appalled to learn of the CCP's crime of harvesting organs from living practitioners for transplant. Some took some blank petition forms with them to help practitioners collect more signatures.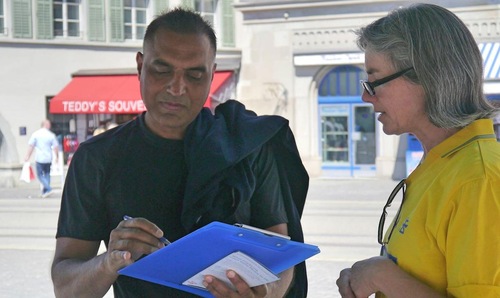 Signature collection calls for an end to the persecution.
A gentleman named Kurt said he had read a newspaper article about Falun Gong. He said, "I think Falun Gong is a great way of life, and has a positive impact on society. They pose no threat to the government. In fact, I think that the Chinese government should accept Falun Gong as part of the nation." He said he thought the persecution happened due to the CCP's irrational fear of losing power and was perpetuated by the huge profits from selling imprisoned practitioners' organs.
Kurt signed the petition against the persecution, and said he would help spread the word. He said, "I hope the United Nations will take action, and the public will pay attention to it and stop the CCP's ruthless conduct."
Another gentleman named Francesco signed the petition, and said, "[The organ harvesting] is terrible! The international society should step up to stop it. Economic interest shouldn't be the only concern. We have to consider humanity. The inhumane crime must stop!"
Francesco had heard about Falun Gong from the media. He said, "Falun Gong is very peaceful. It has meditation and is great for improving health and spirit. Why should they persecute Falun Gong? This is a persecution of mankind."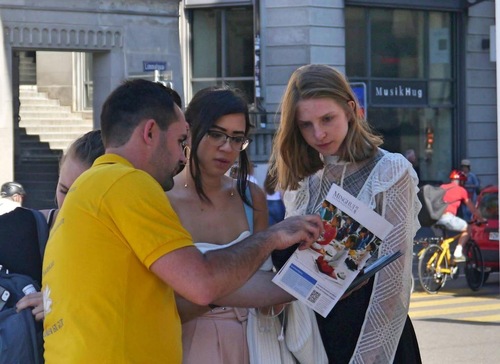 Medical school students Linh (second from right) and Annie are appalled by the forced organ harvesting crimes against imprisoned Falun Gong practitioners.
Linh and Annie are medical school students. Linh said, "Live organ harvesting is appalling. It must stop!" Annie also planned to help spread the word.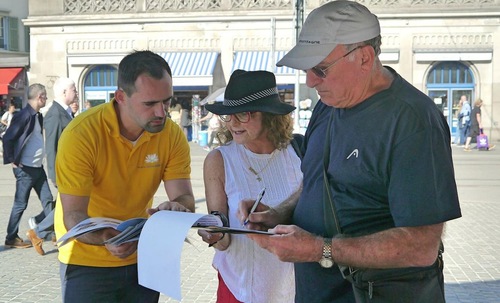 Marta and her husband sign the petition.
Marta and her husband, tourists from Argentina, had heard about the CCP's atrocities. They had once received a brochure in Spanish about it. They signed the petition calling for its end. Marta said she would tell her friends about it through social media.