Falun Gong Practitioners in South Australia Celebrate World Falun Dafa Day
May 20, 2018 | By a Falun Gong practitioner in South Australia
(Minghui.org) On May 12, 2018, Falun Gong practitioners in Adelaide, South Australia celebrated the 19th World Falun Dafa Day in Hindmarsh Square. They demonstrated the exercises, took a group picture to send birthday greetings to Master Li, and raised awareness about Falun Gong to the public.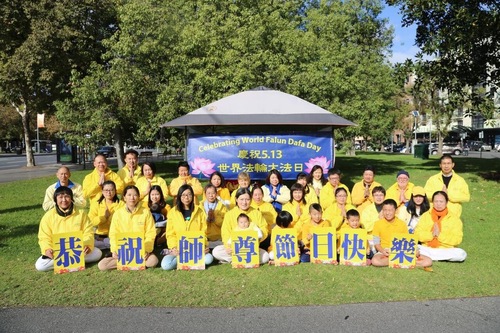 Falun Gong practitioners wish Master Li a happy birthday.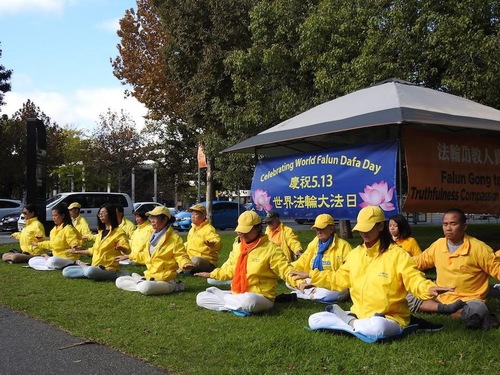 Falun Gong practitioners demonstrate the five sets of exercises.
The large group exercise demonstration on the square drew a lot of attention from passersby.
Practitioners distributed brochures, exposed the persecution of Falun Gong by the Chinese Communist Party (CCP), and collected signatures on a petition calling for an end to the persecution.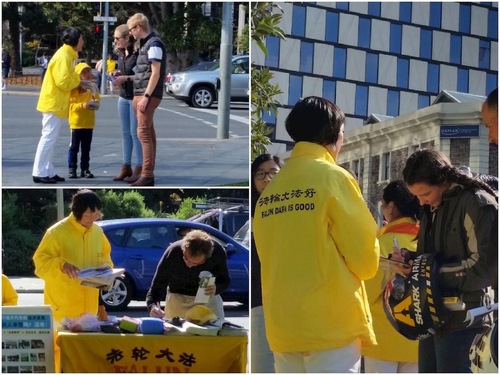 Signature collection calls for an end to the persecution.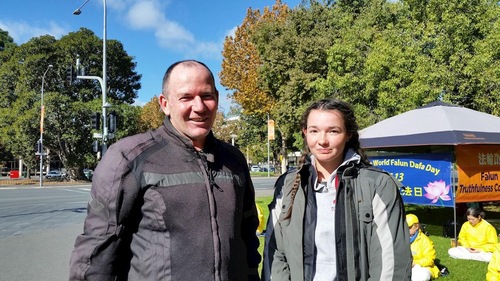 Gered and Hannha support Falun Gong practitioners' work against the persecution.
Local resident Gered and his daughter Hannha happened to pass the event, and were shocked by the CCP's atrocity of harvesting organs from living Falun Gong practitioners. Hannha said she was appalled that organ harvesting could be taking place in the 21st century, and they both signed the petition. Hannha said the exercises looked beautiful and peaceful.Principal Megalia of the Egyptian Cultural School signed the petition and told a practitioner, "There are so many problems in the world. Many innocent people are being persecuted. I believe that people of peace will eventually prevail. Those who care, tolerate, and bring good things to others will be rewarded, spiritually or in their future lives."
Mr. Megalia believed that the world needed Truthfulness, Compassion and Forbearance, saying, "These values exist in every life and are the true nature of humans. "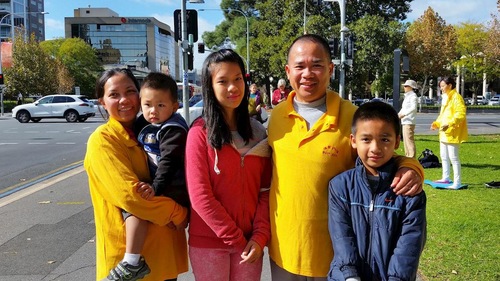 Falun Gong practitioners Druong and his family
Falun Gong practitioners Druong and his family came from Cryden Park to take part in the event. Druong said, "I read the Falun Dafa books online. I have been practicing for a year, and Truthfulness-Compassion-Forbearance touched my heart deeply. Cultivation made me more thoughtful and tolerant of others." His wife and children also took up the practice after witnessing Druong's positive changes. The family wished to say "Thank you and Happy Birthday!" to Master Li.