Falun Dafa Practitioners Give Thanks in Greetings to Master Li Hongzhi
(Minghui.org) May 13, 2018, marks the 26th anniversary of Falun Dafa's public introduction and the 19th World Falun Dafa Day. Practitioners all over the world sent greetings to Master Li Hongzhi, the founder of Falun Dafa, and expressed their gratitude for the health and spiritual benefits they have gained from the self-cultivation practice.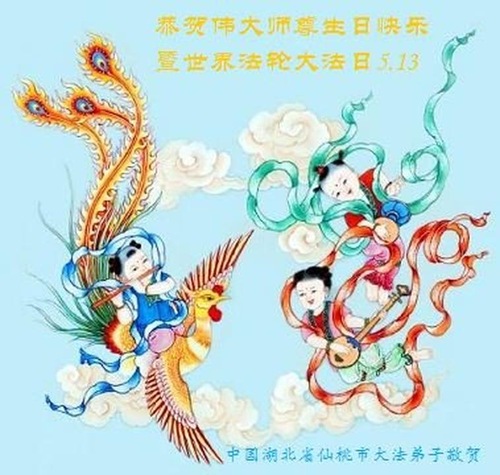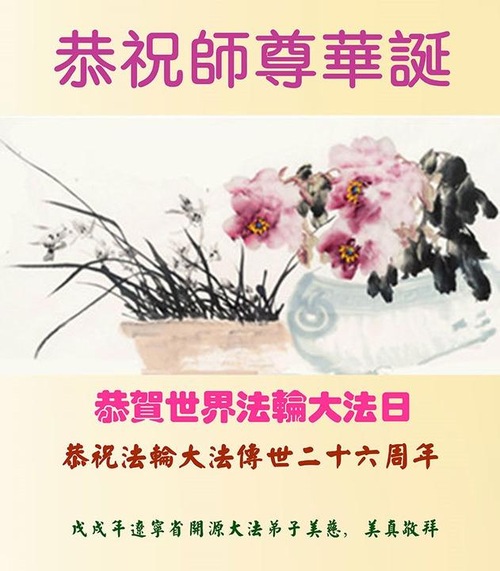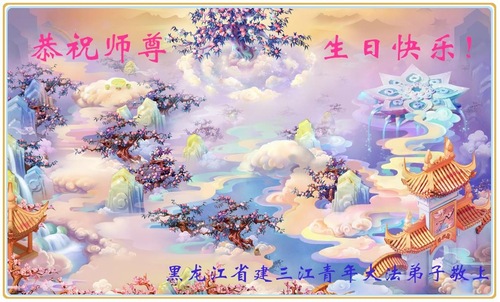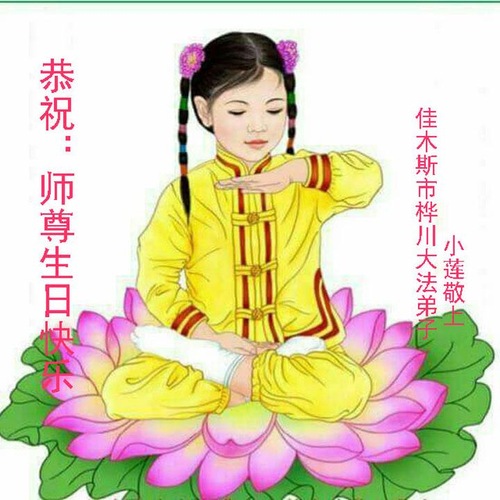 Greetings to Master Li Hongzhi from practitioners in China
A practitioner from Ningxia, China wrote, "I am 81 years old. I started to practice [Falun Dafa] in 1997. I used to have Ménière's disease, stomach disease, and arthritis. I tried all kinds of Western and Chinese medicine, to no avail. But Falun Dafa healed all of them. I was illiterate, but I've gained wisdom from cultivation. Now I can read all the Dafa books. Master Li, I thank you for saving my life."
Ms. Jiao, who lives in St. Louis, United States, had a similar experience: "I had hyperplasia and tried many therapies, but they didn't work. After practicing Falun Dafa for a few days, the problem was gone. Due to the disease, three fingers on my left hand were always numb, and that problem was healed too. Moreover, my hands and feet were always cold before. In winter, I had to soak them in hot water for a long time every night. However, on the first day of my practice, my feet felt warm. Ever since that night, I haven't had to soak them in hot water."
A practitioner who works at the University of Geneva in Switzerland said she could not work due to illness when she was forty. A relative recommended Falun Dafa to her. After she read Zhuan Falun (the main book of Falun Dafa), she told herself that it would improve her physically and mentally, so she started practicing.
In the beginning, she was only able to stand for ten minutes. But six months later, she recovered from her illnesses and went back to work. Even though she also stopped taking a special medicine, her doctor found that her health had improved. On the examination report, the doctor wrote down "practicing Falun Dafa" in the category of "medicine taken."
Perhaps more importantly, Falun Dafa has also brought to practitioners enlightenment on the meaning and direction of life.
Cesar Granados at the World Falun Dafa Day celebration in Los Angeles
Cesar Granados, an engineer living in Los Angeles, said he had had many questions about life and the universe since he was a little boy. He read many books but failed to find the answers until he encountered Falun Dafa.
"I will never forget the date I found Falun Dafa, January 31, 2017," he recalled, "I found the meaning of life. It was the most beautiful moment in my life."
"When I do the exercises, I have inner peace," he added, "it also healed many injuries that were caused by practicing martial arts."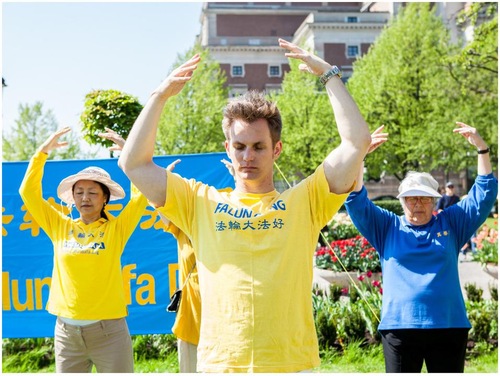 Nicolas at the World Falun Dafa Day celebration in Stockholm
Nicolas, a young lawyer from Stockholm, Sweden, said, "Falun Dafa is the most encouraging experience of my life. I remember that the first time I did the exercises, I felt that I was taking a shower in the sunshine. From that moment on, I could not put it down. Doing the exercises has become a part of my daily life."
He added, "I have learned an enormous amount from Zhuan Falun. I have read it again and again in the last seven years. I don't know what I should do without Dafa."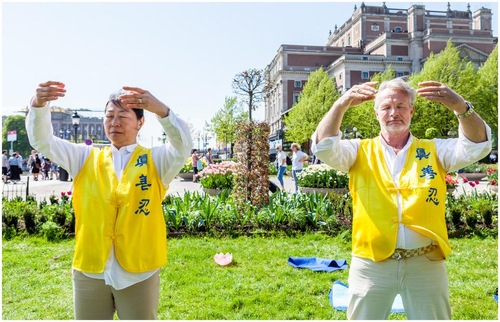 Peter and Bolette at the World Falun Dafa Day celebration in Stockholm
Peter from Stockholm is an engineer. He and his wife Bolette started to practice Falun Dafa in 1995. Before that, all he had in mind every night was looking for gold and making money, which was the fun and goal of his life. He could not fall asleep as a result.
In Dafa, however, he found the true meaning of life.
Peter said, "Falun Dafa means everything to me. In the last two decades, Dafa has become the most important thing in my life. I valued material things before. Now, I value the principle of Truthfulness-Compassion-Forbearance. The goal of my life has changed. Everything becomes easier."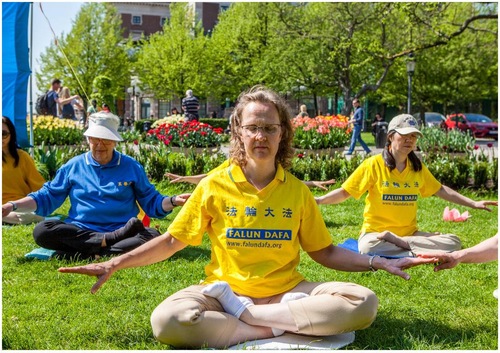 Anne at the World Falun Dafa Day celebration in Stockholm
Anne, also from Stockholm, loves traditional Chinese culture. She has gone to China to study the Chinese language. She started to practice Falun Dafa in 1995.
"Master Li has taught me many things and answered many questions of life," she said, "I cannot imagine life without Falun Dafa. I make progress every day in cultivation. When I run into difficulties at work or in daily life, I know how to look inward for my own faults and improve myself."
Related articles in Chinese:洛杉矶学员庆祝世界法轮大法日(图)圣路易学员庆祝法轮大法日-感恩师尊(图)瑞士学员庆祝世界法轮大法日(图)瑞典学员庆祝世界法轮大法日-震撼大陆游客(图)