Introducing Falun Gong at University of Texas at Arlington
April 08, 2018 | By Zeng Hong, Minghui correspondent in Dallas, Texas
(Minghui.org) Students for Falun Gong, a student organization at the University of Texas (UT) at Arlington, screened the documentary Free China at the Maverick Activities Center on March 29, 2018. Practitioners of Falun Gong introduced the spiritual and meditation practice, discussed the persecution of practitioners by the communist regime in China, and answered questions from students and faculty.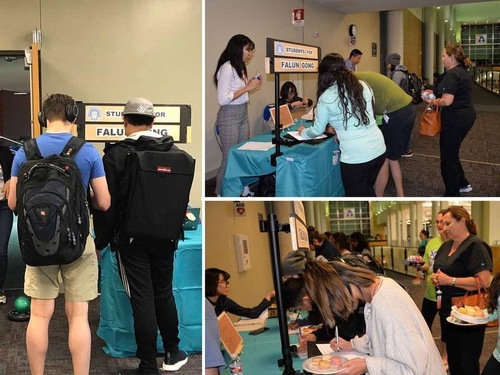 Students at UT sign a petition calling for an end to the persecution.
The recently established Students for Falun Gong organized the screening as its first event. Its members spread the word about the screening by posting flyers around campus and talking to students and faculty.
Ben, a professor of mechanical engineering, praised the students in the organization for their work. He was very supportive of their activities and wanted to try the Falun Gong exercises.
Gregory, the president of another student organization, said he saw great power behind the peaceful Falun Gong activities. He hoped to invite practitioners to give a talk to his organization.
Practitioner Gong Xiaoyan told the attendees about the persecution she and her family had been subjected to in China for their faith. Her father is still imprisoned today. The audience was shocked by the brutality of the persecution and thanked Ms. Gong for sharing her experience.
Huy, a student, recounted how he had improved his character through practicing Falun Gong. His parents saw how Falun Gong had made their son a more thoughtful person and also started reading Zhuan Falun, the main book of Falun Gong.
A student from China had previously been misled by the Tiananmen self-immolation hoax staged by the communist regime. After this activity, she said to her friend, "It turns out Falun Gong has been persecuted!"
The Nhi brothers are students from Vietnam. They said they had learned important information from the activities. They said they would encourage their Chinese-speaking parents to learn Falun Gong.