Introducing Falun Gong at Community Events in Nebraska and New York
April 21, 2018 | By practitioners from Nebraska and New York
(Minghui.org) For years, Falun Gong practitioners worldwide have participated in community events to introduce this ancient Chinese self-improvement practice to the public. This report covers two recent events in Nebraska and New York.
Nebraska
The annual health expo in Nebraska was held at the Baxter Arena in Omaha on April 14 and 15. Falun Gong practitioners set up a booth and demonstrated the exercises.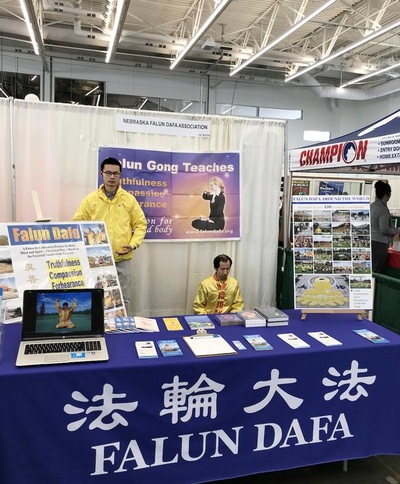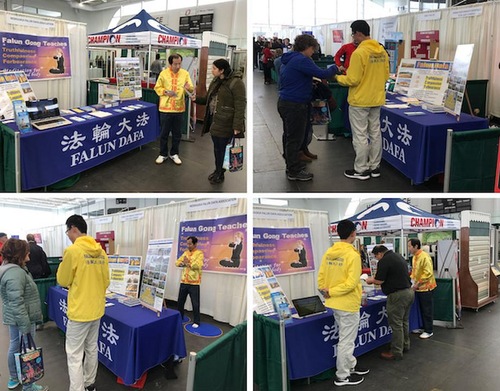 Falun Gong booth at the Nebraska health expo
The exercise demonstration attracted a lot of visitors. In two days, more than 30 visitors signed up to attend a Falun Gong exercise class.
Judy and her husband Chris had a booth near the Falun Gong booth. Judy was very interested in Falun Gong. She is able to see people's auras and she said that the Falun Gong practitioners at the booth had a strong energy field surrounding them.
Practitioners told her about the 19-year-long persecution of Falun Gong in China.
"It is too long," she said. "It is not right to suppress such a peaceful group. It's time to end it."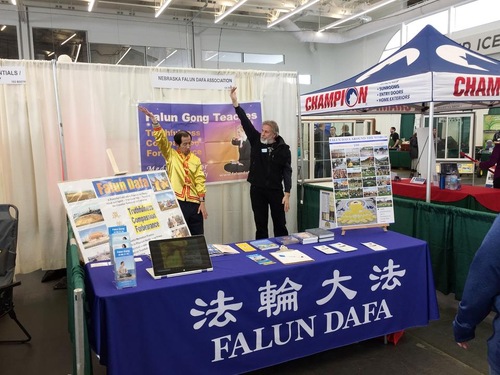 Judy's husband Chris learns the exercises.
New York
From March 30 to April 8, practitioners from New York city attended the 118th Auto Show in midtown Manhattan, sharing the benefits of Falun Gong with the attendees.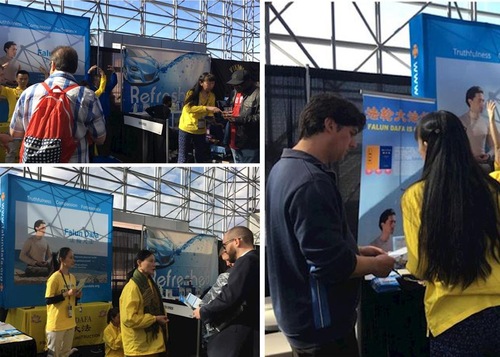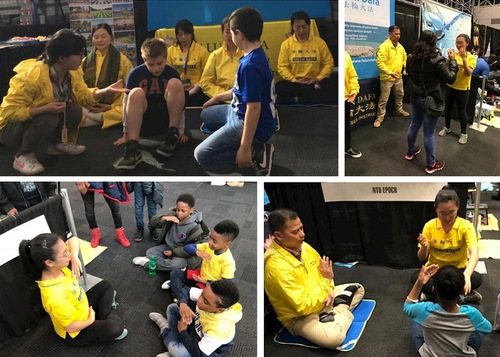 People are learning the exercises at practitioners' booth.
Besides teaching the exercises, practitioners passed out flyers, and gave out hand-made paper lotus flowers, which in Chinese culture is a symbol of purity and resilience.
Many people, including the staff members of the show and young children, came to learn the exercises. Some of them also planned to join the local exercise sites.
Several show staff members said that after a whole day of working, practicing Falun Gong meditation was really relaxing and refreshing.
Related article in Chinese:
http://www.minghui.org/mh/articles/2018/4/15/纽约国际汽车展-法轮功学员分享修炼美好(图)-364161.html