Geneva: Signature Drive Receives Warm Support Despite Frigid Weather
March 05, 2018 | By a Falun Dafa practitioner in Switzerland
(Minghui.org) Even though the recent winter storm brought temperatures in Geneva to below freezing on February 28, Falun Dafa practitioners in the French speaking areas of Switzerland persisted with their signature drive on Geneva's famous Rue du Marché. The campaign was met with warm support from passersby.
The signature drive has been gathering support for a petition to the United Nations calling for a stop to the Chinese regime's forced organ harvesting of prisoners of conscience, the majority of whom are Falun Dafa practitioners.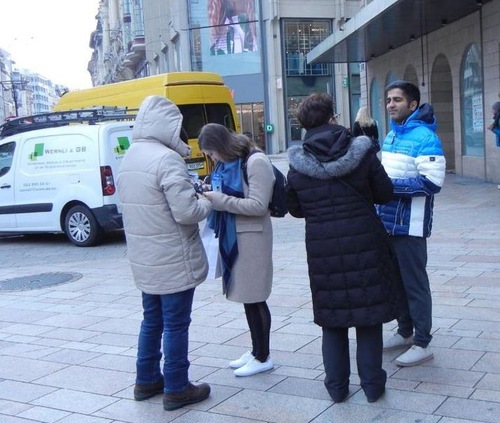 Many passersby stopped their hurried steps in the chilly weather to talk to the practitioners and sign the petition.
One gentleman walked a long way to the signature drive table to learn more about the event. He commented that the Chinese Communist Party's (CCP) forced organ harvesting was a travesty. After signing his name, he thanked the practitioners and expressed his support for their efforts.
Another man said that he had signed the petition at a prior event, but he came by to greet the practitioners and encourage them to persevere.
One man who had practiced Qigong wanted to know why the CCP would persecute Falun Dafa. After talking with practitioners, he agreed that it was because of the CCP's autocracy and it feared that more people would benefit from the practice.
He remarked that the fact that Falun Dafa practitioners can peacefully persist despite 18 years of brutal persecution has proved that the practice is amazing.
Before leaving, he inquired about the schedule of upcoming introductory Falun Dafa workshops.