Introducing Falun Dafa and Teaching the Exercises in Brazil
March 11, 2018 | By a Falun Dafa practitioner in Brazil
(Minghui.org) Falun Dafa practitioners across Brazil held activities before and after the 2018 Chinese New Year on February 16 to help more people learn about Falun Dafa, a traditional mind and body practice that teaches the principles of Truthfulness-Compassion-Forbearance.
The Art of Zhen Shan Ren (Truthfulness-Compassion-Tolerance) Exhibition was displayed in two large shopping malls and a city government service center. Activities in the Chinese community in São Paulo gave many people an opportunity to learn the benefits of Falun Dafa as well as the gentle exercises.
Art Exhibition Moves Patrons in São Paulo and Brasilia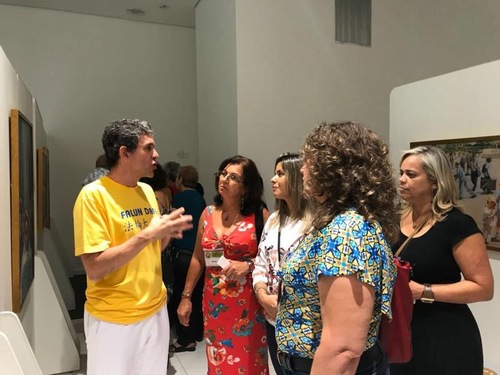 The Art of Zhen Shan Ren Exhibition was put on display in Raposo, a large shopping mall in São Paulo. The exhibition has attracted many visitors and will run for two and a half months.
More than 200,000 visitors have signed the guest book since the exhibition opened in 2011.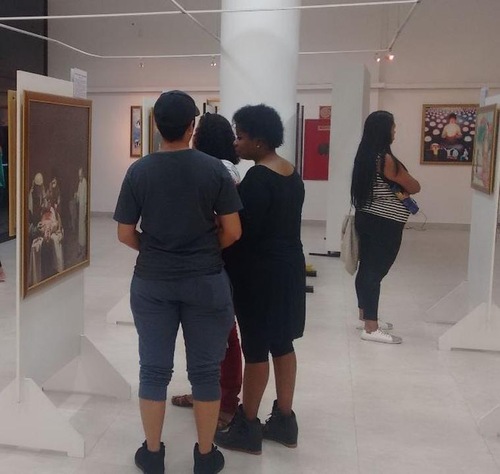 The art exhibition in the Brasilia Government Integrated Service Center
During the exhibition, a small theater next to the exhibition hall was hosting a talent contest. Many of the contestants and their relatives had an opportunity to see the artworks and were impressed by the beautiful traditional paintings.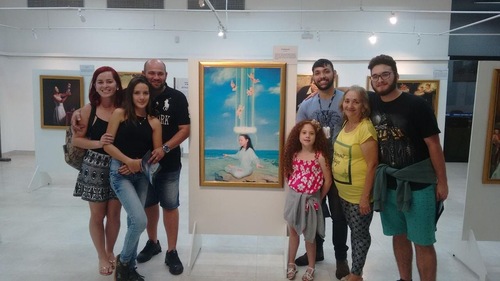 Samuel and his family pose in front of an artwork at the exhibition.
Samuel and his family made a special trip to see the exhibition. The mother said, "Falun Dafa teaches people to be kind. We all love it. Truthfulness, compassion, and tolerance are great!"
Freelance writer Fabiano said he was deeply impressed by the paintings.
Freelance writer Fabiano was impressed by each painting. He said, "Falun Dafa really brings us a unique gift. We should cherish truthfulness, compassion, and tolerance."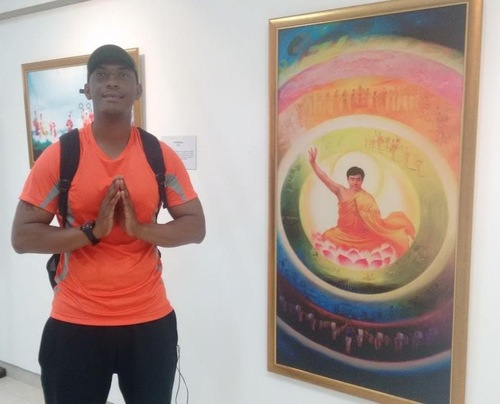 Jeremias poses with his hands in the heshi position.
A young man named Jeremias said he was an atheist but that seeing the paintings made him think differently. He said he would go online to read Falun Dafa books. His favorite painting was "Setting the Cosmos in Motion," and he posed in front of it with his hands pressed together in front of his chest.
Manoel and his wife Rosangela in front of their favorite painting
Manoel and his wife Rosangela are country music performers. They took part in the talent competition and then came to see the art exhibition.
Exhibition in Brasilia
Another art exhibition was held in the central hall of a large shopping mall–Gilberto Salomão–in an upscale community in Brasilia.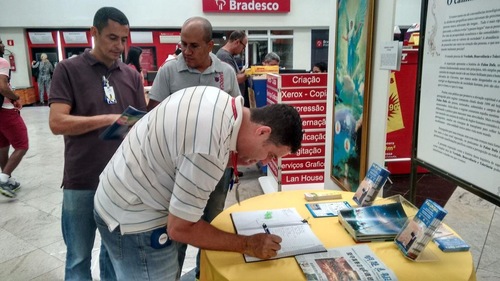 Ricardo leaves a message saying how happy he was to learn about Falun Dafa.
Ricardo works nearby and came with his colleagues to see the exhibition. He said, "This is just for me. I'm so glad to find out about Falun Dafa today. I need it!" He asked where to learn the exercises.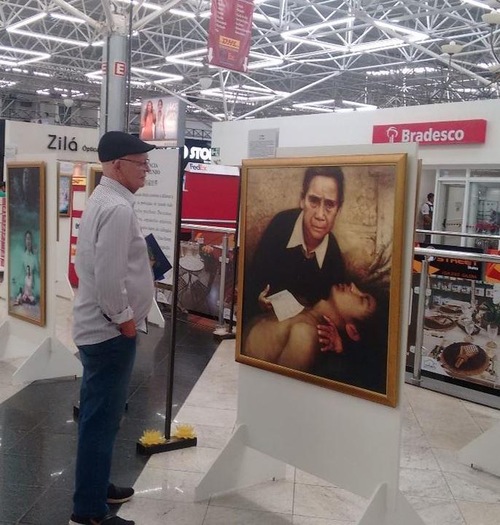 Nelson was saddened after seeing paintings about the Chinese Communist regime's persecution of believers.
Nelson was saddened to see paintings depicting the Chinese communist regime's persecution of Falun Dafa practitioners. He said that his Chinese son-in-law used to work for the Chinese regime but disliked the Communist Party. He severed ties with the Party after he married his daughter. Both of them went to live in the U.S. Nelson hopes that the persecution will end soon. He said he liked Falun Dafa and wanted to go to a park to learn the exercises.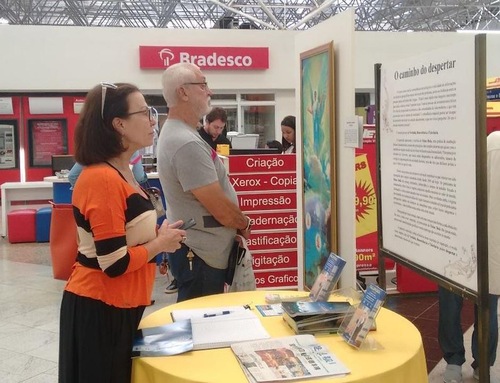 Glaucia said she was inspired by paintings about meditation.
Glaucia said she often saw people doing the Falun Dafa exercises in the park. After viewing several paintings about meditation, she said she was inspired to join them in practicing Dafa. She took informational materials for her son and daughter.
2. Introducing Falun Dafa in the Chinese Community in São Paulo
Practitioners have held activities on the central square in the Chinese community of Liberdade once or twice a week for a few months. Starting from a couple of people, more and more Chinese nationals began to learn the exercises. Practitioners gave out a large number of informational materials in Chinese and Portuguese.
Many people followed along when the practitioners demonstrated the exercises. Two young men, Dani and Vinicius, learned the exercises at the event.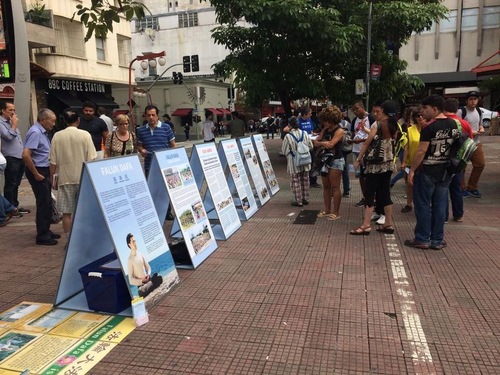 Introducing Falun Gong on the central square in Liberdade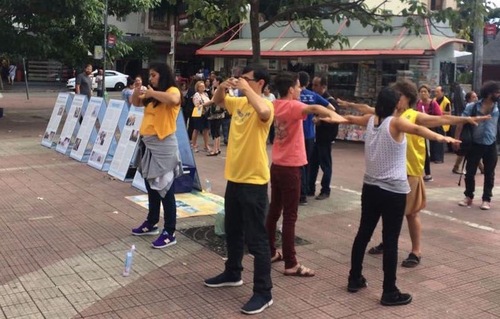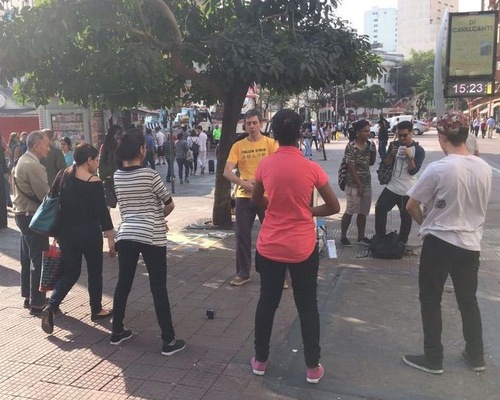 People learn to do the exercises.
3. Newcomers Learn the Exercises
A group of children learned the sitting meditation at a Falun Dafa group exercise site in Severo Gomes Park in São Paulo. A girl said, "It's incredible that I could sit for that length of time because in the past I couldn't be quiet for a moment." A boy said, "I could feel strong energy passing through my entire body while meditating." The parents saw the benefits of Falun Dafa in their children.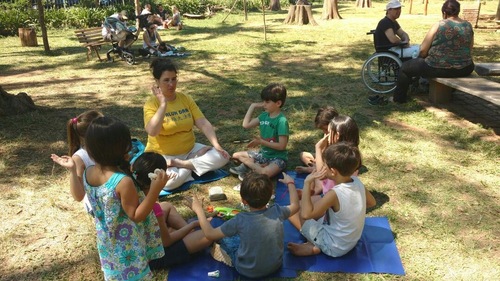 A group of children carefully learn the Falun Dafa meditation exercise.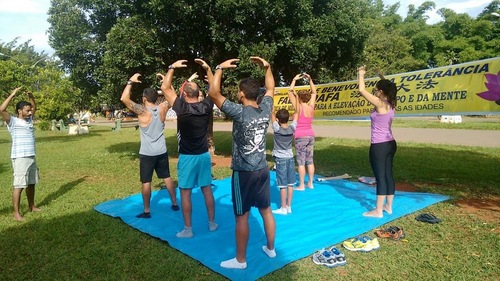 New practitioners at an exercise site in City Park in Brasília
After each art exhibition or other public activity, new faces appear at the exercise sites to learn Falun Dafa. New practitioners have many questions to ask, and the veteran practitioners patiently offer them answers based on their own understandings.