Belgium: Raising Awareness of the Persecution of Falun Gong Outside the European Parliament
December 04, 2018 | By a Falun Dafa practitioner in Belgium
(Minghui.org) A group of meditators quietly gathered outside the European Parliament building on November 28. Their banners called attention to the Chinese Communist Party's persecution of Falun Dafa, including killing practitioners for their organs.
A December 2013 resolution of the European Parliament expressed its "deep concern over the persistent and credible reports of systematic, state-sanctioned organ harvesting from non-consenting prisoners of conscience in the People's Republic of China, including from large numbers of Falun Gong practitioners imprisoned for their religious beliefs, as well as from members of other religious and ethnic minority groups."
However, the crimes of forced organ harvesting have not ceased, according to leading research organizations and experts on the matter. The 2018 Congressional-Executive Commission on China (CECC) annual report expressed concern over reports that "numerous organ transplants in China have used the organs of detained prisoners, including Falun Gong practitioners."
Practitioners held a peaceful rally to raise awareness of this matter and to urge the European Parliament to take further actions to stop the killing and the 19-year-long persecution.

As part of their continued efforts to end the persecution in China, Falun Dafa practitioners in Belgium raise awareness of the crimes of forced organ harvesting outside the European Parliament on November 28.
Support from Parliament Staff
Bruno said that he had learned a lot about the issues going on in China through his work at the Parliament. He said, "I support your freedom of belief. I support the resolution against forced organ harvesting in China."
Alis wished to know more about the forced organ harvesting in China and said, "My job is to deal with China. I would like to know more details." He said that although he felt that stopping the practice of killing for organs might encounter resistance, it should end.
Jack, another staffer, told a practitioner that the entire world needs forbearance. He thanked practitioners for the significant contributions to the world made by Falun Gong's principles of Truthfulness-Compassion-Forbearance.
Support from Visitors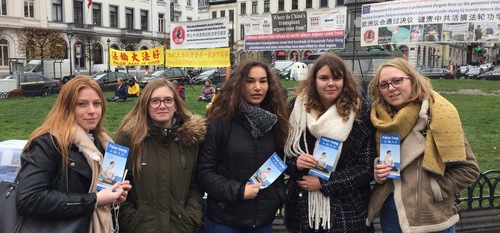 A group of college students from France heard about the persecution in China and said, "We support your efforts!"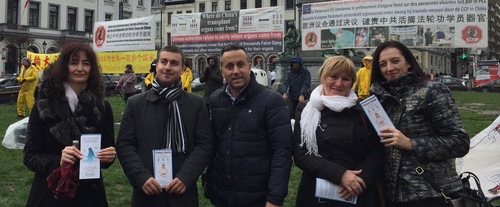 After visitors from Bulgaria learned about the persecution, they expressed support for ending the crimes and took information to learn more.

Danuta Mikusa-Osliselo (right) and Michael Biauk (left) came for a meeting at the European Parliament. They work for an animal protection non-governmental organization in Poland. They hope that more people can learn about the persecution and help to end it.

Ms. Elrler was on her way to work and saw practitioners outside the parliament building. She said that she was very touched seeing them brave the weather for a good cause. She stopped to learn about the persecution and said, "I think your raising awareness is worthwhile and very important."