(Minghui.org) Ms. Gao Shunting was arrested on August 31, 2017, for refusing to renounce Falun Gong, a spiritual discipline being persecuted by the Chinese communist regime. She was tried on September 20, 2018. Her lawyer was denied entry to the courtroom when he refused to go through security checks, from which he was legally exempt. Her elder sister was also not allowed to attend the hearing.
Another practitioner, Ms. Zhao Qun, who was arrested and tried at the same time, was sentenced to one year and two months. As she had already served enough time in detention between her arrest and trial, Ms. Zhao was recently released.
Upon learning of Ms. Zhao's release, Ms. Gao's elder sister intensified her efforts to seek her younger sister's release. The court president promised to release the younger Ms. Gao in November, but when her elder sister went to the court on November 1, she was told that her younger sister wouldn't be released until December.
The elder Ms. Gao went to the court again five days later, but she was pepper sprayed. She was rushed to the hospital, where she was given oxygen for two hours.
Elder Sister's First Visit Given An Empty Promise
Ms. Gao Lanting, elder sister of Falun Gong practitioner Ms. Gao Shunting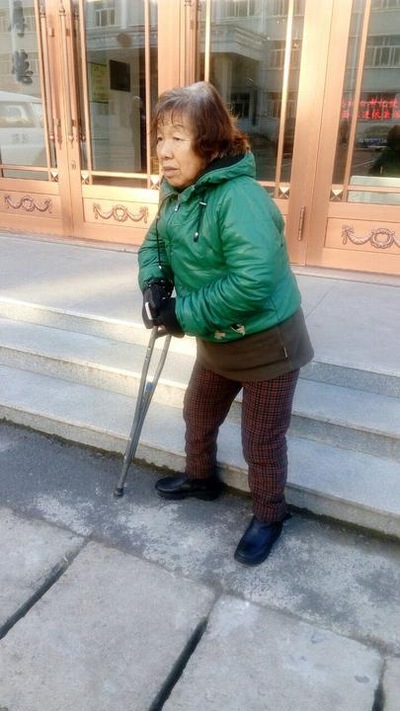 At 7:30 a.m. on November 1, 2018, Ms. Gao Lanting, in her 60s and using crutches, went to meet Judge Ji Ming (the court president) at Aimin District Court. She hoped that this time she could take her younger sister, Ms. Gao Shunting, back home. When she finally met Ji at 8:00 a.m., she asked him, "President Ji, when can my sister return home?"
Judge Ji said while walking away, "Soon, very soon. We will release her next month."
Ms. Gao Lanting was aware that Ji would not honor his word. She cried and asked, "Why didn't you honor your promise? You promised to release her in November, and now it's November, but you keep pushing it back. Why is that?"
Ji didn't reply. Zhang Ying, the chief judge of the court, came over and said, "Yes, we will release Gao Shunting next month."
Ms. Gao Lanting tried to get an explanation of her sister's delayed release and followed him upstairs, but she was stopped by an official. She stood at the security entry, waiting for an answer. The official asked her to leave.
Ms. Gao couldn't control her emotions and cried, "Take me to your superior who can release my younger sister! She didn't commit any crimes! She is a good person. No other sibling in my family would take care of me, but she did because she practices Falun Gong and has a kind heart. If you don't release my younger sister, I can't make a living on my own. Just release her immediately! Ji Ming didn't honor his promise. He said he would release my younger sister in November, but now he said next month. I want to talk to the top official who has the final say."
No official replied to her request.
The captain of the bailiffs, Wang Lili, and six other bailiffs pulled Ms. Gao downstairs and pushed her into an office. They forced her to sit on a bench and told her, "You want me to find our top official, so just sit here and wait. Stop crying. We will go to look for the top official."
Wang Lili added, "Did anyone tell you that we would release her if you paid the fine?"
Ms. Gao's family who accompanied Ms. Gao Lanting questioned the bailiffs.
"Ms. Gao Shunting does not violate the law for believing in Falun Gong," they said. "Aimin Court held a secret trial and deliberately created obstacles for her lawyer. Why don't you release her after more than a year of illegal detainment? What's wrong with being a good person? Now you are extorting money from us."
Wang Lili and several other officials carried cameras and continued recording Ms. Gao's family. They called the police to report that someone was publicizing Falun Gong. After a while, two officers arrived to investigate. Wang Lili played the videos that she had recorded, but the videos didn't show any clear footage.
The family explained to the officers about Ms. Gao's illegal arrest, trial and delayed release, but they encountered resistance. The police told them, "Do not mention Falun Gong."
Ms. Gao's family said, "My family was arrested on the grounds of her practicing Falun Gong. If we do not talk about Falun Gong, what should we talk about?"
The family also showed them the government document that retracted the publication ban on Falun Gong books. Those who came to handle the cases showed sympathy for Falun Gong. One person said, "Yes, just sue the court officials!"
After a while, one court official said, "The judges are now holding a trial, and there will be another trial to be held in the afternoon. Just go back home."
After the police officers left, Wang Lili changed her tone and said she would really forward Ms. Gao and her family's request to the top officials of the court and give the family an answer later.
Ms. Gao's family refused to leave. Wang Lili told them to return the following Monday or Tuesday to wait for Ji Ming's reply.
Elder Sister's Second Visit Met With Pepper Spray
Five days later, on Tuesday, November 6, Ms. Gao Lanting went to the Aimin District Court to see Ji Ming; he did not come out to meet her. He said he had already met her the other day and passed on the message of paying the 5000 yuan penalty first.
Ms. Gao cried and asked, "Why didn't you honor your promise? I was told to come today to meet Ji Ming, but Ji Ming isn't here. I just want to wait for Ji Ming to come out. Release my sister!"
She protested, "You held a secret trial against my younger sister. You didn't allow her family or lawyer to attend the hearing. Is the law made by your family? You know the law, but you are breaking the law. Your trial doesn't count!"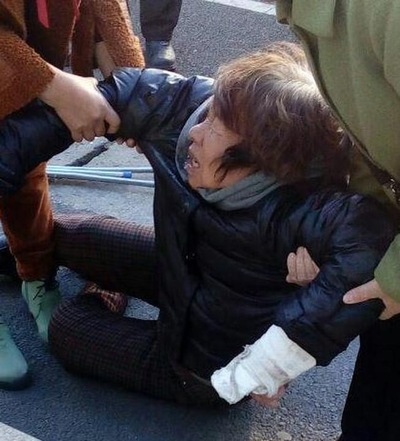 Ms. Gao Lanting after being sprayed with an unidentified liquid
The court official threatened her and then sprayed an unidentified liquid onto her hair and face, the effects of which were similar to chili water. As Ms. Gao was not prepared, much was sprayed into her eyes. It greatly irritated her eyes and skin, causing great pain. She couldn't breathe. The court officials couldn't bear the smell, so they pulled her outside.
Unable to breathe, Ms. Gao lost consciousness in the cold temperature outside. Her family called the police, but an officer told them to file complaints with the discipline inspection commission. Ms. Gao was taken to the hospital emergency unit, where she was cleaned with cold water for a long time, then put on assisted ventilation for nearly two hours before she came to.
Upon returning home, Ms. Gao cleaned her eyes many times, but her chest and eyes still felt a burning pain, accompanied by a headache and drowsiness.
Ms. Gao's family plans to file complaints with the discipline inspection commission and the intermediate court and file a lawsuit against Aimin Court.
Related report:Woman to Face Trial for Her Faith, Lawyer and Sister Demand Her Release

Related article in Chinese:牡丹江高顺亭被关十四个月-姐姐拄拐营救