Woman to Face Trial for Her Faith, Lawyer and Sister Demand Her Release
June 28, 2018 | By a Minghui correspondent in Heilongjiang Province
(Minghui.org) A woman in Mudanjiang City remains in detention since her arrest almost ten months ago. While she awaits trial, her lawyer and sister are seeking her release.
Ms. Gao Shunting was arrested on August 31, 2017, while looking for a rental place near Linye Apartment Complex for her older sister, Ms. Gao Lanting. The older Ms. Gao, who walks with a cane and lives in poverty, relies on her younger sister for financial support.
The police targeted the younger Ms. Gao because she refused to renounce Falun Gong, a spiritual discipline being persecuted by the Chinese communist regime. Her latest arrest was preceded by an earlier arrest in August 2017. Even though she was released 15 after days that time, she had been under police surveillance.
The arresting officers confiscated Ms. Gao's wallet, cell phone, electric scooter, and cell phone. They wore plain clothes and showed no ID. She learned later that they were from Xinhua Police Branch.
Lawyer Determined to Fight for Justice
Ms. Gao's lawyer, Mr. Zeng Wu, met with her at Mudanjiang Detention Center on March 6, 2018. He informed her that her case had been twice returned to police and that he was hoping to see her released soon.
Mr. Zeng next visited the police to inquire about the case. The person in charge of the case wasn't in, and a captain surnamed Wang received him. To Mr. Zeng's surprise, Wang said they had resubmitted the case to Aimin District Procuratorate after it had been twice returned. When Mr. Zeng demanded his client's release, Wang stood up and ordered Mr. Zeng removed from the building.
Ms. Gao's family visited the Procuratorate on March 20. Wang Juan (no relation to the police captain), the prosecutor assigned to the case, said she had returned the case to the police a third time. The family went to the police, but the latter drove them away without talking to them.
Mr. Zeng visited Ms. Gao again on March 22. She told him that prosecutor Wang came to the detention center on March 12 and asked if she would renounce Falun Gong. Wang left when Ms. Gao said no.
Mr. Zeng tried to talk to Wang but was not able to get hold of her. He later learned that the police had resubmitted the case to the procuratorate a fourth time.
Ms. Gao's family later met with Wang, who said, "How is it possible to release [Ms. Gao]? I've already forwarded her case to Aimin District Court."
Ms. Gao's court date was scheduled for June 19, 2018, but when Mr. Zeng arrived that morning, he was told that the hearing would be rescheduled. He reiterated his plan to enter a not-guilty plea for his client, and Judge Zhang said he'd need to seek approval from higher authorities.
Older Sister's Efforts to Seek Ms. Gao's Release
Ms. Gao's older sister also went to the court on June 19. She wore a vest reading "Gao Shunting is being wronged."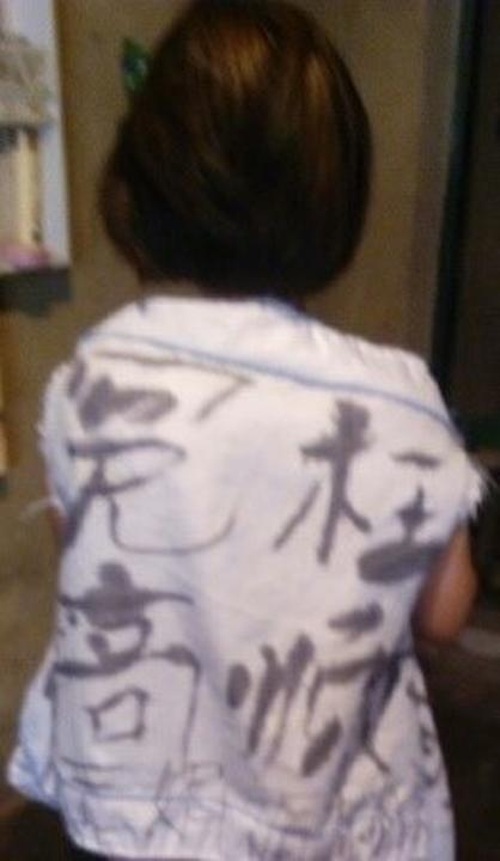 The back of the vest reads, "Gao Shunting is being wronged."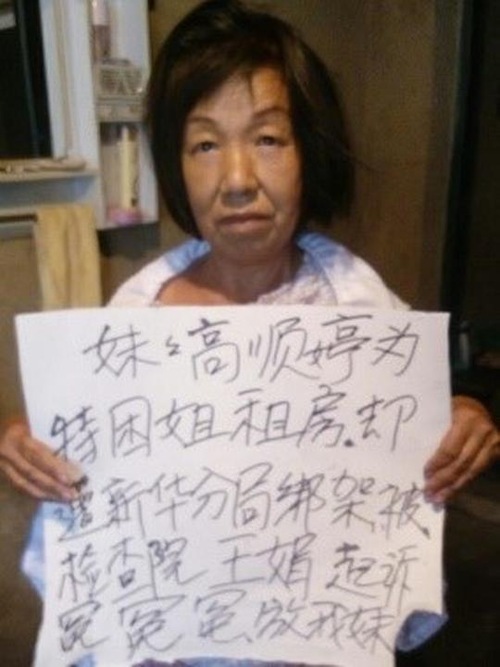 Gao Lanting holds a sign reading, "My younger sister Gao Shunting tried to find a rental place for me, a person living in poverty. She was arrested by agents of Xinhua Police Branch instead and indicted by Wang Juan. This is an injustice. Release my sister!"
The older Ms. Gao saw Wang enter the courthouse and shouted, "Release my younger sister. She broke no law!" Wang went in without responding.
Many court employees came out to see what was happening. Some comforted the older Ms. Gao, while others tried to persuade her to remove her vest. She was later led into the courthouse, where she explained why her younger sister should be released and how she was ready to defend her sister in court. She was told to share her story with her sister's lawyer.
The older Ms. Gao has been going back and forth between different agencies to try to seek her sister's release.
Other Practitioners Facing Trial by Same Court
A few other Falun Gong practitioners in Mudanjiang were also arrested and charged by the same prosecutor, Wang Juan, and the same Aimin District Court.
Mr. Zhao Qun and Mr. Dai Qihong were arrested on the same day as Ms. Gao. Ms. Wang Mingying and Mr. Yao Guocai were arrested on November 29, 2017.
Ms. Gao's lawyer, Mr. Zeng, also represented Ms. Wang for several months before the latter's family decided to drop him.
Mr. Zhao's lawyer, Mr. Lu, also visited the court together Mr. Zeng and learned that Mr. Zhao's joint trial with Ms. Gao would be rescheduled.
As no law in China criminalizes Falun Gong, the practitioners' families have filed a complaint against prosecutor Wang for indicting practitioners without a legal basis. The complaint was filed with the Supreme People's Procuratorate, and the case number is A201806156143e06f.
Related Reports in Chinese: