Japan: Falun Dafa Practitioners Participate in Annual Community Event
December 04, 2018 | By a Falun Dafa practitioner in Japan
(Minghui.org) During the weekend of November 24 and 25, Falun Dafa practitioners from the Kansai area of Japan participated in an annual community event organized by Central Community Hall of Ito City in the Hyogo Prefecture.
Practitioners brought traditional Chinese food, presented several dances, and demonstrated the five Falun Dafa exercises on stage; many audience members followed along.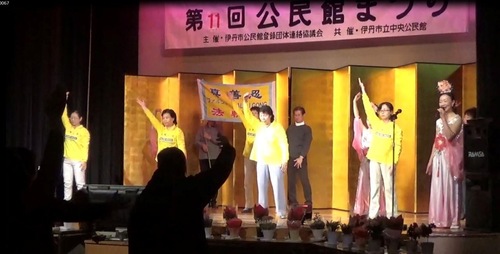 Falun Dafa exercise demonstration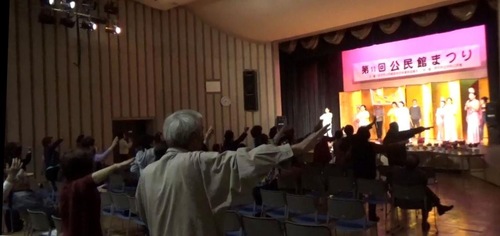 Audience members follow along with the Falun Dafa exercise demonstration.
After World War II, a group of Japanese children stayed in China, most of them in the rural areas in the north. They were all brainwashed by the Chinese Communist Party. Recently, they returned to Japan.
When Falun Dafa practitioners entered the hall in their yellow exercise outfits, this group was stunned when practitioners greeted them with bright smiles. One asked doubtfully, "Are you Falun Dafa? Does the Japanese government allow you to practice Falun Dafa here?"
After they learned that people in more than 100 countries practice Dafa, they had second thoughts.
One of the attendees, Mr. Wang, said that he didn't know that Falun Dafa is so popular outside of China. "I'd heard of people in foreign countries practicing Falun Dafa, but this is the first time I've ever met Falun Dafa practitioners in person," he said.
After the event, the organizers invited the practitioners to come back next year.