A Liaoning Family's Ordeal for Refusing to Renounce Falun Gong
December 31, 2018 | By a Minghui correspondent in Liaoning Province, China
(Minghui.org) After growing up witnessing her mother's repeated arrests and detention for refusing to renounce Falun Gong, Ms. Tian Lili found herself in the same bleak situation years later for sharing the same faith.
Falun Gong, also known as Falun Dafa, is a spiritual discipline that has been persecuted by the communist regime since 1999.
Ms. Tian learned the practice from her mother when she was a child. She stopped practicing for a few years after the communist regime began the persecution of Falun Gong in 1999 but later picked it up again.
The 38-year-old Fushun City resident was arrested for her faith on August 23, 2018. The police ransacked her home and confiscated her computer and Falun Gong items. She has been detained at Shenyang City No.1 Detention Center ever since.
Her husband, Mr. Lu Guofeng, who doesn't practice Falun Gong, was also arrested and detained for a month.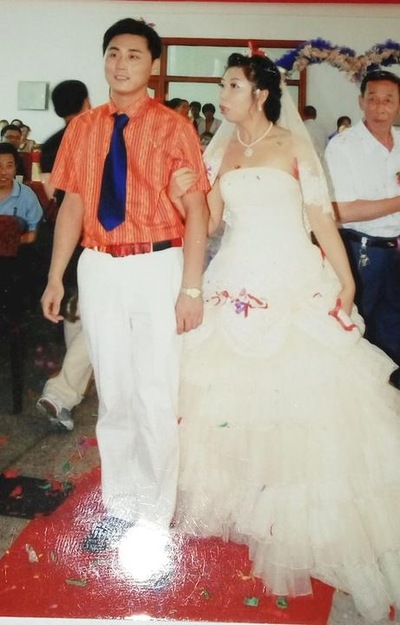 Ms. Tian and her husband at their wedding
The young couple's arrests and detention have distressed both of their families.
Mr. Lu's uncle suffered acute mental shock when he found out about their detention. He lost consciousness and soon passed away. He was only 50.
Both of Mr. Lu's parents also fell ill and were taken to a hospital emergency room. Their conditions remain unstable after they were discharged from the hospital.
Ms. Tian's mother was often confused and had limited vision and difficulty walking after she was released from repeated detention. She is now having symptoms of a stroke and cerebellar degeneration. Ms. Tian's father is suffering from a heart problem but can't afford bypass surgery. Both of them are anxious for Ms. Tian's release.
Previous report:
Family Plight: Two Men Arrested with Their Wives Who Practice Falun Gong