New York: Falun Gong Practitioners Send New Year's Greetings to Master Li Hongzhi
December 29, 2018 | By a Minghui correspondent in New York
(Minghui.org) Falun Gong practitioners from the greater New York area gathered at Kissena Corridor Park on December 22 to wish Mr. Li Honghzi, the founder of Falun Gong (also known as Falun Dafa), a happy new year.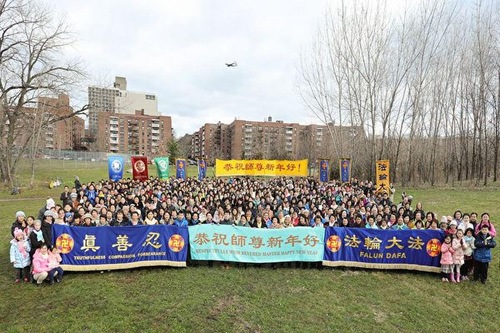 Falun Gong practitioners from the greater New York area send New Year's greetings to the founder of Falun Gong, Mr. Li Hongzhi.
The practitioners held banners that read "Respectfully wish revered Master happy new year" and "Truthfulness, Compassion, Forbearance." They held the event with a message to the public: "Falun Dafa is good"–a seemingly simple yet heartfelt phrase that has been heavily suppressed in China under the communist regime's persecution of Falun Gong that has now lasted 19 years.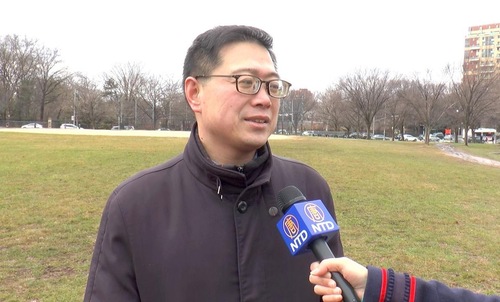 Mr. Yu Yuebin says he learned the true meaning of life after practicing Falun Gong.
Mr. Yu Yuebin read Zhuan Falun, the main book of Falun Gong's teachings, in 1995 and knew that he'd found what he'd been looking for. He followed Falun Gong's principles to be a better person, and he became more considerate and altruistic as a result. He worked hard and became a company's chief financial manager. His coworkers think highly of him.
Ms. Wang Ling began practicing Falun Gong when she was 8 years old. She was a good student and worked at a top computer company after graduation. She was honest and refused to conceal bad numbers in order to get business contracts. Her co-workers were convinced that she'd lose the business, but her Japanese client told her, "We are willing to work with you." Her coworkers were moved and admired her courage to do the right thing.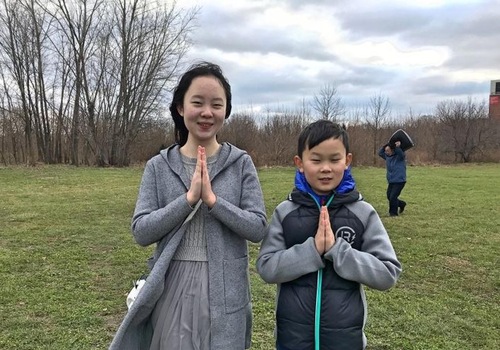 Young practitioners Ding Nuoci and her brother, Ding Zhaorui.
Ding Nuoci, 16, and her brother Ding Zhaorui, 10, practice Falun Gong with their parents. They credited the practice with keeping them away from negative influences in society. Nuoci said that she follows the principles of Falun Gong in her daily life, which has improved her relationship with other students. "I help my classmates, and they like to be around me. My teacher often asks me to coordinate things because the others listen to me," she said.
Learning to be Considerate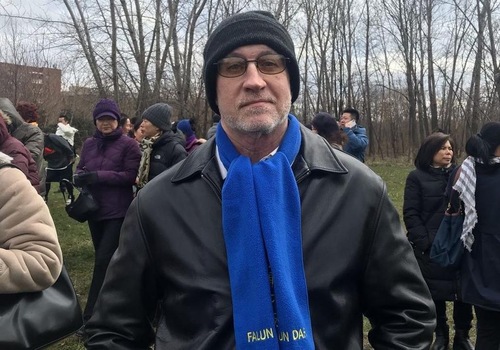 Mr. Neil Hutchins said he has become more peaceful and patient after he began to practice Falun Gong.
Many Western practitioners talked about the positive changes they've experienced after taking up the Falun Gong cultivation practice. Mr. Neil Hutchins is a retired lawyer. He said that practicing Falun Gong helps him to relax and that he feels more peaceful. It has also expanded his patience and consideration for others, which helped him as a lawyer.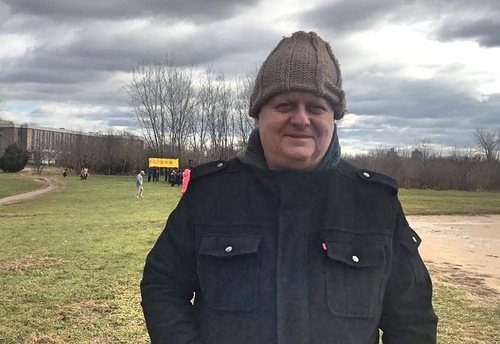 Pastry chef Mr. Denis Baudis said he felt more creative after he began practicing.
Mr. Denis Baudis began practicing in 1998. His job as a pastry chef was stressful, and he always felt exhausted and anxious. He was also impatient with his coworkers. After he began practicing Falun Gong, he learned to consider others' feelings. "I was able to better understand my coworkers. I became willing to take responsibility instead of feeling that someone set me up. I was more patient too," he said.
A good pastry chef needs to be creative. "Through practicing Falun Gong, I was able to calm down and became more peaceful. It enhanced my creativity, and I had more good ideas," he said.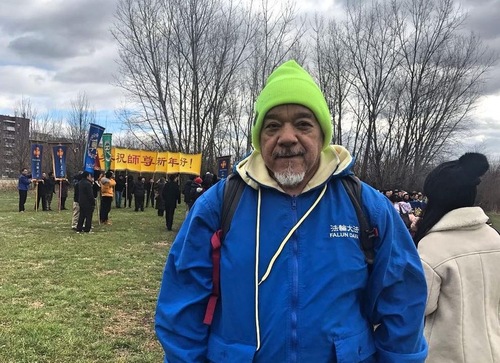 Eliseo Dardon is a practitioner from Guatemala.
Eliseo Dardon from Guatemala introduced Falun Dafa to his brother-in-law a year ago because of his own amazing experiences. "Last week he told me that his diabetes has gotten much better and, in fact, it was almost gone," said Eliseo.