Minghui Report: 486 Falun Gong Practitioners Arrested in November 2018
December 11, 2018 | By a Minghui correspondent in China
(Minghui.org) According to information collected by Minghui.org, the month of November 2018 recorded 486 cases of Falun Gong practitioners arrested and another 103 practitioners harassed in China for refusing to renounce their faith.
This new data brings the cumulative numbers of arrested and harassed practitioners in the first eleven months of 2018 to 4,483 and 3,973, respectively.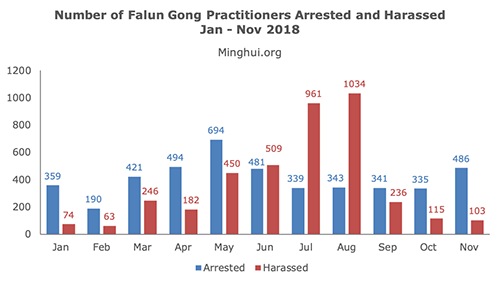 Of the newly arrested practitioners, 333 remain captive.
A total of 178 of the practitioners had their homes ransacked by the police. The police extorted a combined 308,720 yuan from 18 practitioners, with an average of 17,151 yuan.
In particular, the police confiscated more than 100,000 yuan in cash from the home of Ms. Wang Chao, a resident of Yantai City, Shandong Province, on November 28, 2018. The police didn't inform her family of where she was detained after her arrest.
A couple from Baoji City, Shaanxi Province, was extorted 50,000 yuan by the police following their arrests on November 13, 2018. The police released Ms. Li Luxiang's husband seven days later but kept her in detention without informing their family of the detention location.
Among the targeted practitioners, 28 were between the age of 70 and 78, and 10 practitioners were 80 or older. The oldest practitioner is Ms. Zou Guiqin, 90, from Inner Mongolia, who was arrested on November 18, 2018, for putting up Falun Gong flyers. Ms. Zou fainted after the police threatened to jail her for her faith. She was released after two hours of interrogation at the police station.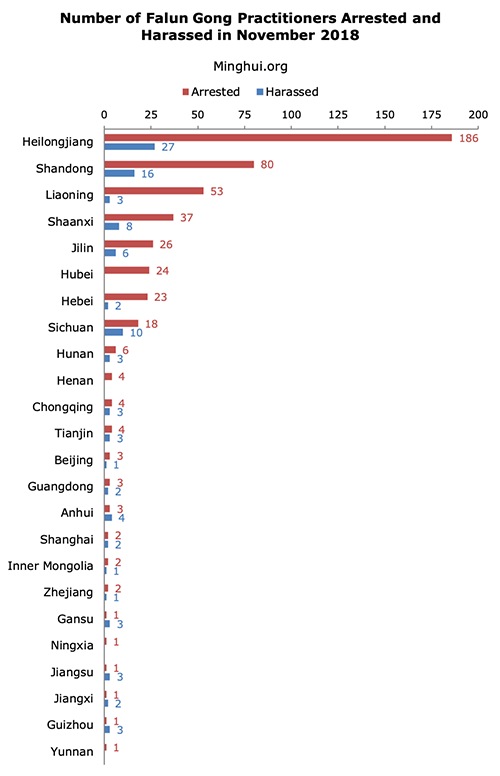 The arrests and harassment occurred in 24 provinces and centrally-controlled municipalities. The most arrests happened in Heilongjiang Province (186), followed by Shandong (80) and Liaoning (53). The highest number of harassment cases was in Heilongjiang Province (27), followed by Shandong (16) and Sichuan (10).
Many of the November arrests were in groups. In Heilongjiang Province, 119 practitioners from Harbin, Daqing and nearby regions were arrested on the same day of November 9. It was reported that the police had been monitoring the practitioners' cell phones and/or social media activities in the months leading up to the arrests. The police arrested the practitioners according to a name list.
Just days after the mass arrests in Heilongjiang Province, another 17 practitioners from Dalian City, Liaoning Province, and 36 practitioners from Qingyun County, Shandong Province, were arrested on November 12 and 18, respectively.
Additionally, the police in Baoji City, Shaanxi Province intensified the persecution of practitioners. At least 26 were arrested and 6 harassed in the month of November.
Two of the arrested practitioners in Baoji City, Shaanxi Province, Ms. Wang Juxiang and Ms. Gao Xiaowei, both of whom were arrested on November 21, were taken to Lingyun Hotel, an off-the-books jail that city officials have used for years to torture Falun Gong practitioners in order to force them to give up their faith.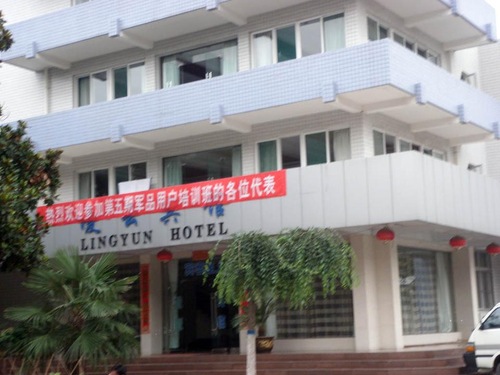 Hebei Woman Detained and in Critical Condition, Father Dies as a Result of Stress
Ms. Peng Xiuli, a resident of Qinghuangdao City in Hebei Province, was arrested on November 3, 2018, for talking to people about Falun Gong. The police ransacked her home and detained her in the Qinghuangdao Detention Center.
Ms. Peng's arrest caused tremendous mental shock to her father in his 80s. He suddenly fell ill and passed away five days later. Her family's request to allow her to attend his funeral was denied.
Ms. Peng is now on a hunger strike to protest the persecution. She is emaciated; her blood pressure is high, and her heartbeat is irregular.
Her blind mother is grief-stricken by her family's ordeal.
Police Officer to Falun Gong Practitioner in His 80s: "It's Fine to Beat You to Death"
A Shandong Province resident, Mr. Chen Zaishan, in his 80s, was doing some light farm work when a group of officers showed up and arrested him on the morning of November 9, 2018.
The police ransacked his home and confiscated his Falun Gong books in front of his bedridden wife. They next took him to the Kaifa District Police Station, where a police officer beat him.
When Mr. Chen protested the officer beating him, the officer responded: "It's fine for us to beat Falun Gong practitioners to death."
The police held Mr. Chen until 5:00 p.m. before releasing him.
Woman Released on Medical Parole after Femur Fracture Arrested Again
Ms. Yang Qixing is a 73-year-old resident from Hengshui City, Hebei Province. She was initially arrested on May 9, 2017, for putting up stickers that said "Falun Dafa is good" in a village.
Ms. Yang was abused in detention and broke her right femur in a fall. Unable to take care of herself afterward, she was released on bail after a court hearing in November 2017.
Before she could make a full recovery, the police seized her at her home on November 1, 2018. They forced her into a police car and took her to the Hengshui City Detention Center.
The police said the order to arrest her came from Judge Zhang Ying at Taocheng District Court.
Ms. Yang is now facing possible prison time upon her latest arrest.
Drugged During Detention, Hubei Woman Continues to Be Harassed After Release
Ms. Tao Xizhen, a resident in her 60's from Hubei Province, was taken to the Banqiao Brainwashing Center on September 14, 2018, two months before her four-year prison term ended. For refusing to renounce Falun Gong, she was often beaten, drugged and deprived of sleep in the brainwashing center.
By the time she was released on November 14, 2018, she was emaciated, her teeth were gone, her thinking was slow, and she could barely walk.
Yet the police continued to harass her and forced her son to keep watching her at home and to stop her from getting out of the house.
Gansu Woman Harassed Shortly after Being Discharged from Hospital
Ms. Guo Qunying is a 66-year-old resident of Jinchang City, Gansu Province. She was repeatedly detained and tortured in the past for refusing to give up practicing Falun Gong. Her health deteriorated as a result and she still has not fully recovered, even years after her release.
She was recently hospitalized again. Not long after she was discharged from the hospital, the police harassed her at home on November 21, 2018.
The police called Ms. Guo's son on the morning of November 21 and ordered him to go to his mother's home. When he arrived, the police were waiting there. They forced Ms. Guo's son to open the door for them.
While Ms. Guo was still bedridden, the police began to search around. They spent three hours ransacking her home, with one officer videotaping the process. All of Ms. Guo's Falun Gong materials were confiscated.
The police said that someone had reported her for handing out Falun Gong books. They forced her to sign and press her fingerprint on the interrogation record.
Hangzhou Police Travels Nearly 1,500 Miles to Harass a Harbin Resident
Ms. Wang Yurong, a resident of Harbin, Heilongjiang Province, was arrested in June 2017 while visiting her son in Hangzhou, Zhejiang Province, where she was reported for putting up a note in a public area that said, "Falun Dafa is good."
Ms. Wang was released on July 20 after 30 days of detention and went back home after the police signed the document to close her case.
On January 16 and June 3, 2018, however, Hangzhou police twice traveled 1,500 miles to Harbin in attempts to arrest her again.
After Ms. Wang was forced to live away from home, the police returned on November 22 for the third time to look for her.
When Ms. Wang's husband accused the police of harassing his family, one officer confessed to him that they took these trips as opportunities to have vacations while on business.
Related reports:
Minghui Report: 296 Falun Gong Practitioners Arrested in October 2018
Minghui Report: 271 Falun Gong Practitioners Arrested in September 2018
Minghui Report: 310 Falun Gong Practitioners Arrested and Hundreds Harassed for Their Belief in August 2018
3,628 Falun Gong Practitioners Arrested or Harassed for Their Faith in the First Half of 2018
590 Falun Gong Practitioners Arrested or Harassed for Their Faith in January and February 2018
119 Falun Gong Practitioners Arrested in Two Heilongjiang Province Cities in One Day