Finland: Media Covers Parliament Forum on Forced Organ Harvesting
November 26, 2018 | By a Minghui correspondent
(Minghui.org) A forum on forced organ harvesting drew the attention of Finland's most prominent media. The country's largest newspapers, Helsingin Sanomat, Metro, Aamulehti, Lapin Kansa, and 11 Internet media published news about the forum which was held at the Finnish Parliament in Helsinki on November 13.
The forum was hosted by parliament member Eva Biaudet. Several guests gave speeches, including Ethan Gutmann, a journalist who has investigated organ harvesting, Heikki Mäkisalo, an organ transplant expert from Helsinki University Central Hospital, and Marja Heinonen-Guzejevilta, an expert in medical ethics.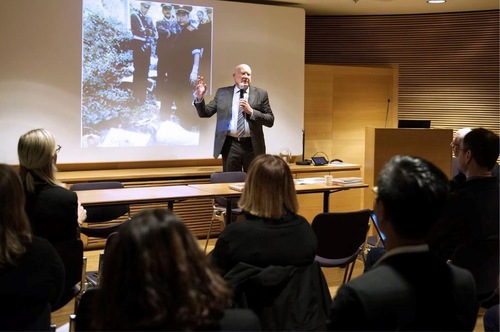 Ethan Gutmann introduced the evidence he and his colleagues collected that prove the existence of forced organ harvesting from living Falun Gong practitioners.
Marja Heinonen-Guzejev told forum attendees that a paper published in The American Journal of Transplantation in 2016 showed that 63% of the organs supplied to the transplant surgeries in the world came from China. She said many countries have passed laws banning their citizens from having organ transplants in China, including Taiwan, Israel, Spain, Italy, and Norway. She also suggested using DNA techniques to collect more evidence.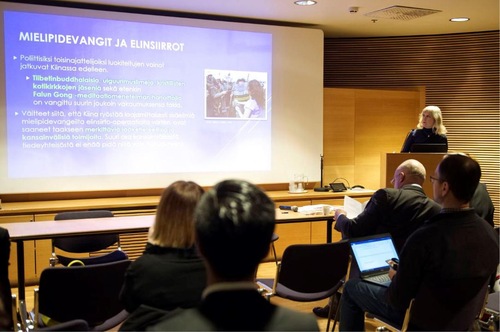 Medical ethics expert Marja Heinonen-Guzejev gives a speech.
Heinonen-Guzejev also mentioned the newly founded International Coalition to End Transplant Abuse, an independent court that aims to investigate government organizations and individuals involved in forced organ procurement in China.
Several newspapers and Internet media published the article, "Organ Transplant in China Only Requires a Few Hours: Most Organs Come from Prisoners of Conscience." The article pointed out that most of the victims of this crime are Falun Gong practitioners.
Helsingin Sanomat told readers that in China prisoners of conscience are frequently subjected to blood and DNA tests. If a patient needs their organs, the government-run hospitals are able to arrange the surgery within a few hours.
"China conducts more than 100 thousand organ transplant surgeries every year. The truth is this is a large scale human rights violation and slaughter," the article stated.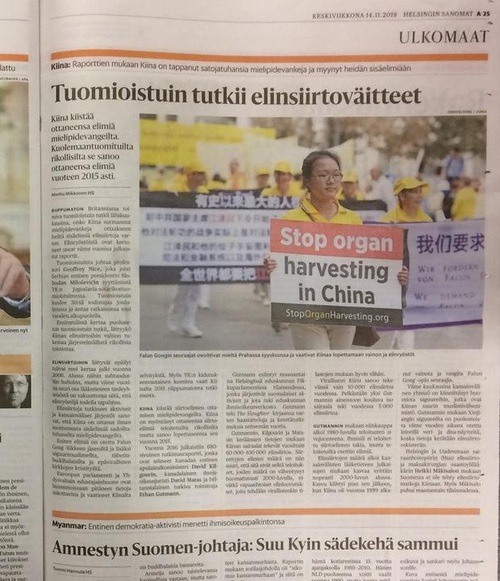 The article in Helsingin Sanomat, the largest newspaper in Finland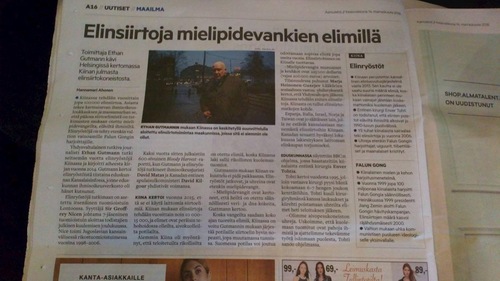 The article in Aamulehti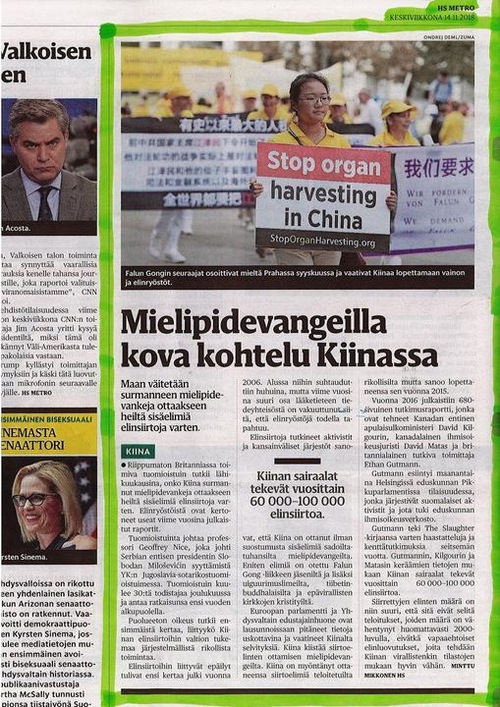 The article in Metro
The article also introduced Falun Gong, a self-cultivation practice that benefits body and mind. The article stated that before the Chinese Communist Party launched the persecution in July 1999, more than 70 million people in China practiced Falun Gong. The number of organ transplant surgeries in China has increased exponentially since the persecution started.
Related report in Chinese:http://www.minghui.org/mh/articles/2018/11/16/芬兰举办揭露活摘器官研讨会-媒体关注(图)-377211.html