"We Must End This Pure Evil": Documentary Screening and Forum on Illegal Organ Harvesting Held in Alabama
November 18, 2018 | By a practitioner in the U.S.
(Minghui.org) More than 100 faculty members, students, and healthcare providers from two colleges in Alabama were shocked to learn of the state-sanctioned organ harvesting in China, when they attended a series of events held on October 25 and 26.
The documentary Human Harvest was screened at Spring Hill College on October 25. Two forums on this issue where held on October 26 on the campuses of Spring Hill College and Southern Alabama University Medical School.
Three speakers answered audience questions, including David Matas, a well known Canadian human rights lawyer; G. Weldon Gilcrease, an Assistant Professor in the Oncology Division at the University of Utah School of Medicine and a Huntsman Cancer Institute (HCI) member; and Yu Ziqiang, a Falun Gong practitioner who was tortured in China. Falun Gong is a traditional spiritual discipline that has been brutally persecuted by the Chinese regime since 1999.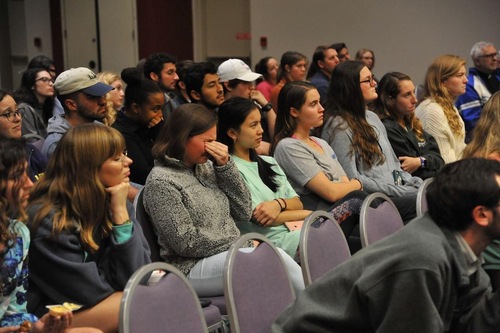 A woman weeps as she listens to Yu Ziqiang talk about his experiences in China.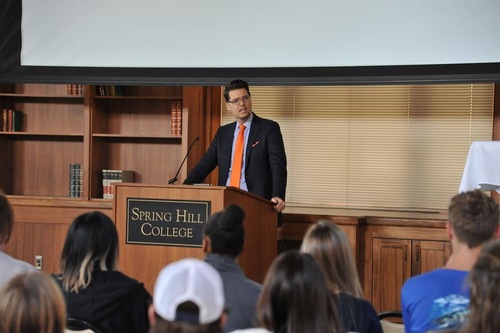 Dr. G. Weldon Gilcrease gives a talk at a forum on state-sanctioned organ harvesting in China.
David Matas addresses forum attendees.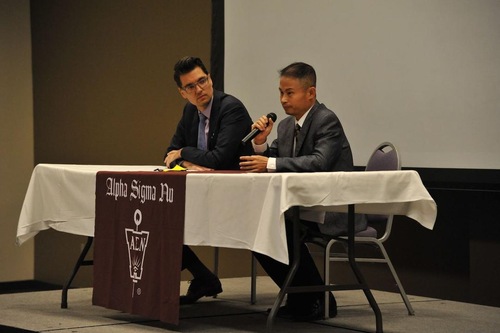 Yu Ziqiang tells his story of persecution after the documentary screening.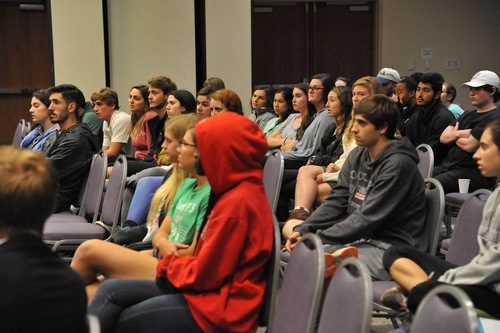 Human Harvest is screened at Spring Hill College.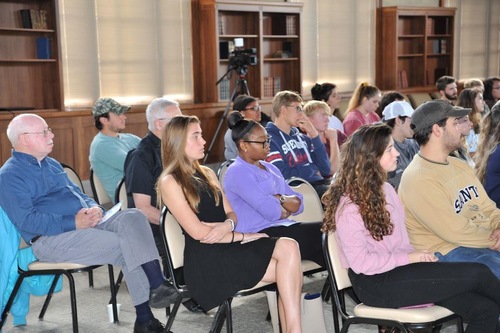 The forum on forced organ harvesting in China, held at Spring Hill College.
Surgeon: "Organ harvesting is pure evil"
"This is pure evil," said Dr. Matthews after attending the screening. Daniel Matthews is a local surgeon who came to the screening with his daughter, a student at Southern Alabama University. Dr. Matthews said he knew about the organ trade on the black market, but he had never heard about the systematic forced organ harvesting in China.
Dr. Matthews said that a doctor's ethical responsibility is to use their skill to save lives, not hurt people. He thought that the Chinese surgeons involved in the forced organ harvesting must have struggled with their consciences. He said he would pray that they would realize they've committed crimes.
Dr. Matthews is glad that the U.S. government has made some progress in formulating laws on this issue. He believes that healthcare organizations should take action to stop the illegal organ transplant travel to China, as without a market, the Chinese government would have to stop.
"We are all human beings"
Kyle Mistretta from Alpha Sigma Nu organized the event. "It is important," he said. "We are not afraid to stand together and tell the public about this persecution. If we don't do it, no one will know about it. We aren't doing this for ourselves. We want others to know that people are being tortured. We are all human beings, and we need to respect each other."
He said that he organized this event to let people know about the crimes taking place in China. He said that as Americans, we value life and we need to speak up for those who cannot stand up for themselves.
Joseph Stautner, a pre-med student, said that he could feel the pain that Falun Gong practitioners experienced. He said that we should not see this crime as something happening to one group that has nothing to do with us. "We should stand up and stop it when we see this injustice," he said. He believes that it's our responsibility to help those who are being treated unfairly.
Sarah Hyde is the president of Alpha Sigma Nu. She said that she didn't expect to learn so much from the film, nor had she known how severe the forced organ harvesting is in China. She was shocked that this crime is organized by a government. As a pre-law student, she said the documentary encouraged her to pursue a higher goal—using what she learns in law school to help those who are persecuted, such as Falun Gong practitioners.
Fr. Robert Poirier from the Society of Jesus at Spring Hill College wants more people to know about the forced organ harvesting. He said that 27 colleges and 48 high schools in the U.S. have branches of the Society of Jesus, and he believes that similar events could be held on those campuses, especially at the universities that have Chinese students.
During the forum, someone asked if Chinese hospitals and doctors can choose not to get involved in the illegal organ transplant surgeries.
Dr. Gilcrease answered that most hospitals in China are under the governance of the Chinese Communist Party (CCP). It is very different from the U.S., so, doctors in China have become tools that the CCP uses to persecute Falun Gong.
Another forum attendee asked why the world's mainstream media does not report on these crimes.
Dr. Gilcrease pointed out that the CCP controls all the mainstream voices in China. Because people in Western societies lack a deep understanding of the Party, they cannot cover the deeper complexities behind these stories in brief news reports.
Human rights lawyer David Matas said that public pressure from the international community would help reduce the burden on Falun Gong practitioners, but it cannot stop the persecution. Mr. Matas pointed out that we need to make laws against the illegal "organ travels" and bring the Chinese doctors and institutions involved in this forced organ harvesting to justice.
Many faculty members and students who attended the events wanted to learn more about this crime and asked how they could help.