European Falun Dafa Conference: Different Backgrounds, Same Journey
(Minghui.org) About 1,500 practitioners from 37 countries gathered in Prague, the capital of Czech Republic, on September 29 for the 2018 European Falun Dafa Experience Sharing Conference. Following the conference, they gathered together to read Zhuan Falun, the main teachings of Falun Dafa, in 20 different languages, one language per paragraph.
Introduced to the public in China by Mr. Li Hongzhi in 1992, Falun Dafa is currently practiced in over 100 countries with teachings translated in more than 40 languages. Many practitioners who attended the conference said they are deeply grateful to Mr. Li for the physical and spiritual benefits they received from the practice.
Hungarian Practitioner: Becoming More Diligent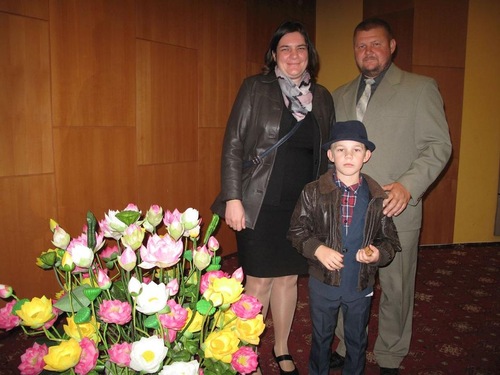 Eszter, an attorney from Hungary, attends the European Falun Dafa Experience Sharing Conference on September 27.
Eszter, an attorney from Hungary, attended the conference with her husband Alexander and their son. She said Zhuan Falun in Hungarian was published in 2005, two years before the couple began to follow this spiritual practice. Their son, a 9-year-old, also listened to practitioners' sharing throughout the day despite his young age. Like his parents, he could also say "Falun Dafa is good" in Chinese.
After hearing Mr. Li's greeting, "To the Fa Conference of Europe," as well as stories from other practitioners, the couple said they felt encouraged to do better in aligning with the principles of Truthfulness-Compassion-Forbearance and being diligent in the practice.
Practitioner from Ukraine: Improving Mind Nature
Alexandra (right) says Falun Dafa gives her good health and energy.
Alexandra, 71, comes from Ukraine and is very interested in traditional Chinese culture. In fact, she came to the conference dressed in traditional Chinese attire.
Having practiced Falun Dafa for 21 years, she said the principles helped her improve her xinxing as well as her physical health. Yarilina, who came with Alexandra, has practiced Falun Dafa for 15 years. Both of them could speak a little Chinese and credited Falun Dafa for many positive changes.
Different Backgrounds, Same Journey
Coming from 37 countries, each practitioner has their unique stories to tell. Mr. Bi, a hotel manager from Ireland, learned Falun Dafa from his aunt in 1995. Currently living in the United Kingdom, his aunt was severely persecuted back in China for her belief.
When Mr. Bi's mother came to visit him 10 years ago, she was impressed by how Falun Dafa helped her son and other members of the family. "Learning Falun Dafa has been an eye-opening experience for me," he said. "The skin disease and ear infection that bothered me for many years all disappeared. I feel so blessed."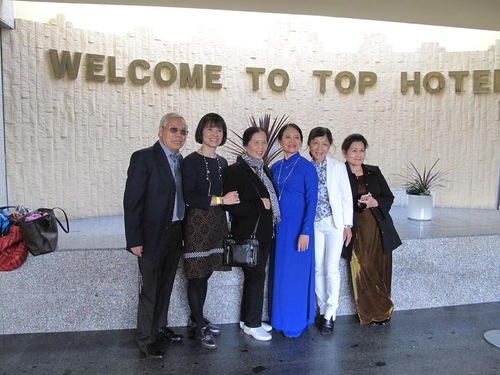 A group of Vietnamese practitioners met during the lunch break.
During the lunch break, a group of practitioners with Vietnamese heritage met and shared their stories. One of them, Hong from the United Kingdom, learned the meditation from her Polish friend 14 months ago. Noticing the number of practitioners, including ethnic Vietnamese, quickly increasing in the recent years among European countries, Hong said this is because more people are seeing how great Falun Dafa is.
Compassion and Positive Attitude
Lily from France began her cultivation journey two years ago. Although this is her first experience-sharing conference, she learned a lot from the speeches. In particular, she was deeply touched by the compassion of practitioners in saving people and telling others about the practice.
Patrick, a retiree who began the practice 9 months ago, said the conference was a great experience for him. "Most importantly, I learned how to maintain a positive attitude and improve xinxing during tribulations."