Liaoning Man Given Second Prison Term Following Fifth Arrest for His Faith
October 04, 2018 | By a Minghui correspondent in Liaoning Province
(Minghui.org) While World Falun Dafa Day is widely celebrated around the world, doing so in China can lead to dire consequences. A 69-year-old man in Qingyuan County, Liaoning Province, was recently sentenced to 3.5 years in prison for putting up a poster reading "Falun Dafa is good."
Falun Dafa, also known as Falun Gong, is a mind-body practice based on the principles of Truthfulness-Compassion-Forbearance. It has been persecuted by the Chinese communist regime since July 1999.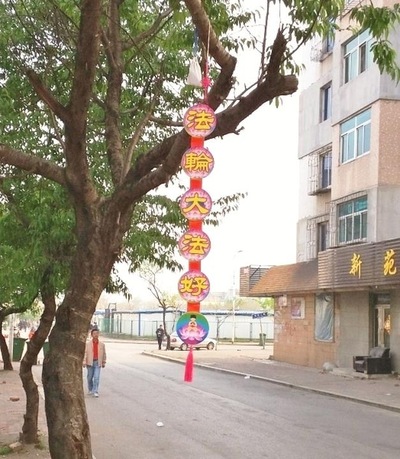 A banner of "Falun Dafa is good" seen in May 2016 in Liaoning Province. World Falun Dafa Day, which occurs on May 13 each year, is celebrated by practitioners around the globe.
Mr. Liu Yu was arrested on May 12, 2018, and appeared in court on August 31. His lawyer pleaded not guilty on his behalf, as no law in China criminalizes Falun Gong.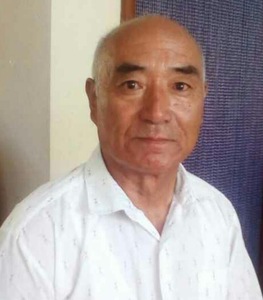 Mr. Liu Yu
He was convicted shortly after the hearing and is now appealing his case to the Fushun City Intermediate Court.
Mr. Liu credits Falun Gong for curing his stubborn stomach problems, but his pursuit of health landed him in police custody on multiple occasions. His latest arrest was preceded by four prior arrests, which resulted in three terms of forced labor and a prison sentence.
Family Misery
Mr. Liu began having stomach pains in autumn 1995. He had trouble digesting cold, hot, and spicy food. Even rice gave him pains. Between meals, he often had burps that lasted over 10 minutes. He took some medicines, but they hardly helped.
Winter came, and his health deteriorated. He had an examination at a renowned hospital and was diagnosed with chronic gastric cancer, peptic ulcer, and mucosal shedding. Doctors recommended surgery, but he couldn't afford it, as he was already struggling to support his 78-year-old father, his mentally challenged wife, and his children.
Ms. Liu had no choice but to return home with some medication. His illness and pain continued.
Rejuvenated Body and Improved Mind
Later in 1996, someone mentioned Falun Dafa to Mr. Liu. After doing the five sets of Dafa exercises and reading its main book, Zhuan Falun, he quit his decade-long habits of smoking and drinking. His complexion improved. His bad temper also became history. Both his wife and children were impressed by his newfound warmheartedness.
Surprised by the positive changes, his neighbor asked him what he did for all these to happen. Only then did Mr. Liu realize all his health issues had unknowingly disappeared. He was ecstatic.
However, the Chinese Communist Party began its persecution of Falun Dafa in 1999. His family worried about him, but Mr. Liu said he had to act upon his conscience, especially because they had benefited so much from Falun Dafa. "When I was ill, neighbors and relatives could not help, and the government did not do anything. It is Falun Dafa that gave me a good health and taught me to be a better citizen. It is the most righteous because I did not pay a penny, yet we received so much," he said.
Arrested and Detained Five Times
Mr. Liu has been arrested a total of five times for raising awareness of the persecution of Falun Dafa.
He was given 27 months of forced labor in late 2001 when he was first arrested. His second arrest took place in October 2004 and saw him given a three-year term of forced labor, though he was released after 8 months of detention. When he was arrested for the third time in 2008, he was given two years of forced labor.
During his third labor camp detention, Mr. Liu was tortured by being hung up, beaten, shocked with electric batons, and forced to sit on a "small stool" motionlessly for a long time.
On October 28, 2008, Mr. Liu and two other practitioners were shocked by electric batons for over an hour straight. They were then forced to take unknown pills and given unknown intravenous injections. Their faces swelled, and they were unable to open their mouths afterward. The swelling did not go away until two weeks later.
Two days before the 2010 Chinese New Year, guards Wang Hanyu and Qin Li slapped Mr. Liu in the face and kicked him hard. They tied his legs to a bunk bed, stretched his upper body hard, and cuffed his both hands. Qin then forced him to breathe in smoke from a lit cigarette.
Mr. Liu's fourth arrest was on August 16, 2017, when he told someone about Falun Dafa in a farmer's market. He was sentenced to 6 months of imprisonment after a hearing on December 19 that year.
Less than three months after he was released from prison, Mr. Liu was reported for putting up a poster reading "Falun Dafa is good." Under the instruction of Wang Yanbin, chief of Qingyuan Town Police Station, officers arrested him on May 12, 2018, and ransacked his house for Falun Dafa informational materials. He was sent to the Qingyuan Detention Center that evening.
Mr. Liu was tried by Qingyuan Court on August 31 and testified in his own defense. His lawyer argued that none of the evidence documents were signed by officers as required by law. The presiding judge sentenced Mr. Liu to prison shortly afterward.
Main personnel responsible for this persecution case:
Sun Tianyu, chief of Qingyuan County Police Department, +86-24-53030051, 13904136565, 13942339696Wang Yanbin, director of Tianqiao Police Station in Qingyuan Town, +86-13238133999Liu Dewei, Qingyuan County Detention Center, +86-24-53041501, 15841326888Yuan Chao, presiding judge at Qingyuan County Court, +86-24-53072152,15041361601
Related articles in Chinese: