Calgary Film Festival Patrons Shocked by Documentary on Chinese Labor Camp
October 03, 2018 | By a practitioner from Calgary
(Minghui.org) The award-winning documentary "Letter from Masanjia" was warmly received by viewers at the Calgary International Film Festival on September 22 and 23, 2018.
The documentary highlights what took place in Masanjia Forced Labor Camp, located in northeastern China. Sun Yi, the film's protagonist and a Falun Gong practitioner, was held for 2.5 years, from 2008 to 2010, at Masanjia, where inmates were forced to work 15-hour days, seven days a week, and were tortured and abused.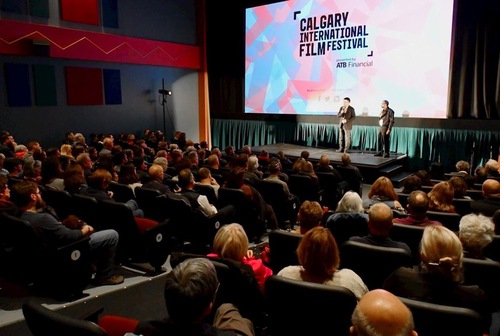 The film's director Leon Lee answers questions from the audience after the screening.
The film begins with an SOS letter from Sun being found by Julie Keith in 2012, hidden inside the packaging of a Halloween decoration she had bought at the local K-Mart in Oregon.
When Ms. Keith publicized the letter, it drew intense worldwide attention to the gross violations within China's decades-old "re-education through labor" system.
Film director Leon Lee said that Masanjia was the most notorious labor camp in China. Lee had managed to track down Sun after a three-year search, and it turned out that Sun had seen Lee's previous films on human rights issues in China. He trusted Lee and felt that it was a good opportunity to tell his full story, "to expose the evil of Masanjia Labor Camp."
Ms. Qiu and her husband, both from Beijing, were shocked by the persecution depicted in the documentary. She cried throughout the viewing.
"The main character looks so gentle, yet he has the courage to keep his belief in the face of such severe torture. That is so remarkable. Only a person with strong faith can do that," she said. "I want to learn more about Falun Gong."
Rocco Ciancio, another audience member, had high praise for the film. He also applauded Ms. Keith for publicizing the letter. He said that as long as people have hope and belief, the situation will change.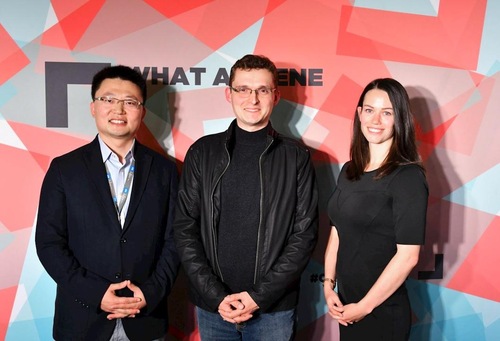 Tom Kmiec, a Canadian Parliament member (middle); Leon Lee (left); and producer Caylan Ford (right)
Parliament Member Tom Kmiec came to the screening and called upon the audience to write to their representatives and raise awareness of the human rights crisis in China.
Kmiec, representing the Calgary Shepard district, is part of the effort to try to rescue Falun Gong practitioner and Canadian citizen Sun Qian, who is imprisoned in China. He pointed out that the film will help people see what China's forced labor camp system is like and a side of China that most people may not see.
The film left a deep impact on other audience members, as well. One Canadian woman said that the film makes people think about human nature, socialism, belief, and the war between the good and the evil. "The film has given me much, and I am truly grateful," she said.