India: Media Report Introduces Falun Dafa to Readers in Nagpur
(Minghui.org) A report titled "Spiritual Practice of Body and Mind: 'Falun Dafa'" was posted on BhaskarHindi.com on May 15, 2018, around the time of a World Falun Dafa Day (May 13) celebration in the city of Nagpur.
The report stated that thousands of people in Nagpur were practicing Falun Dafa and now enjoyed better health.
Nagpur now boasts 20 practice sites, according to the report.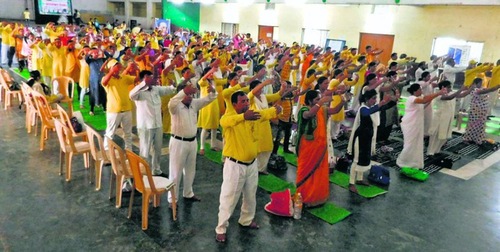 A large group practicing the Falun Dafa exercises together in India
The article touched on the history of the practice, stating, "'Falun Dafa,' also called Falun Gong, is a spiritual practice of mind and body, which Mr. Li Hongzhi made public for the first time in 1992 in China. Falun Dafa is based on the universal principles of Truthfulness-Compassion-Forbearance.
"Practitioners constantly improve themselves according to the principles of the universe."
The report noted that the practice is often taught in schools and colleges throughout India to help students with stress relief and that Falun Dafa's positive impact has led to improvements in students' test results and moral character.
Explaining how the five exercises are easy to learn at home or at a group practice site, the article reported that Falun Dafa books are available online and can be downloaded for free at FalunDafa.org.
All Falun Dafa workshops, practice sessions, and functions are free of charge.