Falun Dafa Experience Sharing Conference and Activities Held in Brazil
October 27, 2018 | By a Falun Dafa practitioner
(Minghui.org) Falun Dafa practitioners in Brazil held an experience sharing conference in Sao Paulo on October 13, 2018.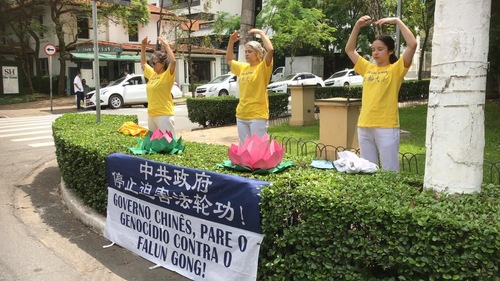 Demonstrating the Falun Dafa exercises in front of the Chinese consulate
The day before the conference, some practitioners went to the Chinese Consulate to protest the Chinese Communist Party's (CCP) 19-year-long persecution of Falun Dafa. Eighteen Chinese people renounced the CCP and its affiliated organizations at the event after learning about Falun Dafa and the persecution in China.
Some other practitioners went to Av. da Liberdade, a well-known destination, to introduce Falun Dafa to the public and raise awareness of the persecution. Many Asian immigrants live there, and many tourists go there every day. It is also the cultural and recreational center for local Chinese.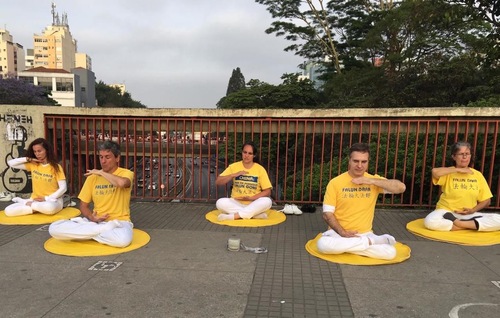 Demonstrating the sitting meditation of Falun Dafa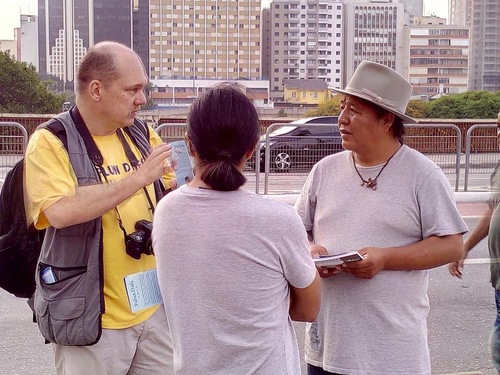 Introducing Falun Dafa to passersby
The practitioners displayed a banner reading "Falun Dafa is good" and handed out several hundred balloons. They also set up posters with information to let passersby and tourists know the facts of Falun Dafa.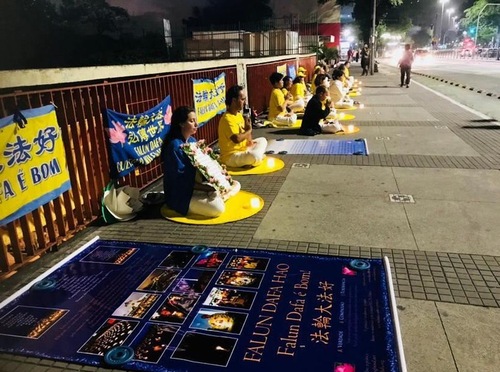 Candlelight vigil
Practitioners also held a candlelight vigil to commemorate fellow practitioners who died as a result of the persecution in China.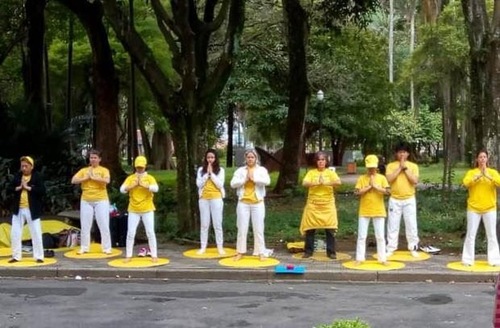 Group exercises at Parque da Luz
The day after the conference, practitioners did the Falun Dafa exercises as a group at Parque da Luz. Many Chinese walking in the park saw the practitioners doing exercises and came to learn about the persecution in China. The majority of them renounced their memberships in the CCP and its affiliated organizations.