Falun Gong Spokesperson Highlights Persecution in China at Congressional Briefing
October 14, 2018 | By Minghui correspondent Jingfei Li
(Minghui.org) The Congressional International Religious Freedom (IRF) Caucus and non-governmental organization IRF Roundtable jointly held a congressional briefing on religious freedom in China on October 11, 2018. Falun Gong spokesperson Erping Zhang was invited to provide an update on the Chinese Communist Party's (CCP) persecution of the meditation practice in China.
Zhang said, "July 20, 2018, marks the 19th anniversary of Beijing's campaign of systematic, violent suppression of Falun Gong practitioners. Since 1999, the Chinese Communist Party apparatus at all levels of society has been mobilized to target some 70-100 million citizens in China who practice Falun Gong."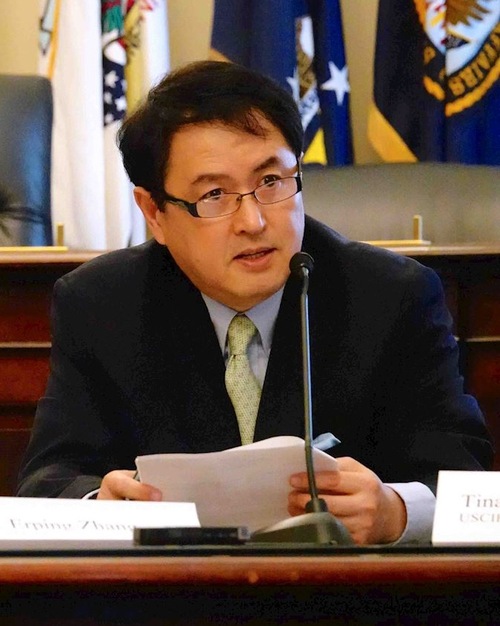 Falun Gong spokesperson Erping Zhang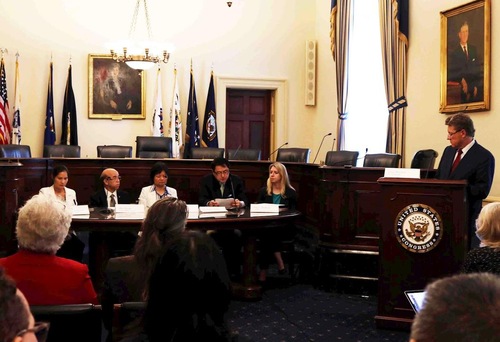 Joint IRF Caucus and IRF Roundtable Congressional Staff Briefing on Religious Freedom in China on October 11, 2018
Zhang said, "As of October 11, 2018, 4,236 deaths from torture and abuse have been documented and confirmed. Due to censorship in China and difficult conditions for investigating crimes by state officials, the actual death toll is believed to be many times higher."
State-Sponsored Organ Harvesting from Falun Gong Practitioners
Based on a new report by the China Organ Harvest Research Center (www.chinaorganharvest.org), the large-scale profiteering of vital organs forcibly removed from prisoners of conscience (who are killed in the process) is still ongoing in China and overseen by the highest levels of government.
"Since 2006, when this forced organ harvesting in China was first reported, U.S. Congress and European Parliament have held multiple hearings on the topic, and invited medical and legal experts to testify to the existence of this crime. In the face of overwhelming evidence, U.S. Congress and European Parliament have passed resolutions and motions condemning China's forced organ harvesting. We hope Congress and our executive branch continue looking into this ongoing practice in China and take all necessary means to stop this crime against humanity."
Persecution Has Not Slowed
Zhang said that China's persecution of Falun Gong has not slowed despite changes in leadership in Beijing.
He pointed out, "Arbitrary detentions continue. Since the Chinese labor camp system was officially abolished in 2013, many are now illegally sentenced to prison or held in unofficial 'black jails' instead. In March 2018, 65 people were wrongfully sentenced to up to 10 years in jail for practicing Falun Gong. In April 2018, 60 were sentenced to up to 14 years, while 377 Falun Gong practitioners were taken into custody, with the oldest victim being 81 years old."
He said the Chinese Communist Party's attack on Falun Gong practitioners is felt in all corners of society and places enormous pressure on the entire nation.
"Simply being a Falun Gong practitioner can get you fired from work, expelled from school, refused rentals from landlords, and worse. What's more, government officials and those under their control frequently threaten the livelihoods and lives of Falun Gong practitioners' loved ones," Zhang said.
Calling on the U.S. Government to Help Victims in China
Zhang called on the U.S. government to help end the religious persecution and human rights abuses in China.
Zhang suggested that the U.S. government use the Magnitsky Act on a greater scale to sanction specific officials and agencies identified as having participated in or being responsible for severe human rights abuses against Falun Gong practitioners and other groups.
He also pushed U.S. officials to raise Falun Gong issues when meeting with top Chinese leaders and publicly condemn the persecution, particularly the organ harvesting atrocities.
"International pressure has, time and time again, brought about meaningful change to victims on the ground in China," said Zhang,
The Congressional IRF Caucus holds a briefing each month on Capitol Hill to inform Congressional staffers about religious freedom violations around the world and how they relate to U.S. foreign policy.