A Letter of Thanks to the Finnish Government
January 04, 2018 | By practitioners in Finland
(Minghui.org) To Finnish government officials:
The holidays are a time for gatherings and family reunions. For years I have dreamed of having a reunion with my family. Six years ago, before Christmas, I received a special gift from the Finnish government: My wife was granted a visa to join me in Finland.
My name is Wu Zhiping, and my wife is Zhu Luoxin. She spent ten years in a Chinese prison for practicing Falun Gong. After eleven years of separation, my wife finally came back to me, thanks to the Finnish government's help. After years of incarceration, torture, and abuse, she was released in October 2009. However, she did not have real freedom.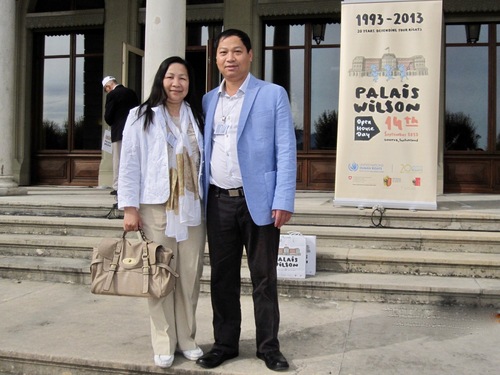 Wu Zhiping and Zhu Luoxin
When my wife received a letter from the Finnish Immigration Service inviting her to apply for her visa at the Finnish Consulate in Guangzhou in March 2010, I felt ambivalent. While happy for the hope of a reunion, I was also anxious about her safety. We did not know how she could leave China.
She was under tight police surveillance. Because of her work schedule, she sometimes returned to her apartment late, and a security guard was usually waiting for her to return before departing for home. She was once called into a local government agency for interrogation until midnight. Police harassment became a way of life for her. Despite her efforts, my wife could not make it to the Finnish Consulate for her visa interview.
Before the Chinese New Year of 2010, my wife waited for an opportunity to leave Guangzhou City. Other families were getting ready for happy reunions and dinner with friends and relatives during this time.
My wife finally managed to escape from the police monitor, and after traveling 1,250 miles, she arrived in Jinghong, a town southwest of Kunming City, China and close to Burma. From there she crossed the border and entered Thailand. It was not easy for a frail woman to go over the mountains and cross the border to flee out of China.
Escaping to Thailand was not an option for her at the beginning, but she had no choice. She was scheduled to enter Myanmar by waterway on a motor boat, which picked her up and proceeded down the Mekong River. Unfortunately, the boat ran aground on a sand bank in the center of the river at midnight. The journey was full of trauma. She dodged Burmese military check points, fended off a boater's attempt to rape her, and lost her money and Chinese resident identity card before arriving in Chiang Mai, Thailand.
At the time when Chinese people were gathering together to drink and celebrate the Chinese New Year, I also temporarily relaxed a bit, as a stranger living in a foreign country. But my mood was as if riding a roller coaster in an amusement park, with ups and downs at every moment. Our reunion was still unsure and risky. A momentary oversight could nullify all previous efforts.
My own experience in Thailand had been similar. I had to spend ten months in an immigration detention center. Before I left China, in early May 2001, I was sentenced to two years in a forced labor camp without trial, for my belief in Falun Gong. I suffered a variety of tortures and other cruel mistreatment.
My entire family has been subjected to terrible mistreatment since the persecution of Falun Gong started in 1999. My mother was sentenced to seven years in prison, and her sister was sent to a brainwashing center three times. My mother at age 70 died in 2006 and my 65-year-old aunt died in 2004 following severe torture. Also, my brother was sentenced to eight years in prison, and his wife was sent to a forced labor camp.
Before Christmas 2011, with the help of the Finnish Police Department, the Immigration Service and the Foreign Ministry, the Finnish Embassy in Bangkok issued a visa to my wife. We are also thankful for the Finnish Red Cross's active, multi-faceted efforts to assist and help. On January 27, 2012, my wife finally arrived in Finland. Coincidentally, that day happened to be Human Rights Day in Finland.
When I finally received the news about our reunion, I was so excited and full of joy in my heart, and had no more fear or sadness. I felt reborn.
All communist countries have committed atrocities against their own people, and China is no exception. In today's China, the government has destroyed China's beautiful traditions. It has also caused environmental pollution.
China is becoming a nation with no morals, no social justice, and no human rights. The communist regime has killed many Falun Gong practitioners for their vital organs during the ongoing 18 years of persecution.
We would like to express our most sincere gratitude to the government of Finland for upholding their principles and justice, and for helping my family. We will be forever grateful.