Jilin Province: Woman Imprisoned for Her Faith and Shackled to a Bed
January 23, 2018 | By a Minghui correspondent in Jilin Province, China
(Minghui.org) Ms. Fu Yanfei was arrested by officers from the Changchun City Police Department in March 2015 for talking to people about the persecution of Falun Gong. She was sentenced to three years in prison and is now incarcerated in the Tenth Ward in Jilin Province Women's Prison.
Ms. Fu has been tortured many times during her imprisonment for refusing to renounce Falun Gong, a spiritual practice that follows the principles of Truthfulness-Compassion-Forbearance.
By the end of 2017, Ms. Fu had lost a lot of weight and frequently fainted due to repeated abuse. Guard Bi of the Tenth Ward claimed Ms. Fu was pretending to faint and further tortured her. She was shackled to a bed twice.
This type of torture involved shackling her four limbs to the bed. Ms. Fu could not move or eat and needed assistance for the most basic things, such as using the toilet.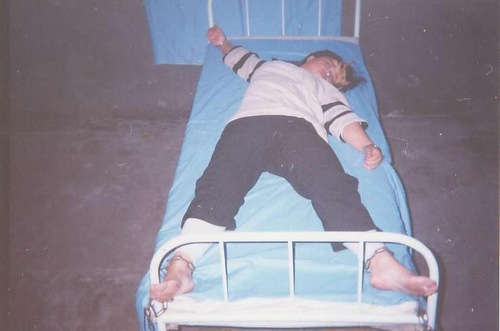 Torture Re-enactment: Shackled to a Bed
The guards assigned an inmate, Lian Shizhen, to monitor Ms. Fu around the clock. Lian was also responsible for Ms. Fu's meals and helping her use a bedpan.
Lian was resentful and took it out on Ms. Fu. She beat her twice in December 2017 and also scratched and scarred Ms. Fu's face and neck.
When Ms. Fu was released from "strict supervision," she complained to Meng, the head of the Tenth Ward, about the abuse. Meng simply ignored Ms. Fu.
The head of Jilin Province Women's Prison is a man surnamed An. The head of the Tenth Ward is Meng, and the deputy-head is Zou. They are both females.
Related articles:
8-Year-Old Anxiously Awaits Mother Imprisoned for Practicing Falun GongImprisoned Jilin Woman Forced to Sit on Tiny Bench Every Day#8. [Changchun City, Jilin Province] Ms. Fu Yanfei Persecuted