Falun Dafa in Jiamusi, Heilongjiang Province
January 20, 2018 | By Tong Song
(Minghui.org) A picture is worth a thousand words. From the day Falun Dafa was introduced in Jiamusi, Heilongjiang Province, in 1994 to today, from taking up the practice to peacefully counteracting the state-sponsored persecution over the past 19 years, it has been an unforgettable journey, filled with both joy and hardship.
This is a photo album documenting the rise of Falun Dafa in Jiamusi in the early days and practitioners' courageous efforts to counteract the communist regime's persecution since 1999.
Falun Dafa Spread Quickly in the Early Days
In 1994, two sisters with the last name of Wang from Jinzhou, Liaoning Province, came to Jiamusi to introduce Falun Dafa. Only a dozen people attended the first gathering. Amazed by the sisters' accounts of how Falun Dafa had benefited them, many in the audience began the practice.
To let more people know about Falun Dafa, the practitioners held free Falun Dafa classes and group exercises in parks and the public plaza. One after another, more and more people began to practice Falun Dafa, including those in nearby cities and counties.
By the end of 1998, more than 10,000 people in Jiamusi had picked up the practice.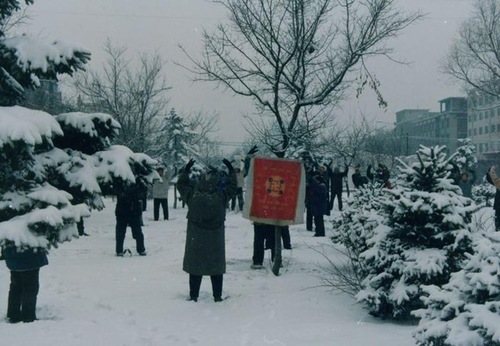 Doing the exercises outdoors even on the coldest winter days (photo taken in 1996)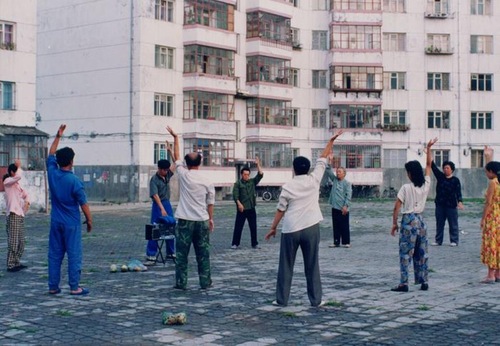 Doing the exercises in the morning in a residential plaza (1996)
Group exercise site (1996)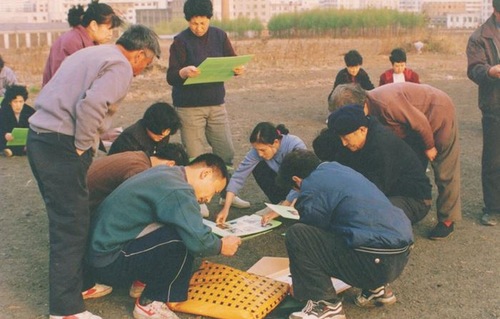 Preparing for a public display to introduce Falun Dafa (1997)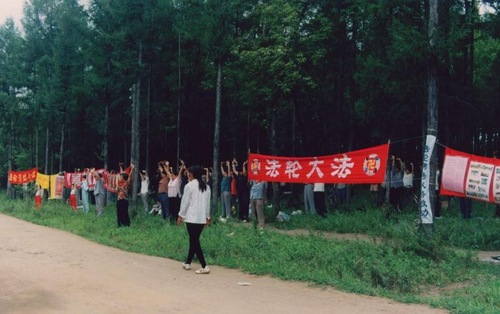 Introducing Falun Dafa to the public (1998)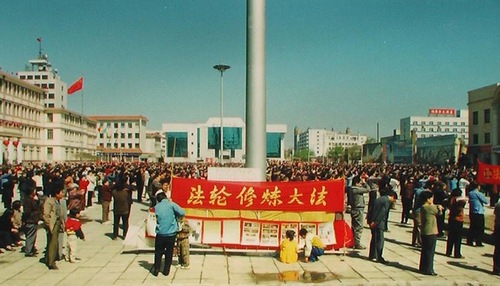 Large group doing the exercises in front of City Hall (1998)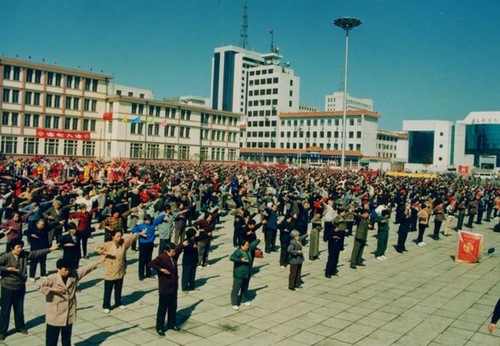 Large group doing the exercises in front of City Hall (1998)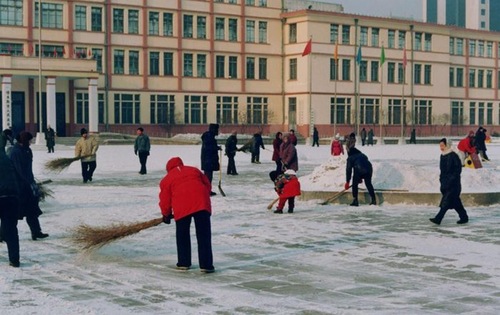 Practitioners sweeping snow in front of City Hall before morning exercises (1997)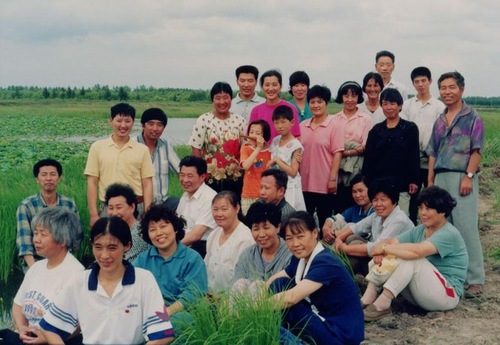 Group photo after an event introducing Falun Dafa on a farm (1997)
Group exercises (1999)
Blessings from Cultivating Falun Dafa
As Falun Dafa quickly spread in Jiamusi, many people experienced tremendous improvement in their health and values. Falun Dafa helped them to better enjoy life and serve the community.
Mr. Zhang Jiatong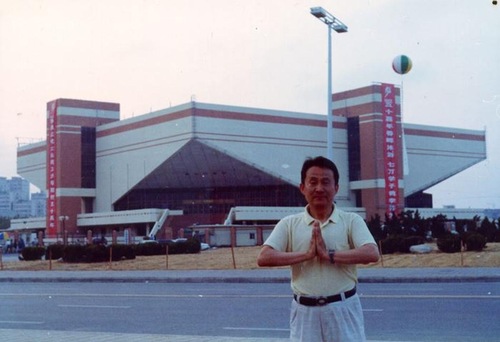 Zhang Jiatong expressing his gratitude to Teacher Li Hongzhi. His tuberculosis was completely cured after attending Teacher Li's classes in Dalian, Liaoning Province, in 1994. (1996)
Ms. Cao Wei
A road roller slammed into practitioner Cao Wei and ran over her leg when she was standing on the sidewalk. "I had no idea what happened, I just knew I was suddenly sucked under a truck." Ms. Cao recalled. Despite the enormous pain, she was amazed to find her leg still intact after the accident.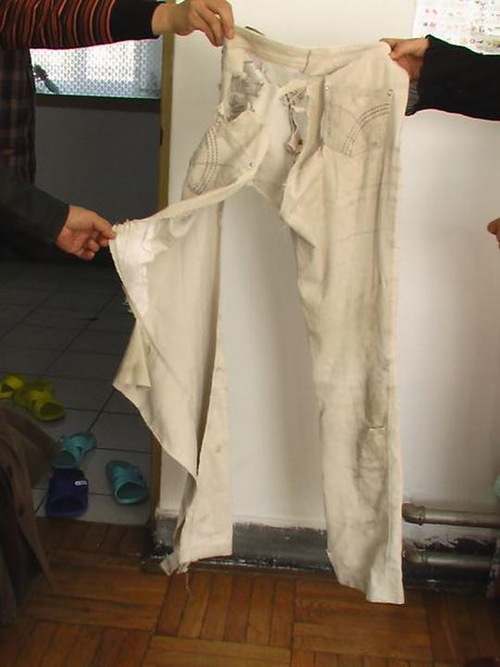 Cao Wei's ripped pants (2006)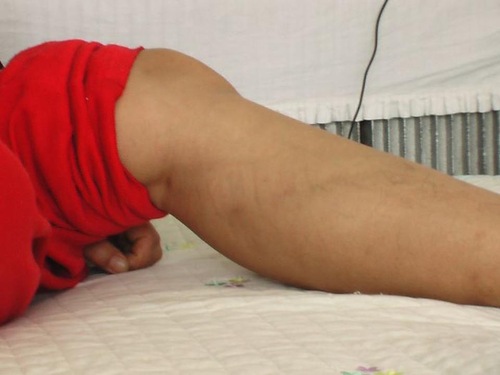 The mark on Cao Wei's leg after it was run over by a road roller (2006)
Mr. Lin Zehua
Mr. Lin Zehua was tortured and unable to walk only four months after he was admitted to Jiamusi Prison to serve a seven-year term for not giving up practicing Falun Dafa in 2007.
When he was released in September 2014, the doctor told him that he would never walk again.
But Mr. Lin thought differently. Upon returning home, he resumed his daily Falun Dafa practice. In March 2015, about seven months later, he was able to walk slowly and climb the stairs.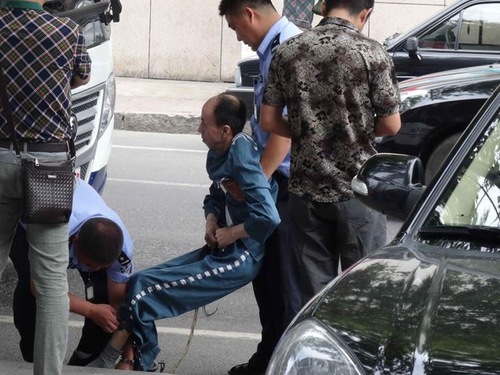 Mr. Lin Zehua became disabled in prison (2014)
Mr. Lin Zehua was able to walk after resuming Falun Dafa practice. (2015)
Mr. Li Shuangnan
Li Shuangnan had a car accident on October 11, 2006. His brain was seriously injured.
When the doctor said they wouldn't be able to save him, his mother and aunt, who were both Falun Dafa practitioners, didn't lose hope. They rushed to the emergency room and asked Shuangnan to recite, "Falun Dafa is good." The next day, the doctor was surprised to detect Mr. Li's blood pressure and pulse, so they decided to operate.
On the third day, the doctor ordered a CT scan of his brain before the surgery. They were even more surprised to see that his skull had healed and surgery was no longer necessary.
By November 10, 2006, a month after the accident, Mr. Li had almost recovered and could walk by himself. "It was Falun Dafa's teacher who saved my life," he said.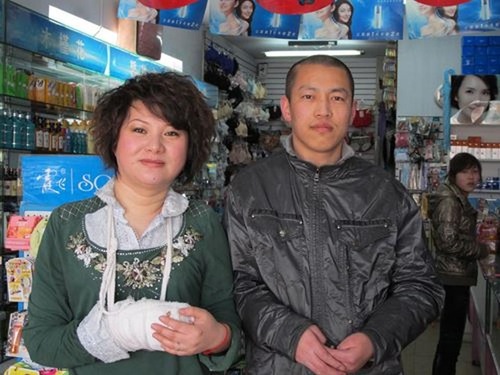 Mr. Li Shuangnan and his wife four years after the car accident (2010)
Counteracting the Persecution with Courage and Faith
In July 1999, astonished by Falun Dafa's unprecedented popularity in China, the communist regime initiated a suppression to try to wipe out the practice. Facing one of the most severe persecutions in the history of the country, the practitioners in Jiamusi were—and are—undaunted. They are unwavering in their faith, and counteract the persecution with enormous courage and perseverance.
Ms. Chen Ying
Chen Ying, a high school student, was arrested when she went to appeal for Falun Dafa in Beijing on August 16, 1999. As the police were bringing her from Beijing back to Jiamusi, she was forced to jump off the train to avoid police brutality. She died instantly. She was only 17.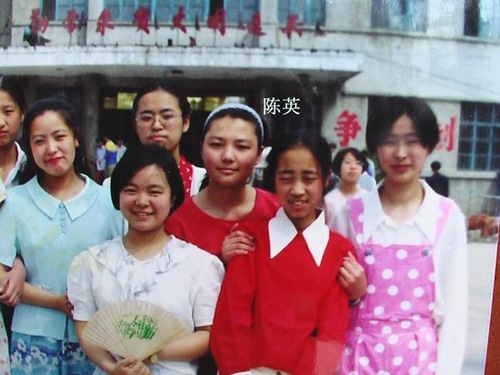 Chen Ying (third from right to left) and her high school classmates
According to information collected by Minghui.org, at least 82 practitioners in Jiamusi died because of the persecution between 1999 and 2016. Another 88 were sentenced to prison, with an average term of 4.85 years. 381 practitioners were sent to forced labor camps, with an average term of 2.25 years.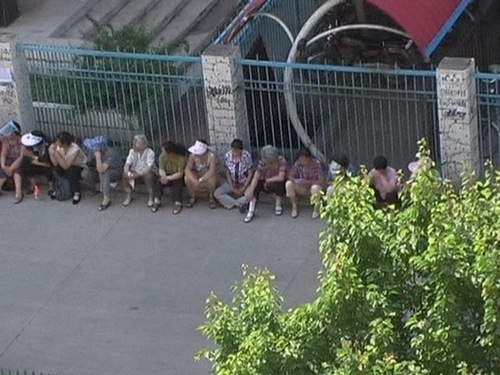 Falun Dafa practitioners in front of a courthouse in support of those being tried for their faith (2008)
Mr. Ma Xuejun
Mr. Ma Xuejun was sentenced in 2002 to 12 years in prison for practicing Falun Dafa. He suffered appalling mistreatment in the prison, including beatings, sleep deprivation, and force feedings. He was near death when the prison sent him home in 2003, less than a year later.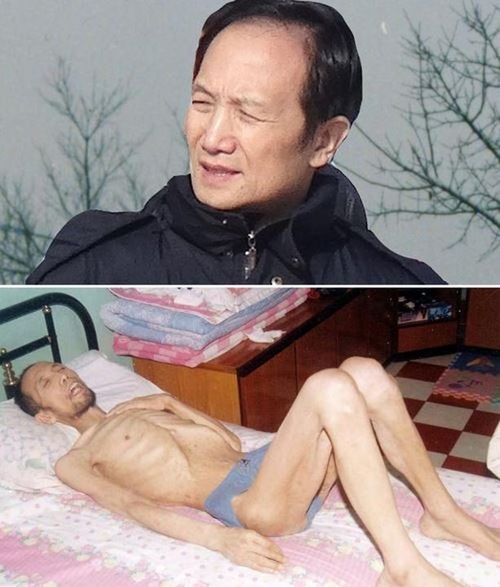 Mr. Ma Xuejun was just skin and bones when he was released from prison in 2003. He regained his health after he resumed practicing Falun Dafa at home. (The upper photo of him was taken in 2016)
Mr. Qin Yueming
Mr. Qin Yueming was tortured to death in Jiamusi Prison on February 26, 2011. His family appealed to the authorities and sought justice for him repeatedly. In retaliation, the police arrested his wife and younger daughter and sent them to a forced labor camp for a year and a half.
Mr. Qin's older daughter, Qin Rongqian, was left on her own at the age of 19. She worked tirelessly for two years to expose the facts of her father's death and get her mother and sister released. More than 5,000 people in Jiamusi signed her petition to support her.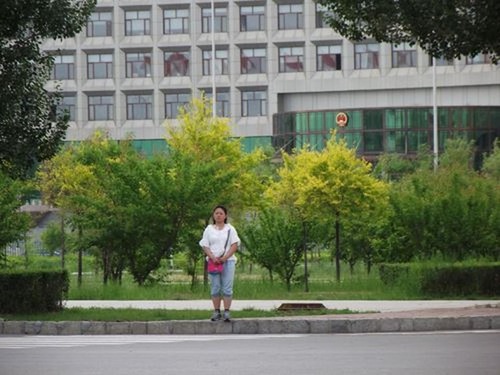 Ms. Qin Rongqian visited all relevant government departments in Jiamusi to seek justice for her family (2012)
After the communist regime suspended the notorious labor camp system in 2013, brainwashing centers sprang up all across China, including the Qinlongshan Brainwashing Center in the suburb area in Jiasanjiang.
According to information collected by Minghui.org, at least 92 Falun Dafa practitioners have been detained and tortured in Qinlongshan Brainwashing Center.
To counter the persecution in the brainwashing center, Falun Dafa practitioners and human rights lawyers gathered at Qinlongshan Brainwashing Center and demanded that the detained practitioners be released. As a result, four human rights lawyers were beaten and arrested. Due to extensive international media coverage of the incident, the brainwashing center was finally shut down.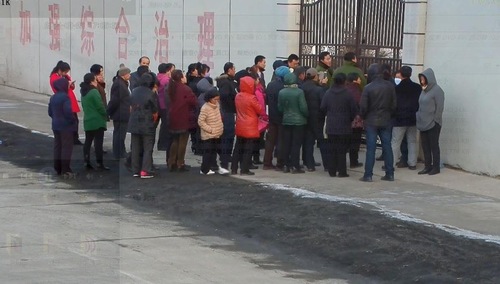 Falun Dafa practitioners and human rights lawyers gathered in front of Qinlongshan Brainwashing Center to demand the release of detained practitioners. (screenshot of a video in 2014)
Between May 2015 and February 2016, 1,705 practitioners in Jiamusi filed criminal complaints against Jiang Zemin for ordering the persecution of Falun Dafa, demanding that the Supreme People's Court and Supreme People's Procuratorate bring him to justice.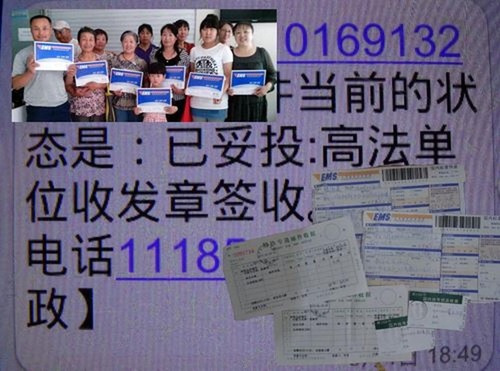 Practitioners in Jiamusi filed criminal complaints against Jiang Zemin for his role in the persecution of Falun Dafa. (2015)
In addition to filing criminal complaints against Jiang Zemin, the practitioners also made informational materials about Falun Dafa in their homes and talked to people about the practice.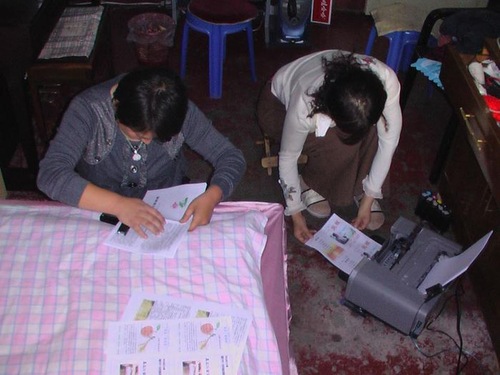 Homemade informational materials documenting the persecution (2009)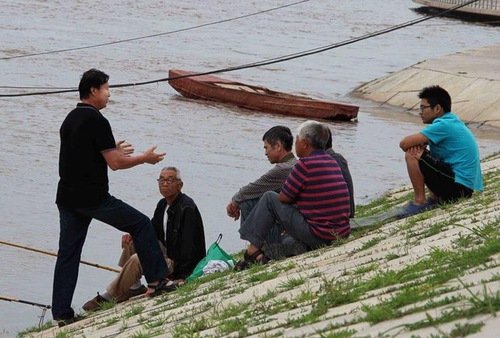 Talking to people about Falun Dafa (2012)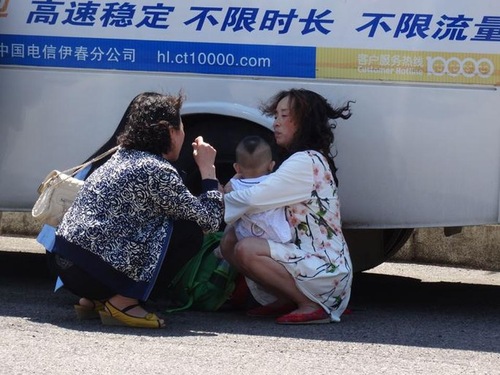 Talking to people about Falun Dafa (2015)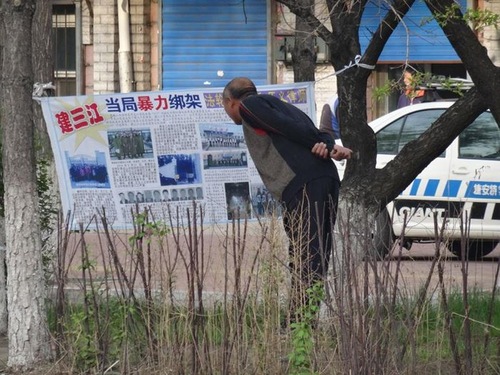 Falun Dafa banners exposing the persecution (2014)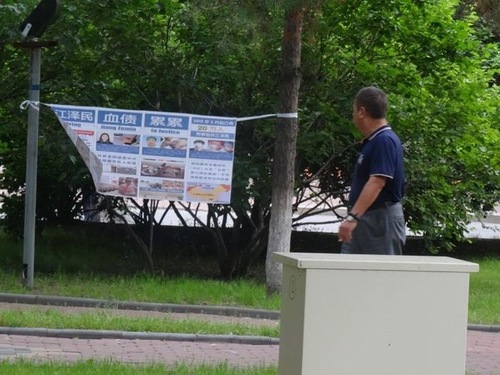 Falun Dafa banners exposing the persecution (2016)
The banner in a residential area says "Falun Dafa is good." (2011)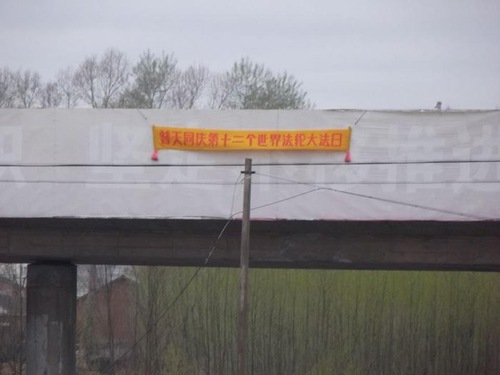 A Falun Dafa banner on a bridge reads, "Celebrating the 12th World Falun Dafa Day" (2011)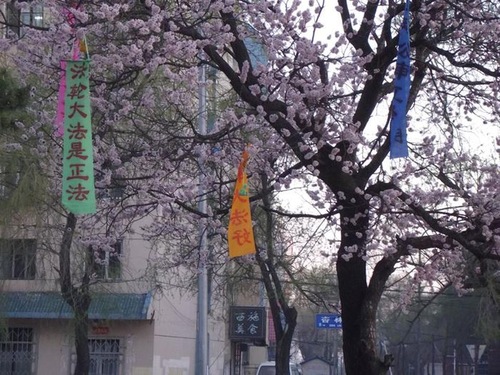 Falun Dafa banners in a residential area (2011)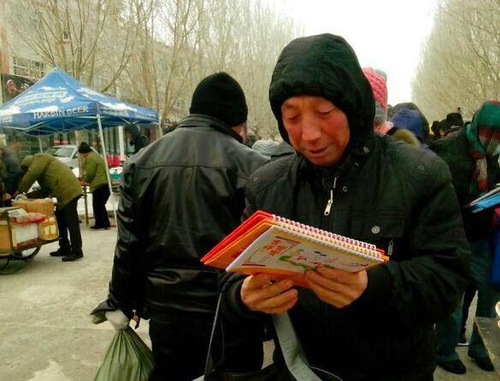 Customers at a farmers market happy to receive Falun Dafa calendars from practitioners (screenshot from a video taken in 2015)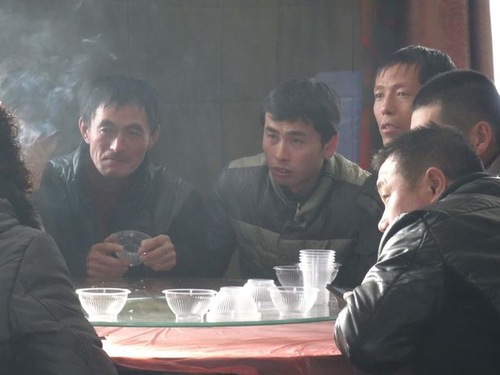 Villagers listen to a practitioner clarify the facts about Falun Dafa. (screenshot from a video taken in 2013)