Sweden: Zhen Shan Ren International Art Exhibition in Halmstad
July 09, 2017 | By a Falun Dafa practitioner in Sweden
(Minghui.org) The Zhen Shan Ren (Truthfulness-Compassion-Forbearance) International Art Exhibition was recently held in Halmstad, a small harbor town in southwestern Sweden. The town also hosted the 2017 Tall Ship Race, so many tall ship fans visited the exhibition, too.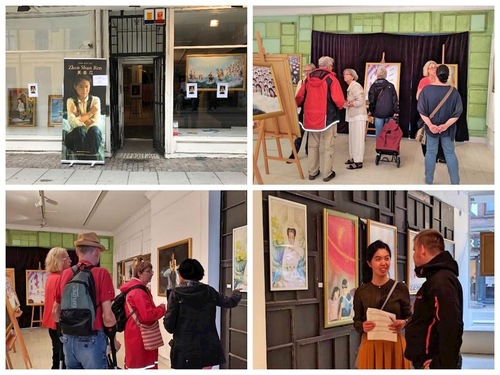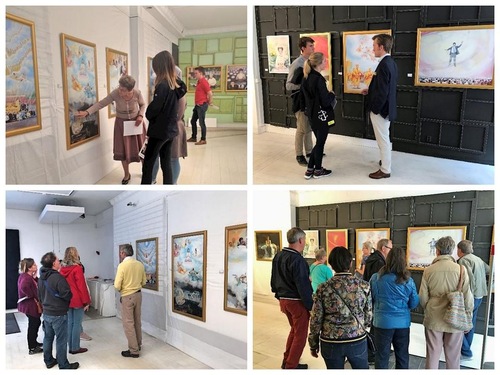 Zhen Shan Ren International Art Exhibition held in Halmstad Sweden from June 29 to July 2
On the first day of the exhibition, a volunteer from Amnesty International came to the gallery. She looked at each painting closely after a brief introduction from the guide. She then talked to a Falun Gong (also called Falun Dafa) practitioner who had been jailed and tortured in China.
Volunteering at Amnesty International, she had heard of Falun Gong and the persecution, but she didn't know many details. She was shocked after learning so many facts about the persecution. She remarked that the Chinese Communist Party is unreasonable and said she would tell her family and friends more about Falun Gong.
She returned the following day with some chocolates to thank the volunteers working at the exhibit.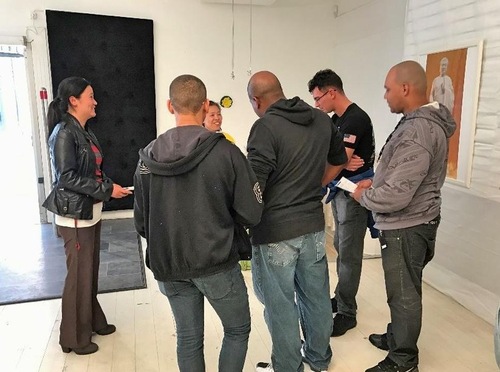 Four young men from Brazil
Four young sailors from Brazil who were participating in the tall ship race visited the exhibition during a break. They listened to the introduction to the paintings politely and exchanged comments between themselves in Portuguese. When the tour entered the section about the persecution Falun Gong faces in China, they became quiet and appeared shocked.
After the tour, they talked to the practitioner who had been jailed in China. Before leaving, one young man gave the practitioner a hug and said they supported Falun Gong.
Two young men from Jordan
The exhibition also saw foreign visitors from Jordan, Poland, Syria, and Denmark, including sailors, artists, journalists, and more.
On the last day of the exhibition, many earlier guests returned to the gallery saying that they wanted to see the exhibition again.
Many guests also commented in the guest book, thanking the exhibition organizers and expressed their feelings. More than 300 guests signed a petition opposing the organ harvesting atrocities in China.